CasinoDaddy Facts
Streamer Name:
CasinoDaddy
Real Name:
Anton, Eric & Mathias Joelsson
Avatar:

Origin:
Sweden
Residence:
Krisanstad
Year of birth:
1988 (Mathias), 1990 (Anton), 1994 (Eric)
Followers:
163,000 (Twitch)
9.500 (Twitter)
77.400 (Youtube)
11.800(Instagram)
10.500 (Facebook)
2,500 (Discord)
CasinoDaddy favorite provider:
LeoVegas Casino
Features:
Three brothers, collect high winnings, streamer willing to take risks
Highest win:
1,290,000 SEK (approx. $127,000) in Snow Wild High Roll.
Highest multiplier:
9,813x in Jammin Jars.
It's certainly not an easy task to make a name for yourself in the international streamer ranking to position yourself. As a trio, however, CasinoDaddy have made it. Behind the pseudonym are brothers Mathias, Anton and Eric Joelsson, who live in Sweden and are between their mid-20s and early 30s. The three owe their success to their fan base. After all, we are talking about over 155,000 people from all over the world who follow the brothers on Twitch.
In addition, the numbers on the other social media channels are increasing – not as fast as they might have hoped, but they are still being followed. previous subscribers have remained loyal to them for years.
The blond boys are charismatic, charming with their smiles, and all have a tendency to completely freak out at looming slot wins. Especially the youngest among them regularly jumps up and rejoices wholeheartedly when his plan to clean up big once again comes to fruition.
Despite their success, the brothers are relatively down-to-earth. down-to-earth. And of course they also have a private life. Every now and then they give fans glimpses, but essentially CasinoDaddy is actually focused on becoming even more successful professionally.
General information about the CasinoDaddy trio


If you take a look at the streamers' channel, you will immediately notice that there is not just one person behind CasinoDaddy. Three brothers from Sweden apparently had the vision to make themselves to catapult themselves to the top of the Twitch scene. They succeeded amazingly well, as our ranking proves.
Within just a few years, they have achieved what others dream of: Over 155,000 fans on one channel alone. To keep it that way, the three of them stream tirelessly, usually seven days a week. However, Mathias, Anton and Eric deliberately appear separately, because this way they reach different target groups – simply because different times can be used.
The Swedes' Twitch channel is incredibly successful and is known far beyond the borders of their own country. The brothers owe the fact that they are well received to their authentic manner. Joy, anger and the like are absolutely genuine. Although the numbers already speak a clear language, one thing is certain: the three brothers are only at the very beginning. They certainly still have plenty of room for improvement due to their level-headed and unplayed character.
Play CasinoDaddy at these slot providers
If you want to be successful and make profits in the long run, you logically need reputable partners at his side. The companies where CasinoDaddy plays all enjoy a very good reputation and are moreover officially licensed. That in particular is extremely important to the three brothers, because they also have nothing to give away, of course.
The quality of the slots also plays a role, because only then can they show the effect in the live stream that viewers want. And so we are not surprised that the brothers have chosen, among others, the following three addresses to play online:



Visit Leo Vegas

Bonus:
Rating:

Excellent

Establishment: 2012
Online since: 2013
Customers: <500.000

License:

Schleswig-Holstein
MGA Malta
UK Gambling C.

Software:

NetEnt
PlayNGo
Playtech
Quickspin
Red Tiger
Yggdrasil Gaming
Authentic Gaming
Blueprint Gaming
Elk Studios
edict
Extreme Live Gaming
Ezugi
Felt Gaming
Gamevy
genii
Genesis Gaming
IGT
iSoftBet
Push Gaming
Pragmatic Play
Nektan
NextGen Gaming
Lightning Box Games
Quickfire
Realistic Games
Thunderkick
Skillz Gaming
2by2 Gaming
SG Interactive
BigTimeGaming
Playson
Bally Wulff
Wazdan



Visit mBit Casino

Bonus:

Up to 4 BTC

Rating:

Excellent

Establishment:
Online since: 2014
Customers:

License:
Software:

Booming Games
Nolimit City
Gameart
Betsoft Gaming
Habanero
Amatic
Evolution Gaming
Pragmatic Play
iSoftBet
Ezugi
Wazdan



Visit Platincasino

Bonus:

100$

Rating:

Excellent

Establishment: 2012
Online since: 2012
Customers: <500.000

License:
Software:

PlayNGo
Amatic
Betsoft Gaming
Booming Games
Gamomat
NetEnt
Nolimit City
Oryx Gaming
Playson
Pragmatic Play
Push Gaming
Quickspin
Red Tiger
Thunderkick
If you want to know more about the offers, you have come to the right place. For those who have a residence in Sweden or even live there permanently, the CasinoDaddy website is the place to go. It is also dedicated to interesting topics such as Bonus promotions, seriousness of the providers and so on. You can learn a lot from the slot experts without having to play with real money yourself. But if you like, you can of course also do that at the aforementioned companies.
The favorite games of the Joelsson brothers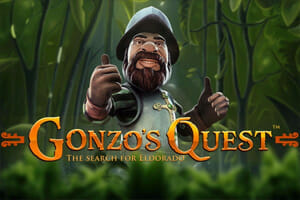 Easy to win? Of course, it's not quite that simple for the Joelssons either. However, they know better than many others which slots are worthwhile and where you can make a lot of profit with small to medium stakes. and where you can make a lot of profit with small to with small to medium stakes – as long as luck plays along. All three describe themselves as ambitious poker players. However, Twitch followers see less of that than expected.
In the meantime, the brothers focus on Slot machines. For quite some time now, they have been particularly busy with the following ones:
Fruit Party
Book of Dead
Starz Megaways
Gonzo's Quest Megaways
Money Train
Surely one could continue the list forever, because also and especially new releases of experienced providers get their chance from the trio. In addition, the brothers like to respond to the wishes of their followerswhich can simply be written down in the chat. By the way, imitating them is easy for our readers, because CasinoDaddy usually selects such titles that are also provided by almost all companies in the industry in this country.
Casino Daddy streaming times and platforms


It is quite difficult to give concrete information about streaming times. If it comes up, then one of the three streamers is sure to be in front of the Twitch camera and gives his skills to the best. The brothers have the advantage of being able to share the channel. Thus, they cater not only to the night owls among us, but also to those who feel like streaming in the afternoon or who need to kill a few hours in the morning before moving on to other things.
Usually, CasinoDaddy is experienced seven days a week. YouTube is also used as a channel – but not for live streams, only to share previous highlights in the form of videos uploaded. These are almost as well received by followers.
CasinoDaddy in the social media
The Joelsson brothers on Twitch
CasinoDaddy on YouTube
Anton, Eric and Mathias on Instagram
CasinoDaddy on Twitter
CasinoDaddy on Facebook
Anyone who is called a gaming influencer like the trio has to have some serious chops. It's not for nothing that CasinoDaddy made it onto the podium in our international ranking ranking. The three brothers, who continue to live in Sweden, offer their fans a lot of variety in the form of exciting games.
But it's not just Twitch that is something like a second home for them, where they spend an incredible amount of time. They know just as well as we do the importance of social media as a whole and know how to inspire people on the familiar channels.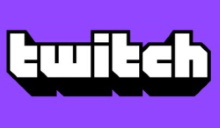 The fact that streaming is restricted to Twitch we have already explained. In this respect, the Joelsson brothers remain true to their concept. The trio quickly realized how effective Twitter, Facebook and the like are in terms of advertising.
With these channels, CasinoDaddy is able to tap into additional target groups and reach those who know something about slots, but who may not have heard of the possibility of following live streamers like these on Twitch. Let's take a look at the different channels of the three Swedes right now.
---
The Joelsson brothers on Twitch
With over 155,000 subscribers the number on Twitch remains relatively stable. A few followers have been added again since last month. CasinoDaddy is not experiencing an explosive increasebut it is experiencing solid growth, which will certainly be reflected in its revenues in the long term.
Together, the three brothers have been streaming for about eight hours. The fact that they can take turns streaming is very convenient for them. When who will start is usually revealed at short notice. That way, the broadcasts are always exciting, and we're not the only ones who appreciate that.
Joint appearances will probably remain a rarity for the brothers in the future. In terms of character, CasinoDaddy have a lot in common. So you can't really say that one of the three is more popular with the fans than the others. Everyone likes their smart and likeable live streamsThis is certainly also due to the fact that the Joelssons radiate a special calm in front of the camera. Although they are happy to make profits, they don't make such a big fuss as is known from other operators on the scene.
CasinoDaddy on YouTube
From just under 60,000 subscribers, the brothers have now made it, more than 70.000 of themselves. The most successful YouTube videos on the subject of slot streaming even have several million views – numbers that Mathias, Eric and Anton can definitely be proud of. The Swedes not only know how to play, but they also have a knack for triggering euphoria among viewers.
As the three reveal themselves, they play poker every now and then instead of focusing exclusively on slot games. However, there are hardly any videos of the classic game on YouTube.

On YouTube, viewers are effectively offered a mix of record-breaking prizes and fun entertainment. offered. These "funny moments" are incredibly welcome, because despite all the seriousness that comes with the gaming industry, a pinch of humor is not to be missed. How to use this to keep people happy is something that hardly anyone knows as well as CasinoDaddy.
Anton, Eric and Mathias on Instagram


Hoping, fearing and laughing heartily – on Instagram you really get all facets of the Joelsson brothers to be seen. Mostly their posts revolve around their job as streamers, but of course they also know that fans want some personal content, which they are happy to provide. It was just over a year ago when one of our favorite pictures was posted. It shows young Eric with his just newborn baby.
Yes, even stars like the three Swedes have a private life. Rarely before have we seen something so cute on an Instagram streamer account.
It seems that Eric's brother became a father just a few months ago. The offspring is greeted by the family in a befitting manner. Overall, it can be noted that the three like to show: There are more things to enjoy than slot machines. In any case, you can clearly see the pride the new dads feel in these snapshots.
CasinoDaddy on Twitter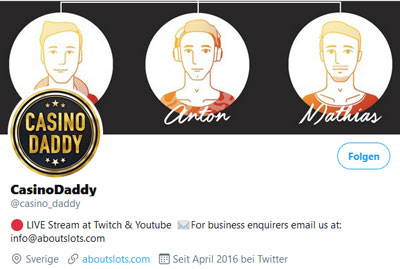 The tweets posted by the brothers are all about streaming and the streaming and related highlights. As recently as the end of October, the Joelssons proudly declared that they had released the new release Wheel of Wonders as a world premiere – in close cooperation with Casumo.
You can see here what significance the three Swedes have in the meantime also for the slot operators. They appreciate both the likeable demeanor and the trio's huge fan base, so every now and then very special deals come up.
Somewhat over 8,600 followers are recorded by the three brothers at times. While the number may not be outstandingly high, the growth is amazingly rapid, as we now know. Every few weeks, several hundred new fans are added, so that the account is constantly gaining in importance. This certainly pleases not only CasinoDaddy, but also all those who work closely with the three.
CasinoDaddy on Facebook


Of course, we do not want to ignore the Facebook account of the streamers. Here, too, the three of them have almost 10.000 fanswho are waiting every day for new content to be delivered.
However, the trio is not quite as active. You can expect to find room for at least one new post per week – mostly related to Twitch highlights, world premieres, or just other great momentsthat followers just have to love. The euphoric outbursts of the youngest Joelsson in particular have become legendary on Facebook.
What makes CasinoDaddy


At the beginning, we already clarified that there are three successful streamers behind the pseudonym – the brothers Mathias, Anton and Eric Joelsson, who are at home in Sweden. We know of few fellow streamers who are similarly genuinely happy about every win. The higher the prize, the more the youngest of the three brothers freaks out.
You can't help but celebrate with him, hoping and being angry when the hoped-for win doesn't come in the end. The fact that such situations can also occur is shown to us in the authentic live streams quite shown.
The trio's name now says it all, because at least two of them became fathers last year. They only reveal a few tiny details about what else is going on in their lives. All in all, the Joelssons try to focus on their Twitch career instead of overwhelming followers with private facts and pictures. Still, you get at least an inkling that the three are quite happy in life away from the streaming cameras.
A special kind of trio
In all the time we've been dealing with Twitch, we've rarely met such charismatic guys. encountered such charismatic as CasinoDaddy. When it comes to charming smiles and authenticity, the three of them give each other nothing at all. Joint live streams are the exception, but you can still tell that the three of them harmonize perfectly. Otherwise it would hardly have been possible for them to set up such a successful project as CasinoDaddy. Sweden isn't the only country that loves the three of them for exactly that.
---


The hype around the streamers is now outstanding. Accordingly, CasinoDaddy had no choice but to further expand their equipment. The broadcasts now take place in their own studio. It's not huge, but it's equipped with everything needed for a successful Twitch career.
The three should have long since recovered their investment. After all, they divide themselves up so cleverly that together they can do eight hours of live streams a day. a day. One of them would certainly not have been able to do that on his own, alongside his family and children.
---
Despite their success, all three brothers have remained down-to-earth. They know better than anyone how much energy, time and effort it takes to get to where the CasinoDaddy project is today. The three of them are also aware that they can by no means rest on their laurels. That is why they will certainly continue to work tirelessly in the future on new slot highlights that they can present to their loyal fans.
The Joelssons in private – three guys who get there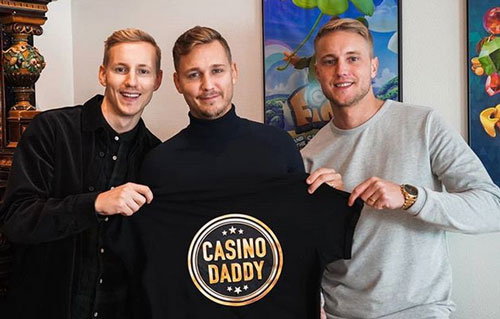 The Swedes Mathias, Eric and Anton also have a lot in common in their private lives, first and foremost their passion for pizza. Mathias was born in 1988 and is therefore the oldest of them. Together with his own family, he still lives in his home town of Krisanstad. In 1990, Anton followed, who is now also a father. The latecomer Erol was born in 1994. The three are very close and enjoy spending their free time together. Nevertheless, privately each goes his own way, and all three look very happy doing so, as the Instagram photos show.
The Joelsson brothers enjoy a certain celebrity not only in Sweden. In the Twitch scene, everyone knows them by now. During our research, we were able to find out that the three pursue different hobbies in their private lives. They have separate interests, but the similarities obviously outweigh the differences, especially when it comes to gaming.
The idea for CasinoDaddy came to them a few years ago. After extensive planning, the project was decided upon, which they financially independent today makes. With the numbers, one can at least assume that the three don't have to worry about money.
---


In the scene, it is now impossible to imagine CasinoDaddy with only one or two Joelssons. The three of them belong together here as a unit, and it is precisely because they have set up this project together that it is so successful. It will be interesting to see if the success continues and what the figures will look like in a few years.
---
Author: Joshua Davidson