Daskelele Facts
Streamer Name:
Daskelele
Real Name:
Jack Petersson & Philip
Avatar:

Origin:
Sweden
Residence:
Malta
Year of birth:
Unknown
Followers:
64,003 (Twitch)
41.100 (Youtube)
3.804 (Instagram)
539 (Twitter)
Daskelele's favorite casino:
Gamdom
Special features:
Two high rollers with real stakes, haven't been working together for too long
Highest win:
104,251$ in Bonanza
Highest multiplier:
Unknown
Behind the pseudonym Daskelele is not just one streamer, but two. The idea for the Twitch channel, which today is our taillight in the international ranking, came from a certain Jack Peterssonwho is at home in Sweden and who apparently does not live in his home country anymore, but has emigrated to Malta to Malta. Within a few years, he has managed to build a solid fan base.
In the meantime, the channel is about to reach the mark of 70,000 followers – a number that, in our estimation, is absolutely respectable. After the first successes, Jack decided to ask his buddy Philip into the project. As a duo, Daskelele is now even better received by the people, which is particularly due to the humorous interaction. humorous interaction of the two.
It's fair to say that Daskelele, alias Jack Petersson, has had a real real steep start got off to a great start. With the channels he opened in 2016, he still can't compete with the big names in the industry, but he was sure to have more than 20,000 followers within just a few weeks. As already mentioned, this number has more than tripled in the meantime. So Jack and his colleague Philip can definitely be proud of what they have built here.
General information about Daskelele


In pairs bring Daskelele literally double the momentum in the highly competitive Twitch scene. Although we don't have an explanation for the nickname, it has already burned itself into the heads of numerous followers. And the decision to bring Philip on board is clearly well received.
The young streamer radiates a likeability like no other. You can't help but like him when he shows off his skills alongside channel founder Jack and grins broadly. Jack himself also radiates this particularly friendly manner that people love.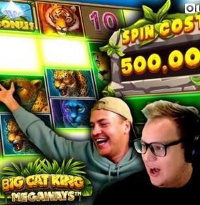 Daskelele are on the road as a duo, but in most cases they consciously stream separately from each other. The two young Swedes divide the times cleverly, so that they usually have more than 10 hours of streaming per day. At the moment, it almost seems as if Jack, the founder, is taking more and more of a back seat. If you extrapolate the live streams, Phil is clearly sitting in front of the camera more often.
Both streamers, who work under the pseudonym, have predominantly dedicated themselves to the slot games dedicated. Classic entertainment may come up a bit short here, but by now we know that Daskelele are always good for a surprise, too.
The Daskelele Duo plays at these providers
That many companies in the gaming industry come from Sweden, at least that should have gotten around in recent years. Accordingly, Daskelele are literally sitting at the source. The two streamers are seriousness, variety and fairness. are particularly important to them.
Many of their favorite casinos can be recommended by both them and our experts to anyone who wants to test their luck for themselves – especially these top addresses:
Top rated casino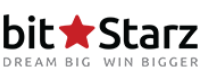 Bonus500$ or 5 BTC
+ 180 free spins
Curacao Gaming 2014test nowBitstarz Test 2.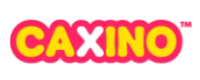 Bonus200$
+ 100 free spins
MGA Malta 2020test nowCaxino Test 3.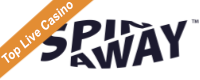 Bonus1000$
+ 100 free spins
Curacao Gaming 2020test nowSpin Away Test
As different as the aforementioned companies may be, their great commonality is important. We are talking about an official gambling license, all of which have been granted in Malta or Curacao. Malta, by the way, is also the new adopted home of Daskelele aka Jack Petersson.
This ensures a good feeling, because fairness has always been a top priority in all casinos – if only because the license conditions stipulate it that way.
Jack & Philip's favorite games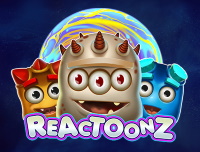 Both streamers have a passion for modern and and unusual slot machinesin which bonus features provide solid chances to win provide. But also the one or other live game is shown in the Daskelele streams. When Jack is in a good mood, he shows his fans what he can do on the roulette table.
Philip, on the other hand, is more of a slots guy who takes on even the biggest challenges. In the meantime, both Swedes have been playing the newer Megaways slots for themselves. Thanks to numerous winning ways, it is relatively easy to get profitable amounts out of them.
The Daskelele live streams are in fact just as as diverse as the providers themselves. This is shown by the following examples alone:
Money Train
Reactoonz
Deadwood
Crazy Time
Wild Frames
This short list already shows that Daskelele does not specialize in one topic. Both streamers follow the development of major providers and like to devote themselves to new slot games that have just been freshly released have just been released. Classics, which now include Reactoonz, for example, are by no means neglected.
Daskelele streaming times and platforms


Streaming comes for the Swedes only on Twitch because there is hardly a second platform that is similarly well positioned in this area. Although YouTube in particular is currently trying to offer users such a basis, this also seems to be of little importance for Daskelele's duo.
This at least clarifies where the two spend most of their time. According to their own statements, they do that almost every day. Only every now and then Jack and Philip take a well-deserved break from their incredibly successful, but also exhausting business.
According to the information provided on Twitch, the streaming times are spread throughout the day. Often, the streams start in the afternoon and go well into the middle of the night. The two are something like the ideal solution for all night owls. So, if you're in the mood for entertaining streams, exciting games and good entertainment is definitely well advised to go with these two.
In fact, their streaming times change quite frequently. Sometimes they regularly start in the early afternoon one week. Sometimes they don't start until the evening. And if they get the urge to gamble in the morning, that's when they sit in front of the camera. Obviously, there is no clearer line when it comes to this topic, but at most a guideline. The followers don't seem to mind. Even though it seems like Daskelele streams sometimes then and sometimes then, it's not quite that bad in reality. There are definitely regularities in their streaming times.
Daskelele in the social media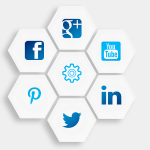 The fact that you can develop new followers in the field of social media and position yourself more broadly, that has of course spread to Daskelele. However, we have to say clearly that the two streamers are obviously not too active on the well-known channels, such as YouTube, Instagram or Twitter. Nevertheless, there are news from the two Swedes to read from time to time, which are quite interesting.
We don't want to go that far, but rather take a look at the subscribers, content and activities of the experienced streamers on the most popular channels.
Daskelele on Twitch
Daskelele on YouTube
Easybonus on Instagram
Jack Petersson on Twitter
---
Daskelele on Twitch


As indicated at the beginning of this article, Philip and Jack are on the verge of reaching the mark of 70,000 Twitch subscribers a number that is definitely something to be proud of. Of course, both streamers are automatically in "zugzwang", because so many followers want to get something to see. This means that both Jack and Philip can often in the afternoon when they start streaming. serve.
The duo has now decided on a 7-day week. However, every now and then they also have free time, and then they leave the business to the competition on the streaming platform. It's important to the two of them to cleverly use gaps in the schedules of their competitors for themselves – with success, as the numbers prove.

It is rather rare for the two friends to stream together. Usually they divide their job cleverly in order to be on the job for as many hours as possible and win over new fans with a breath of fresh air.
Sometimes things go very well for the Swedes. This would actually already explain why the other social media channels take a back seat.
Daskelele on YouTube
Currently, the fan base is also taking on unimagined dimensions on the YouTube channel. From late summer 2020 to the present, the two streamers have added more than 40,000 new subscribers new subscribers. This clearly indicates that the duo is doing everything right with its streams and is obviously extremely well received.
It is important to note that there is no Daskelele channel exists. Instead, the operators have opted for "Jacks Gambling Channel". Although the founder of the Twitch account also goes ahead with his name here, the Swedes share the channel and provide their fans with the coolest game highlights as a video.

Surely the views and followers are no comparison with the top 3 placements in our streamer ranking. Nevertheless, Daskelele have achieved quite a bit in the past weeks and months. That alone is the product of their hard work, which they literally put into their special career invest.
Easybonus on Instagram
The Instagram channel of the two streamers was created to match their own website Easybonus.com website. Here, the two have made it their mission to share their most most exciting moments in pictures.
From time to time, more personal photos are also published, proving that even busy streamers like Jack and Philip can find the time to do other things – be it a trip to the shooting range or a shopping spree at the luxury car dealer.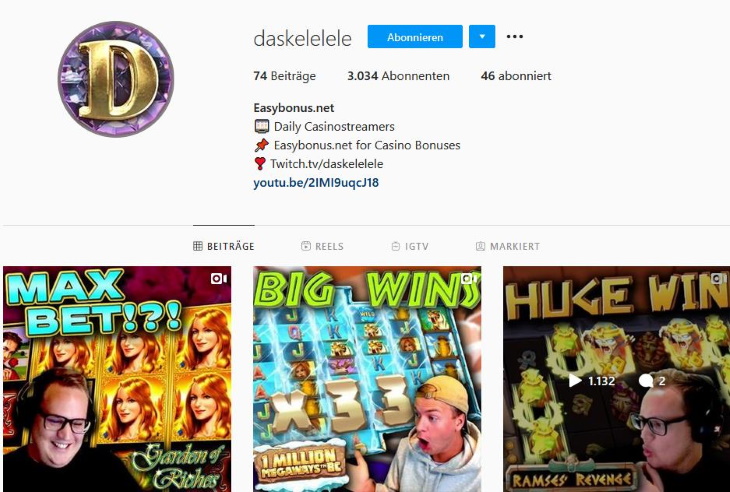 When the opportunity presents itself, the Swedish streamers like to take their fans along on their travels. Overall, the Easybonus Instagram channel is still quite manageable. This also applies to the subscribers, as there are currently just under over 3,000who follow Daskelele. One special feature is the giveaways, which are also based on the aforementioned website. So if you're on the channel, you definitely have a chance to secure one or two special bonuses.
Jack Petersson on Twitter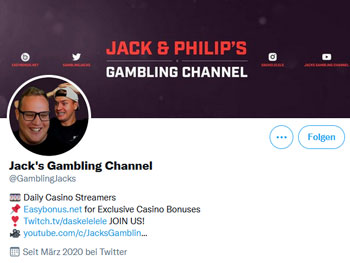 The number of followers on Twitter is still very expandable. This is certainly also due to the fact that Daskelele only opened their Twitter account in March 2020. The top players in the industry were one or even several steps ahead of them.
But that has changed in the meantime. However, their Twitter account is not under the name Daskelele, but already as on Youtube it reads Jack & Philip's Gambling Channel. It's hard to say what the two intend to do with it. In any case, there is not much additional content on Twitter. They mainly use this account to promote content on Twitch and Youtube.
Daskelele are not the only streamers who use Twitter clearly on the back burner. There are simply too many other things for the duo to do that are crucial for their success – be it new content on Twitch, the YouTube channel that needs to be filled with videos, or even the Swedes' own website mentioned above, which also needs to be constantly filled with new bonuses.
This is what makes Daskelele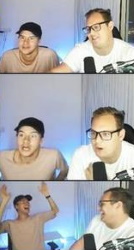 Philip, who later joined Daskelele and whose last name we unfortunately don't know, has been the subject of a lot of hype in a very short time. The founder of the Twitch channel, Jack Petersson, doesn't seem to have a problem with this at all and is happy to let his buddy go first. Both seem to feel right at home in the spotlight of the Twitch cameras. They love to show off their preference for slots and to stay in conversation with the fans at the same time.
We can give both streamers a lot of sympathy points points. However, his sidekick doesn't come close to Phil's beaming smile, but that doesn't make him any less interesting as a personality in the end. This contrasting program of the duo will certainly be one reason why the Daskelele account on Twitch literally exploded within a short time. In any case, the two Swedes don't have to hide behind their competitors in the scene.
Both Jack and Philip demonstrate both professionalism and perseverance in their job. professionalism and perseverance. 10 hours of live streaming? Such challenges are no problem for the duo. And the two don't even shy away from high stakes. We'll get to what exactly we mean by that in a moment. At any rate, the Swedes can score points with the fan community with their courage.
Games with high roller betting – genius or madness?


It is already fair to say that Daskelele can be classified as a high roller are. Whereby the term is of course always a matter of interpretation. A stake of 20 euros per round is a good thing for the two young streamers from Sweden. It is therefore all the more surprising that the two are comparatively rarely accused of fake bets. There are critics everywhere, but Jack and Philip don't let that put them off their game. After all, they both know that they have incredibly loyal fans at their side.
Our research has revealed: The stakes of both streamers, active as Daskelele, can be classified as real. Contrary to the widespread rumors, the duo does not receive any special no special conditions at the online casinos, which are based in Malta just like Jack and Philip. Accordingly, they too have to rely solely on chance and their own luck. The fact that we are dealing with real gamblers is not least shown by the fact that they also suffer bitter losses from time to time.
Two streamers who like to share their knowledge


The two streamers from Sweden are particularly proud of their own website, which can be reached at easybonus.net. The title already suggests that the providers are primarily concerned with, sharing bonuses with their subscribers and to offer one or the other special promotions to submit. Almost all of the casinos behind it are from Malta. However, whether registration is safe for Australian Daskelele fans cannot be answered in a general way.
The most important thing is that followers of the website can learn from the greats. The two Swedes love to share their experiences and accumulated knowledge in the field of online gaming with their readers. So the priority is not to simply promote bonus campaigns, but rather to provide visitors to the site with to provide expertise and instructions for a safe and lucrative lucrative gaming start and lucrative game entry. Neither Jack nor Philip hold back with their "secrets of success", although it must be clearly said that the streamers are just as dependent on chance as any other player.
Jack Petersson and Philip in private – little information on the net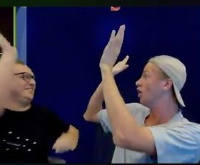 Our editorial team cannot provide deep insights at times. The two streamers keep a very low profile when it comes to their private life. Only a few pictures pop up on Instagram, showing Jack and Philip in scenes that have nothing to do with live streaming for a change.
We found out that the home of both Daskelele streamers is Sweden. Jack even reveals his last name, whereas Philip deliberately keeps his to himself. There is no reason for this, but in the end, fans have no choice but to accept the accept privacy.
Like many Twitch stars before them, Jack and Philip decided to turn their backs on home some time ago. In the meantime the two live in Malta. Despite intensive research, it was not possible to find out whether they have families there. All that is known is that the young men, who are both around around 30 are really close friends. We are sure that the two are doing very well in private. By now, they should have earned at least quite a bit from their channel, and the website probably also generates enough money for both of them to live off of without any problems.
Author: Joshua Davidson