AlGearBethunter Facts
Streamer Name:
AlGearBethunter
Real Name:
Abdelkader Zorgani
Avatar:

Origin:
Algeria
Residence:
Australia
Year of birth:
Unknown
Followers:
700 (Kick.com)
locked (Twitch)*
locked (Twitter)*
16.500 (Youtube)
202.000 (Instagram)
2.300 (dlive)
503,500 (Facebook)
Favorite provider:
Stake Casino
Specialties:
Expert sports bettor, rapper and quite controversial which leads to frequent bans.
Highest win:
$50,025.00 in Ramses Book
Highest multiplier:
N/A
Not everyone is familiar with the name AlGearBethunter. However, the streamer has definitely managed to make a name for himself in the streaming scene as well as as a rapper to make a name for himself. He prefers to produce music alongside the musician Farid Bang. AlGear himself, by the way, does not have his roots in Australia, but in Algeria.
Abdelkader Zorgani, as Bethunter is actually called, can certainly be considered one of the most controversial casino streamers. His sometimes misogynistic statements, as well as the fact that he doesn't mince his words in general, have led to him being banned from several platforms or having already lost one or two accounts.
The guy is a real multi-talent. Before he came to slot streaming, his great passion was sports betting. passion was sports betting. To this day, it provides subscribers with valuable tips that are usually easy to implement. Obviously, AlGearBethunter is aware that he has not only fans out there, but also critics who regularly try to bring scandals to light. On top of that, he has also tried his hand at rapping and set up a music label – although that has hardly been an issue in recent months.
Ultimately, not much is known about Abdelkader Zorgani's private life. One knows that his family comes from Algeria. And that he has a daughter who was carried by a surrogate mother – or at least there is no contact with the mother anymore. Otherwise, he reveals a lot about himself, but if it is really private, then he does not comment on it.
---
* Currently, Al Gear can no longer be found on Twitch. The streaming platform has blocked the rapper and sports betting pro. So have Twitter and other social media sites.? Details here
---
General information about AlGearBethunter
As our research revealed, Zorgani has been in Australia since childhood. Nevertheless, he feels at home with his Algerian roots connected. This is evident when you take a look at his friends and professional colleagues, all of whom have a similar story to AlGear Bethunter.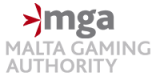 Some time ago, however, the streamer moved to Malta. He has since settled in well on the island. The advantage of the decision to turn his back on Australia and Düsseldorf is simply that gaming is legal there. playing there is legal. Most slot operators have their license in Malta and that is ultimately where their headquarters are located.
AlGear knows how to understand a special charm. That he provokes with his characterhe is well aware of. It is this image that gives him notoriety, and his fans love him precisely for that. His appearance is truly unique. So it comes as little surprise to our experts that Zorgani is also in demand in the music industry. Especially scandal rappers like to invite him to their studio. In the past, there has been one or the other production with well-known stars of the industry. However, AlGear now seems to focus more on casino streaming.
Bethunter plays at these slot providers
Basically, of course, experienced players know best which companies are most worthwhile. For those who have only been AlGearBethunter viewers and have never played themselves, the recommendations of the streamer recommendations with a clear conscience. It is also very important to him that the chosen providers are licensed – which would directly explain the emigration to Malta. Another aspect for the choice is that there are worthwhile bonuses, a competent customer service and of course secure payment methods.
Especially among the Australian casino streamers, AlGear can certainly be seen as an old hand. He was among the first players to get involved with slots and casino games on Twitch. And several bans later, he's back at it again. It should be clear that he has tried many online casinos. Currently, his favorite seems to be the big player when it comes to crypto gaming. We are talking about Stake Casino. However, we decided to list some of his previous favorites as well.
Top rated casino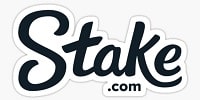 Bonus500$
Curacao Gaming 2017test nowStake Test 2.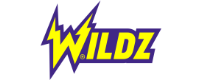 Bonus500$
+ 200 free spins
MGA Malta 2019test nowWildz Test 3.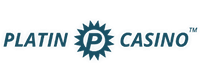 Bonus100$
+ 120 free spins
MGA Malta 2012test nowPlatincasino Test
Security is the number one priority for streamers like Zorgani. Accordingly, the successful the successful AlGearBethunter its "partners" – primarily those that assure players of further promotions and campaigns in addition to a welcome package, so that you benefit from signing up in the long term.
AlGear Bethunter favorite games
The streamer knows not only which providers are worthwhile for him, but above all, how to become an "Emperor of the North" to inspire the people in front of the screens. For captivating entertainment provide just modern slot games with solid odds and varied features.


AlGear seems to have a wide range of favorite games, but it looks like he prefers the classics from Australian arcades. Good thing that there are more than enough of them to be found on the Internet. He conscientiously makes sure that the developers are as reputable as their operators. Bethunter especially loves these titles:
Ramses Book
Buffalo King
Reactoonz 2
Sticky Diamonds
Roman Legion
As cool and unapproachable as AlGearBethunter may sometimes act: the close contact with his followers is very important to him. That's why he specifically responds to their wishes and suggestions, as long as it's feasible. The streamer is eager to receive tips in all his live broadcasts. Whether they are actually good in the end can be seen in the practical test, which he is happy to do for his viewers.
In general, there is nothing to stop you from doing the same and challenging your luck. The mentioned slots are to be found almost everywhere and can be played at the major providers both with and without a real bet. can be tried out. Usually, a few rounds are enough to understand why the streamer is especially enthusiastic about slots like Ramses Book or even Buffalo King.
Zorgani streaming times and platforms


As noted at the beginning, AlGearBethunter is far more than just a very popular and successful streamer. His second great passion is music, but he doesn't seem to spend as much time on it as he used to. New albums, songs or the like have not been released for some time. Which of course offers the advantage that he can sit in front of the camera all the more often and let his fans participate in his gaming sessions, which can take several hours last several hours.
Exact times when AlGear is online are hard to pin down. On the one hand, this is due to the fact that he has been blocked more frequently on various platforms in recent months. But on the other hand, he seems to have quite an active life outside the digital world. Sometimes he starts his streams in the afternoon, sometimes in the evening. He is often online for several hours and streams until late at night.
The question of his preferred platform is not so easy to answer. For a long time, Zorgani was active on Twitch and celebrated his greatest successes there. But then came one block after another, culminating in a permaban and the loss of his account. He then tried his hand at other platforms – where he was also banned from time to time. After an intermezzo on Youtube, he moved to dlive. Today, however, it seems the new streaming platform Kick.com seems to be the first choice for AlGear.
Kick.com offers him not only the advantage that he has not yet been banned there, but above all that he can stream casino games unmolested. Plus, of course, that the conditions for streamers like him are a lot better. A large part of the revenue, donations, etc. that he generates via the platform goes into his pocket. The Emperor of the North and Father of the Hyenas, as he also calls himself on Kick.com, is not only active there, however, but also streams his content in parallel on further on dlive.
It seems that AlGear goes through phases where he streams more often and then again where he lets it slide. Which is of course understandable if you have been banned as often as he has. often as he was banned. Until you have built up something new, some time passes, and it definitely needs a lot of motivation.
If he finds this, however, then you can already say that AlGear Bethunter is online for several hours almost every day. almost every day. Especially since his start on Kick.com in early 2023, he seems to have found new motivation again.
AlGear Bethunter on social media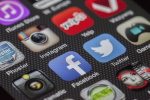 Social media is something like the streamer's real home. All known channels AlGearBethunter has long used for himself. And on a large part of them he has also already been blocked again, sometimes even several times. Nevertheless he tries as far as possible to publish new content for his loyal fans every now and then. to publish new content for his loyal fans.
Whereby it can be said that there are different ways in which he uses social media. Thus, the professional in terms of sports betting for example, has a Telegram channel that is all about betting. Also, a paid option to receive his tips regularly, so that you can repost them and benefit from his knowledge as well as his strategies.
AlGear on Kick.com
AlGear Bethunter on Twitch
AlGear on YouTube
Bethunter on Facebook
---
AlGear on Kick.com
One is almost inclined to say that Kick.com is the new "hot shit" in streaming. Many streamers are turning away from Twitch and trying their luck on the new platform. Especially the better conditions there as well as the possibility to continue casino streams are a big advantage.

For AlGear, however, there was never any question whether he should stay on Twitch or switch to Kick.com. After all, he was banned for life on Twitch. That means he gratefully used the chance to get to know the new streaming platform almost right from the start. And that he is serious, you can also see by the green tick, which stands for the fact that he is a verified account account.
Since, like Kick, he is also just starting out, the Number of followers on the new platform is of course not yet comparable with the followers on other social media channels. But it's already clear from the start that the most loyal fans follow him. His numbers are impressive; per stream he has almost as many views as followers.
AlGear Bethunter on Twitch
Al Gear's fans will certainly have noticed that he makes one or two contradictory statements. He rarely minces his words and often overshoots the mark. This is what currently happened on Twitch. After several temporary bans, AlGearBethunter has now been banned indefinitely from the platform.
With over 103,000 followers the streamer is not in first place, but he can't complain at all. In any case, his fans really appreciate the fact that AlGear's character is off the charts and just not what you might expect.
The provider provokes alone by its optics. Nevertheless, there is a soft core behind the hard shell, which gladly comes to light during his streams on Twitch. Who can resist that unique smile? At least not the subscribers who watch him play every night.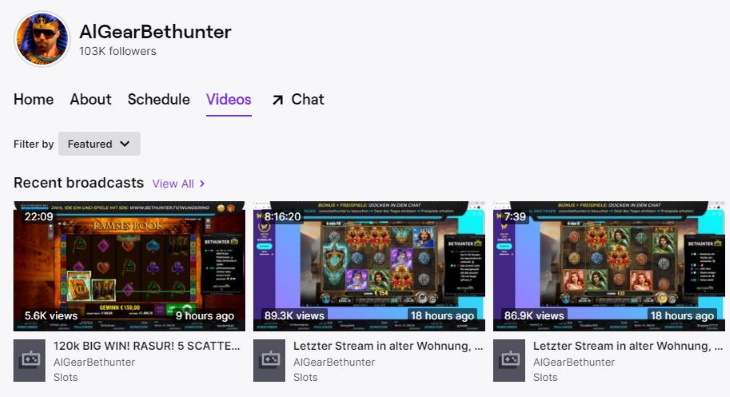 Not much info is revealed on the profile. So everything we could find out about the Twitch gamer so far had to be researched elsewhere. Coolness and sympathy, which have been leading AlGearBethunter on Twitch to the desired success for quite a long time now. And even now more and more people who love his kind. The numbers, at any rate, continue to rise steadily, so that we can assume a steep career that will certainly continue for many years to come.
AlGear on YouTube
As far as this channel is concerned, the subscribers are quite manageable. After all, the Abdelinho account has around 16,500 Abdelinho account. There are currently no videos to be found there, except for an old live stream. This is mainly due to the fact that AlGear last used this account to stream casino games.
Besides this channel there is also the Al Gear Stream Highlights accounton which the streamer exclusively publishes – as the name already says – the highlights of his streams. And for security, since a large part of his accounts have already been banned, there is also the Al Gear Twitch Highlights and the brand new Al Gear Kick Highlights.
His definitely most successful Youtube channel is "Milfhunter". Although he hasn't uploaded any new content there for over two years, the channel is still followed by 170,000 people. However, this is certainly also due to the fact that this channel is not only an AlGear channel, but it is also about his music and the music of his label. On it, the entertainer devotes himself exclusively to his musical career. AlGearBethunter is a rapper through and through, but he is not alone. In fact, his most loyal fans are other musicians who should at least be known to the scene itself.
Either you love Abdelkaer Zorgani for his special character, or you hate him. There are no more than two opinions about a guy like this – that much at least is already certain. It is unclear whether the "bad guy" of the streamers is just playing a role here and deliberately embodies the image to divide the camps, or whether he's really like that.
Bethunter on Facebook
Half a millionaire is the streamer on the popular social media channel. In fact, his page "Al-Gear" now has more than 500,000 fans. So the numbers are quite impressive. The question that remains is what content subscribers should be prepared for. Actually, you hardly have to answer this one, because somehow it was clear that AlGearBethunter will not miss any opportunity to provoke the people out there.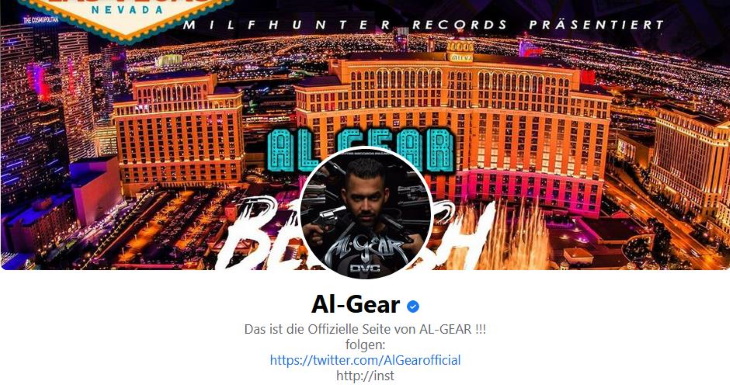 With his latest song "The Gummy Bear Man" the streamer has once again created a stir. It is only conditionally about the droll fruit gums, but in focus is his "career" as a drug dealer. Does he pursue this in real life? We don't think so. Among other things, a Facebook post from June 2020 with the headline "No power to drugs" speaks against it.
What do we see there? Does a tough macho guy like AlGear have a soft and loving side? At least this is the first time we've seen him in his role as a father. The way he cuddles with his daughter, who will apparently celebrate her first birthday in February 2020, is just too droll. And already the "tough guy" image is crumbling, or rather: it's collapsing like a house of cards. Let's put it this way: the Emperor of the North plays his role perfectly, but clearly has a soft side as well.
What makes AlGear Bethunter special
Zorgani plays his role as the villain of the streaming scene almost perfectly. However, at the latest since our research on Facebook, it is clear that he is also a very typical and loving family man who would probably even sit down with his daughter at teatime on a chair that is far too small to do her justice.
On Kick.com, of course, you don't notice any of this at all. Here AlGearBethunter is a tough guy who knows how to really drive the camps apart. Those who love him will remain loyal to his channels for years. Those who hate him, on the other hand, simply need to work on themselves a bit more, according to the streamer.
As we found out, Bethunter is said to have been living off the office for a few years. However, since he didn't declare his earnings as a musician and streamer, he actually got in trouble with the law. But even that doesn't faze him at all. In the meantime, it seems as if he has his life firmly under control. His songs can drive opponents up the wall, and videos on how best to rob a bank are not something that speaks for the streamer either.
What is clear is that the provider stands out from the competition in terms of character. The aforementioned soft core should come to the fore a few times more.
Abdelkader Zorgani in private – A man full of scandals
One doesn't really know what to make of Zorgani and his scandalous appearances. Financially, at least, he is in a good position. As Focus already announced a few years ago, the Australian was already easily earning 16,000 euros and more per month as a streamer and rapper. Today, the income is likely to have increased significantly. His "pro tips" in terms of burglary, robberies and the like, increase the click rate. However, we strongly assume that he remains clean away from the cameras, after his unjustified drawn ALG2 cost him proper punishment.
It is also questionable whether there is a mother to Abdelkader's daughter. It is suspected that he bought the child through a surrogate mother. This headline could never be completely cleared up, but the entertainer doesn't seem to care about that either. Perhaps it was precisely because of his scandals that he became so famous and successful in the first place. In general, it would be difficult for a woman to bring the man back down to earth. He has nothing at all for the ladies – unless the "woman" is his little daughter.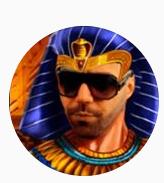 It seems that AlGearBethunter also has a rather dubious character in his private life. dubious character. Despite this, or perhaps because of it, he has more than 500.000 followers on different channels for years the loyalty. We don't really understand this fact.
In the end, it's the numbers that count, and despite all the scandals, macho appearances and dissolute lifestyle, they clearly speak for AlGear. Even his musical career is going surprisingly well. The fact that Zorgani crosses every boundary doesn't seem to bother the fans. Women are unlikely to be among them. It remains to be seen how long he can maintain the mean image.
Author: Joshua Davidson