Details about Malta Gaming Authority




Authority:
Malta Gaming Authority
Registered Office:
Building SCM 02-03, Level 4, SmartCity Malta, Ricasoli SCM1001
Establishment:
2001
Email:
mga.org.mt
Best Casino
Betamo Casino
If gambling is to be safe and fair, proper regulation is essential. This is exactly what is guaranteed by the Malta Gaming Authority – also known as MGA Malta. If an online casino is licensed by the, you can be sure of its seriousness.
In general, players should be aware that registering at an online casino without a license is extremely risky. There is no legal basis whatsoever that can be invoked if necessary.
The MGA is one of the leading licensing authorities in Europe. Those who have managed to be approved by them hardly have to worry about loyal customers. Players know what the regulation means for them and that only through the license can be assumed the highest level of reliability.
This applies on the one hand to serious oddswhich are a must for licensees. On the other hand you can count on fast and secure payout rely on.
Transparency is a matter of course for the Malta Gaming Authority. On the regulatory authority's own website, players are shown all the details about the licensed casinos. However, if there are any doubts, you always have the possibility to inform yourself by e-mail or phone and thus find out whether a license listed in the casino actually exists.
Top online casinos with MGA license
Strict requirements for licensees
Online casinos do not have it so easy to get the green light from the MGA. Until an official gambling license is issued, the operators often have to travel a long way – and above all fulfill numerous criteria.


For example, if player protection is not guaranteed, the company will inevitably fail in its attempt to be licensed by the Malta Gaming Authority.
Other relevant aspects are:
The operator must be trustworthy and transparent
The best possible data protection according to the latest standards is in the foreground
Access by third parties must be excluded
Criminal acts are of course inadmissible
Games are subject to fair odds and payout rates
In addition to all the points mentioned, licensees are also obliged to prove that they have a comparatively high capital. This is the only way to ensure that players are reliably paid their winnings. License fees must also be paid per year. In addition, the share capital must amount to several hundred thousand euros, depending on the type of license.
Who is behind the MGA Malta?
The Malta-based gambling authority has made it its business to, to supervise games, sports betting and lotteries in the online sector. in the online sector. The goal is to make online casinos and bookmakers safer by setting strict requirements. First and foremost, the authority has the role of monitoring in the country of Malta. However, the strictness of the Malta Gaming Authority is also highly appreciated in other EU countries.
There are various areas that are checked by the gambling authority. This, by the way, not only once before the license is granted, but again and again. In order to hold a license at all, online casinos and other gambling companies need financial collateral. The background of the operators is also checked for seriousness.If there is only a small doubt in the area, no license is granted.

The protection of players has always been the focus of all tasks that the MGA Malta takes on. The prevention of gambling addiction is a top priority. Gambling companies must prove this by offering customers the opportunity to set their own limits, for example. Assistance in the area of gambling addiction prevention is also required.
A gambling license, regardless of its type, can be revoked by the Malta Gaming Authority much faster than it was granted. If a provider does not adhere to the specifications and quality criteria, he must expect a license withdrawal. This means that players can always be sure that they are not dealing with a "black sheep".
Since when has the Malta Gaming Authority existed?
Online casinos conquered the market at the end of the 1990s. More and more providers made a name for themselves during this time, while others came along significantly later. When online gaming was still relatively in its infancy, Malta's lawmakers realized that they had to act. For them, proper regulation of gambling as well as lotteries was at the forefront.


In 2001, the government then decided to establish the Malta Gaming Authority. Since then, the gaming authority has been regarded as most important control body for gambling operators in the country. It regularly checks whether licensees adhere to the strict criteria, and at the same time it issues licenses to new companies in the industry. Today, there is hardly a second gambling authority in the whole of Europe that has such a high standing as the MGA.
These are the tasks performed by the MGA in Europe
First of all, it should be said that primarily such casino and sports betting providers turn to the MGA Malta, which are themselves based in the country. There you are not allowed to offer games, betting, poker & lotteries without an official license. Provided that permission is granted, there is nothing standing in the way of operating anywhere in Europe.
Applicants basically have the option of contacting the Malta Gaming Authority at any time and submitting an application for the appropriate license there. There are actually several options, with these depending on the range of games. Applications are now reviewed in a rather elaborate process, because only if all strict criteria are met is the granting of a license at all realistic.
---


The Maltese laws on online gaming, sports betting and lotteries are very clearly defined. Thus, the authority can check relatively easily whether exactly these laws are adhered to by the respective gambling provider. The smallest error in the offer can lead to a license being denied.
---
For the MGA Malta, however, it is even more elementary to take a look at the operator. For this purpose, extensive background research is carried out. Casino founders must not be guilty of anything if they care about running a gambling business.
Online casinos with MGA license – players benefit from this
In our casino tests we always point out with good reason that players should make sure they have an EU license, such as the one from MGA Malta. Without such a license, no serious gaming can be guaranteed. The Malta Gaming Authority in particular offers casino customers many advantages – in terms of security and especially fairness.
Advantages of the Malta Gaming Authority licensing:
Fairness on all levels
Reliability during deposits and withdrawals
Funds are protected in the best possible way
Player protection – a matter of course for the MGA
Controls not only at license application
---
1.)

Fair general conditions

The largest selection of games is only of any use if the chances of winning remain realistic. In other words, certain odds and probabilities must be guaranteed. odds and probabilities must be guaranteed. be guaranteed. Random number generators are responsible for winnings and losses in MGA-licensed online casinos, bookmakers and lotteries. These are repeatedly audited by the gambling authority.

As a gambling authority of this magnitude, the MGA mercilessly uncovers providers who manipulate the RNGs (random number generators). Therefore, players can basically feel safe in licensed casinos when it comes to fairness.
2.)

Reliability in payment transactions

Basically, it usually only takes a few euros to play with real money to be able to play. Although real high rollers are a rarity, there are still many casino customers who invest handsome sums in their preferred online casino. It is all the more important that there is an independent control authority that protects the money. The Malta Gaming Authority is also responsible for this.

Licensees have the obligation to offer their customers only secure payment methods offer their customers. Common credit cards, Skrill, EcoPayz or MuchBetter – to name a few examples – have proven themselves.
Those who have already dealt with reputable providers know that deposits are usually made in real time. At least, that is the common standard today, which is also supported by the Maltese Gambling Authority. Withdrawals should be made within a few days. If problems arise here, or winnings are not even instructed, aggrieved customers can contact the MGA Malta.
3.)

Credit is safe

The authority attaches great importance to securing transactions. It is at least as important that gambling operators keep their players' credit balances separate, i.e. that they do not use them for their own purposes. This is initially checked by the Malta Gaming Authority in the course of issuing the license. But the authority also checks in between whether providers adhere to the separation of customer funds.

This type of safekeeping is essential to ensure that no money is lost in the event of an attack by hackers. Gambling companies must be personally liable for such losses.
---


What's more, if, contrary to expectations, a casino does indeed have to file for insolvency, player funds are not affected by this problem. The MGA thus ensures financial security – no matter what eventualities might occur.
---
4.)

MGA pays attention to player protection

Where money is involved, there are always certain risks. We are talking in particular about the risk of gambling addiction. The Malta Gaming Authority takes licensed providers to task for taking various measures.


Another essential point is the protection against cyber attacks This applies to the credit balance on the one hand, but of course also to private and thus sensitive master data on the other hand. Registration at every MGA-licensed casino, as well as at bookmakers and, of course, lottery providers, is SSL-encrypted. The gambling authority controls that always the latest technology for the protection of customer data is used.
5.)

Ongoing monitoring – even after the license has been granted

The Malta Gaming Authority is much more than just an authority – rather, we are dealing with a very strict and conscientious control body. To ensure that laws and regulations are adhered to in the long term, gambling operators must always expect audits. Of course, these take place random samples and without prior notice. take place.

If customers notice irregularities at the MGA-licensed casino of their choice, they have the option of contacting the Malta Gaming Authority. The authority investigates the suspicions and checks whether they are possibly justified. If so, the MGA will take appropriate action up to and including license revocation for serious offenses.
Where can I find MGA Malta licensed providers?


At FindCasinoBonus.com, our team of experts exclusively presents licensed casinos as well as betting providers that operate both safely and reputably. They are all fundamentally different in many respects and yet have one thing in common: namely, the official concession.
It strikes even newcomers relatively quickly that many companies in the industry are licensed and supervised by the MGA. Throughout Europe, the gambling authority is the largest and at the same time the most important. Anyone who has managed to get the green light here is almost automatically highly rated by players and usually enjoys complete trust.
Selection of the top casinos with MGA license
These problems can be reported to the MGA
Although the Malta Gaming Authority takes its responsibility very seriously, problems and unauthorized behavior can never be completely ruled out.
Most often, the authority has to deal with unfair bonus conditions. Often, these seem simply unsolvable for the beginner, or misunderstandings arise in this area. In such situations, the Malta Gaming Authority does everything it can to check the facts and intervene if necessary, should the complaint actually be justified.
This is how contacting the authority works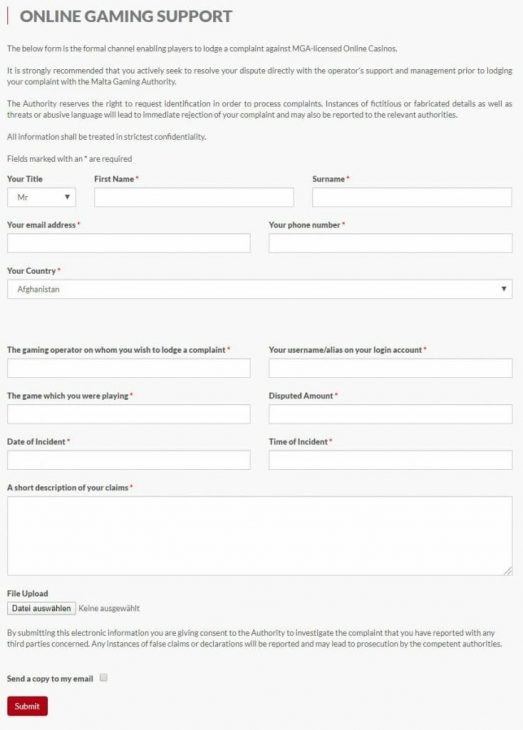 The most important contact details are provided transparently by the authority. In addition, there is a clearly laid out contact form on the website. Here, only a few master data have to be entered in order to be able to send the request.
The decisive factor for immediate assistance is to describe the concern as precisely as possible, what kind of support is needed. This makes it all the easier for the support team to intervene in a targeted manner.
Of course, you don't have to step on the proverbial toes of casinos, bookmakers and lottery providers right away and file a complaint. Often an open conversation with the customer service of the preferred provider to clear up any misunderstandings.
After all, there's nothing like a good relationship between company and customer. By the way, this recommendation is received directly from the authority, which is also concerned about a pleasant climate.
Our conclusion on MGA Malta
For reputable online casinos, a top-class gambling license is essential. With good reason, many players in the industry rely on the cooperation with the MGA Malta, because the licenses issued here are now regarded by players as a kind of Guarantor of safe, reputable and reliable gambling..
Of course, the UK Gambling Commission the Gibraltar Authority and other licensors do a similarly good job. However, in terms of notoriety and rigor towards gambling operators, the Malta Gaming Authority is clearly the frontrunner.
Author: William BrownRated: MGA MaltaAuthor Rating: ⭐⭐⭐⭐87%