Xposed Facts
Streamer Name:
Xposed
Real Name:
Cody Burnett
Avatar:

Origin:
Canada
Residence:
Ontario
Year of birth:
June 7, 1996
Followers:
15,900 (Kick.com)
535,300 (Twitch)
129,400 (Twitter)
331,000 (Youtube)
71,800 (Instagram)
103,600 (TikTok)
63,100 (Discord)
11,600 (Facebook)
Xposed favorite provider:
Stake Casino
Features:
Plays with solid team, loves CoD as much as slots and live games
Highest win:
$4,718,280 in Hot Fiesta
Highest multiplier:
3,370x in Hot Fiesta
Net worth:
> $12.5 million euros
Young Canadian Cody Burnett aka Xposed definitely belongs to the elite when it comes to casino streaming. Besides Roshtein, Trainwrecks he is definitely one of the leading streamers. And he's definitely one who can really excite the fans. It's simply amazing to see how quickly his follower numbers are increasing – and not just on the streaming platform, by the way, but also on all the other social media Cody has chosen.
He provides these with a variety of content. It quickly becomes apparent that Xpoded has many facets. Sometimes he dedicates himself to slots with high roller stakeswhile at other times he shows his skills at the live table or at Call of Duty proves his skills. He also uses the different platforms for different purposes. On Twitch, for example, there are now almost only streams in the categories "Just Chatting", Call of Duty and other computer games. Casino streams, on the other hand, can be found mainly on Kick.com, as well as some videos on YouTube.
Our research has shown that Cody now earns a considerable income from social media and live streaming. He has succeeded in doing what many other providers can only dream of. He can certainly live very well off his earnings and can confidently be called a professional.
Keep in mind that Xposed is only in his mid-20s. So he certainly has many successful years ahead of him, and the streamer has been working flat out on this very success since the very first hour. Cody B. is one of those who started very young. He was barely of age when he started his career on Twitch. Today, for the Canadian, there are only the cameras and, of course, his hundreds of thousands of loyal fans.
General information about Xposed
Cody Burnett was born on June 7, 1996 in Canada and still lives in Ontario. There he lives privately a quite solid as well as tranquil life. In the meantime, he has founded his own small family, which supports him in his daily work and keeps his back free. After all, live streaming costs a lot of time, and the provider is happy to take that time for his fans. His level-headed and funny manner is well received by the viewers. Despite the seriousness of the job, Xposed is always up for a joke.
---


We're particularly pleased by the fact that Cody doesn't come across as aloof at all. He looks much more like the nice boy next doorYou can't help but love him for his friendliness. The streamer takes his time not only for the broadcasting cool slots or live games but especially for the live chat. During all these hours, he specifically responds to his followers.
---
That's how he manages to keep them happy in the long run. The partner at his side supports him wherever possible. While he is pursuing his career, she is apparently taking care of their child. She certainly doesn't have to worry about money, because it's flowing all by itself by now.
Xposed plays at these slot providers
At the beginning of his streaming career, the streamer had an account with many different providers and played there. In doing so, he chose reputable companies that had an official gambling license possess. Subsequently, he became one of the biggest streamers playing exclusively at Roobet Casino. However, this cooperation came to an abrupt end shortly after his high winnings of almost five million dollars and Xposed moved to Stake Casino. One of the leading providers when it comes to crypto games.



Visit Stake

Bonus:

500$

Rating:

Excellent

Establishment: 2017
Online since: 2017
Customers: n/a

License:
Software:

Pragmatic Play
Nolimit City
Gamomat
NetEnt
Yggdrasil Gaming
Gameart
Betsoft Gaming
Evolution Gaming
Red Tiger
Thunderkick
Push Gaming
Quickspin
Playson
Elk Studios
Habanero
Wazdan
Hacksaw Gaming
Relax Gaming
BigTimeGaming
iSoftBet
PlayNGo
Cody is one of those players who doesn't rely solely on the old familiar. Especially the newcomers in the industry offer him a welcome change. As long as all the basic conditions fit, including the aforementioned official license, there is nothing at all to stop the Canadian from giving one or the other freshly launched provider a chance. Especially there he profits attractive campaigns as a Bonus Hunter..
Cody B. Favorite games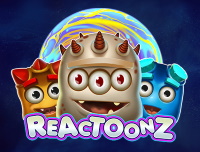 While most of the competitors focus on slot machines Xposed prefers to show how multifaceted online gaming can actually be. He has an absolutely deft for classics like Roulette, Blackjack or even Poker.. He seems to be particularly fond of the live versions of table games. However, he also knows that slots are especially popular with the audience. The following are the ones he presents most often in his extensive live streams:
Reactoonz
Mega Ball
Fruit Party
The Dog House
Live Games
Our readers will certainly have made acquaintance with one or the other of these titles. They are usually available at the popular providers in this country as well. You can watch them without any risk, but it is just as possible, play for real money like Xposed. Logically, this is what creates the special excitement. Another advantage of slots: You do not need any experience and can simply sit back after setting the bet until chance means well.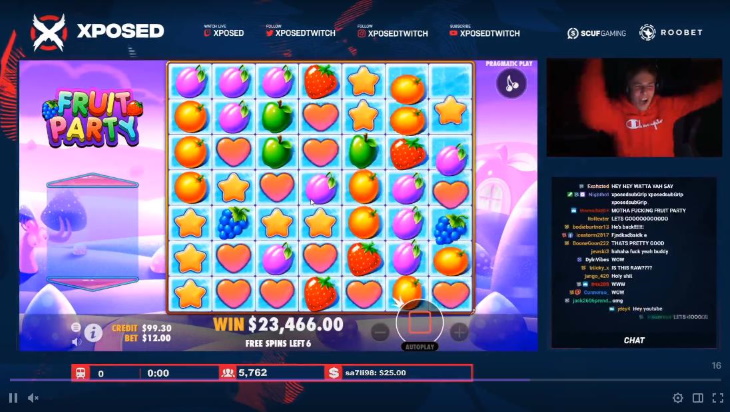 Xposed streaming times and platforms


Meanwhile, Xposed has a 7-day week. Although he streams mainly on Kick.com and Twitch, his YouTube subscribers have the option to watch older live broadcasts as videos. For some time, he even used this video platform for his casino streaming. In general, there is hardly a channel that Cody leaves out. We'll be happy to reveal a bit more about that in a moment. First, let's take a look at what streaming times Xposed prefers.
According to the current schedule the streams start daily from about 5 o'clock our time in the night and usually last several hours. So you can talk about a full-time job here, which Burnett takes very seriously. That the times are atypical for our region makes sense. After all, Canada is six hours ahead of us. So if it's 5 o'clock here, the clock in Canada should read 11 o'clock. This would also explain the timing of the streamer.
Xposed now has fans all over the world. If the streaming times are not convenient for you, you have the option of watching the to watch the broadcasts later on – either on Kick.com itself or alternatively on YouTube. So no one is forced to work a night shift for their favorite streamer from Canada.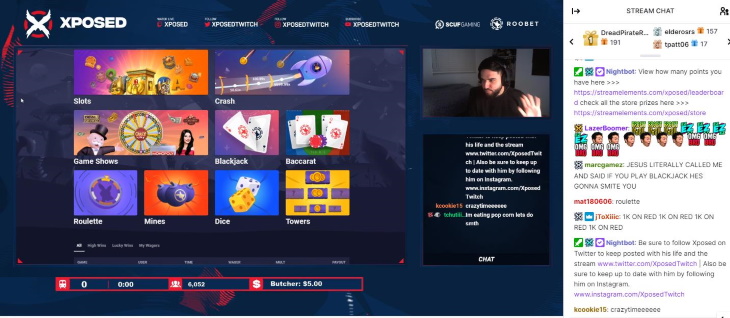 Xposed on social media
Xposed on Kick.com
Xposed on Twitch
Xposed on YouTube
Cody B. on Instagram
Xposed on Twitter
The Canadian not only knows how to present himself on social media, but also how to position himself. On most channels he makes targeted advertising for his profiles. Every now and then, fans also have the chance to catch a glimpse of his personal life. Although Cody is extremely busy and lives his career, there is always a little time for his girlfriend and their child.
We have already watched numerous streamers but few use their YouTube, Twitter and other channels as actively as Cody Burnett. The guy just knows how to keep people happy. This explains the drastic increase in new fans.
---
Xposed on Kick.com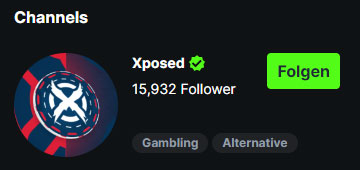 Kick.com is the new platform when it comes to casino streaming. Accordingly, Xposed is of course also represented there and is regularly active. The number of his followers is of course still a bit lower, but if you look at the development of this new streaming provider, then this will certainly change in the near future. And definitely Xposed itself is one of the most successful streamers on this platform..
One could think that Xposed on Kick.com focuses only on its gambling streams. After all, these are no longer possible on Twitch. And even though they make up the main part of his content on this streaming portal, there are also a few other videos every now and then. Above all, he seems to enjoy watching the one or other TV show with his fans.
The channel's popularity is due in no small part to its versatility. In addition to slots, Cody plays live games from time to time. He also seems to have an affinity for shooters, although these are not to be found on Kick.com. The stakes are often quite high with several hundred dollars per spin.Sometimes he even risks 10,000 dollars or more when he tries his hand at the Blackjack table. Xposed is a high roller by all means, and just because of that he creates an outstanding tension in the streams, which not only we like very much.
Xposed on Twitch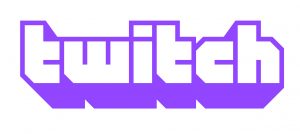 Next to all the other channels, Twitch is the by far the most important platform for the streamer. At least it was until casino streams were banned there. Gambling is no longer available there, but Xposed is still active there. Instead, he now concentrates all the more on entertainment with his fans and computer games.
The young streamer from Canada simply knows how to set up entertaining live streams and what is necessary to secure a solid income here. He should be able to live more than well from this by now, as insiders reveal. A few hundred thousand dollars a year has long become a matter of course for Cody.
Xposed on YouTube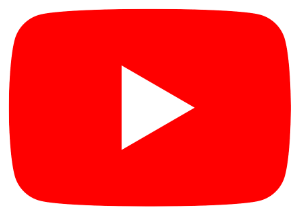 The streamer manages to skyrocket the number of subscribers within a few weeks. There are now already almost 331,000who enjoy watching the provider play.
The offer on YouTube includes mostly finished Twitch Live Streamswhich he simply uploads here. That way, you can watch them over the long term and are not tied to the usual times in Canada. After all, not all of his fans from other regions have time to sit in front of the screen at night.

According to his own information, Cody earns several thousand dollars every month on YouTube alone. The best videos have been clicked countless times by now, and that's just showing on his account.
However, it's obvious to Xposed that he's not really in it for the money. It's much more important for the streamer to be able to live out his passion and to inspire other people around the globe with his with his funny and exciting broadcasts. with his funny and exciting broadcasts. This applies to slots as well as live gaming. It is the mix with which Cody B. reaches different target groups.
Cody B. on Instagram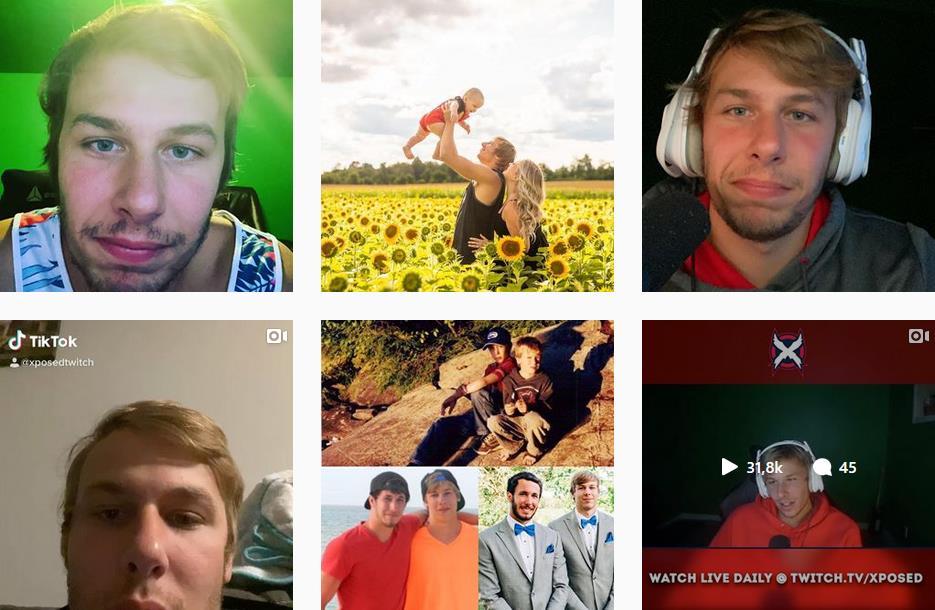 The profile picture shows a happy young man at his partner's side. Among the hundreds of Instagram posts there are countless videos that originate from Twitch. In between, we discover personal photos – including of his apparently quite young daughter, who is simply droll.
Another thing that stands out is that Cody seems to have a good relationship with his family. Every now and then, we see him with his brother or other family members on special occasions, for example. Unfortunately, we couldn't find out if Xposed is married to the mother of his daughter.
Of course, Cody Burnett does everything he can to showcase his Twitch channel on Instagram. However, it is the mixture of professional and private insightswith which he takes the hearts of his fans by storm.
This account alone has gained tens of thousands of new followers within weeks – a number that, in our estimation, is absolutely impressive.
Xposed on Twitter
It wasn't too long ago that Xposed was just short of the 30,000 fan mark. In the meantime there are Twitter more than 130,000 peoplewho simply love what the streamer has to offer. This refers in particular to Tweets about live streaming. But here, too, he's all about giving fans personal insights – albeit not to the extent we see on Instagram.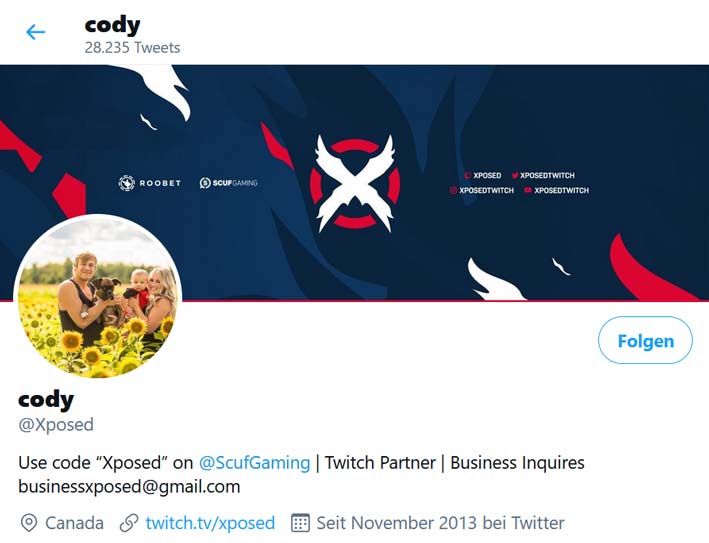 Cody handles his Twitch channel differently than most muckrakers, who attach little importance to this social media platform in particular. This is precisely how he succeeds in tapping into additional target groups. The tweets as such are kept short.
However, if you take a closer look, you will discover the occasional one or the other bonus action. Not only does Xposed itself benefit from this, but it also gives all Twitch followers the chance to secure a few euros via Twitter – by participating in exciting campaigns.
What makes Cody Burnett


Xposed is about someone who has an incredible amount of experience experience. He discovered his passion for games like CoD as a child. However, he had to wait 10 years before he was allowed to start his career as a streamer. In the meantime, platforms like Kick.com and Twitch have become an integral part of his life. Cody captivates with humor, genuine joy and euphoria. At the same time, he is still very down-to-earth – which is especially proven by the private insights at the side of his family.
Although Burnett is now really successful and certainly not short of income as a streamer, he is aware that he must continue to put a lot of work into his success. It's important to him to stay in the minds of fans and to give them as many and to provide them with new highlights every day. highlights every day. Of course, he can't predict profits. However, when a larger amount rolls in, you just have to rejoice with him.
Income and assets estimated by Xposed
The question about Xposed's fortune is asked very often. First of all, some fans are interested in how rich he must be to be able to afford such stakes. However, experienced online casino players know that this would be the wrong approach. After all, big casino streamers like him have some privileges that others don't have or have to earn (e.g. by reaching a VIP level).
Instagram and his private life also don't reveal much about Xposed's ownership. After all, he reveals very little personal information on the platform. And what one gets to see rather testifies to a very down-to-earth life. Exactly the same can be seen on all other social media channels.
Often, the estimate how rich a casino streamer is is, the amount of viewers or followers is taken as a basis. This also makes sense with Xposed – especially because he also has a paid subscription function offered.
That alone provides solid monthly revenue. However, we assume that he generates significantly more income in the casino sector. Namely, by promoting the respective online casino via his social media channels – especially Twitch.
Estimated income of Xposed through casinos
Followers
thereof
25% active at casino
possible commission
$ 100

=

Estimated revenue
500.000*

x

0,25

x

$ 100

=

$ 12.500.000
* As of the end of December 2022 (Due to the blocking of casino streams on Twitch, the number must be estimated based on its complete number of followers).

---
Anyone who thinks this is too high: Additional revenue through kicks, Twitch subscriptions, Youtube or Instagram are not included in this example. In addition, there might be investments in cryptocurrency or other ventures. In any case, it seems clear that Xposed earns a nice sum from his casino streams alone. If he invests the money well and doesn't live large, he should be well provided for.
Xposers – the team behind the streamer


A little time for family and friends is a must. So that Cody fans are not left high and dry and suffer from boredom, Xposed meanwhile supports a complete team of streamerswhich is called Xposers. Behind this community are obviously around 20 other casino streamerswho are still relatively new to the game. The successful Canadian guarantees them the best possible help, so that sooner or later they will also have the chance to become better known in the Twitch scene.


Subscribers also have advantages. They don't just get to see slots streams from the Xposers, but rather the entire variety of the gaming industry from a single source. of the gaming industry from a single source. offered to them. The mentor of the younger providers stays a bit in the background, but is always there for his team. In the long run, this gives him a bit more free time, because there is a lot to see even without Cody's appearances, thanks to the close cooperation.
CoD, slots and other preferences – Cody has many facets
Being on duty around the clock for the fans takes a lot of energy. However, Xposed has found a way to give enough space to his passions besides slot machine games. Whenever he feels like it, he plays Call of Duty with friends and acquaintances or simply devotes himself to other things. Gaming has accompanied his life for many years now. We at least know few streamers who have already gambled like the big ones at the age of 8. Of course, Cody did that far away from the Twitch scene. This platform only became interesting when he was of age.

Slot games make up the core of his career on Twitch. But especially there he likes to use the opportunity to show his his skills in the field of live gaming to prove his skills. Cody Burnett is very familiar with the classics, which he shows again and again in exciting broadcasts. The stakes are within a framework that remains manageable, but can still be described as daring. We're sure Burnett knows pretty much what he's doing.
The numbers keep growing, and people out there love that Xposed combines so many different facets of the gaming industry. There's just something for everyone here, and not many competitors can say that about themselves or their live streams, either, in fact.
Cody Burnett in private – well-known and authentic
As is clear by now, Cody, who was born on June 7, 1996 and is known to many as Xposed, comes from Canada. There he lives until today – and not alone, but together with his partner as well as his little daughter. As a young family man, Burnett certainly has plenty of responsibilities to carry. His unprecedented Twitch career, however, ensures that his family is at least financially secure. Privately, Cody seems to be a down-to-earth and likeable guy. down-to-earth and likeable guy. Even when things aren't going well for him, he takes it in stride. Both fans and his friends and relatives particularly appreciate his sense of humor.
Burnett has achieved in his private life what many others can only dream of. What makes him tick as a person can be seen on social media. There he shows his authentic side. He also has a hand for euphoric cheers, provided that profits come his way. In the company of a loved one, on the other hand, he is considerably calmer and more level-headed.

Although Xposed is busy at work, he always finds time to pursue his hobbies. This doesn't just mean Call of Duty. He also plays field hockey from time to time and loves soccer and other sports. The streamer has definitely provided a balance to his exciting Twitch career.
Author: Joshua Davidson