Tellia Facts
Streamer Name:
Tellia_
Real Name:
Unknown
Avatar:

Origin:
France
Residence:
Isère?
Year of birth:
1995
Followers:
40,868 (Twitch)
3,543 (Twitter)
1,065 (Instagram)
Favorite provider:
Stake Casino
Features:
French live streams, calm and level-headed character.
Highest win:
Unknown
Highest multiplier:
Unknown
Tellia is a fairly young streamer from France who apparently signed up on Twitch back in December 2018. Since then she has been live on camera every two to three days on average in front of the camera and then presents the coolest online casinos as well as popular slot machines to her fans.
But also for Classics like Blackjack young Tellia, about whom we unfortunately don't know much more than her nickname, has a knack.
According to her own information, the streamer is in her mid-20s. In the short info, she reveals to her fans that there is another passion she likes to pursue: E-Sports.
The young Frenchwoman is definitely not alone in this passion. In the meantime, this branch has developed into a real popular sport. When it comes to streaming, however, Tellia holds back a bit. Instead, she devotes herself to slots and table games in renowned casinos. Which ones she prefers to use and how her fans are doing, we'll clarify all these questions in the next few minutes.
There are not many streamers in Europe who use their fame for social projects as specifically as Tellia has been doing since 2018. Every now and then, she travels the world and streams for charity, for example. Thus, the revenues benefit those who are weakly positioned and who are just not lucky enough to be allowed to live solidly.
General information about Tellia


In fact, despite intensive research, our editorial team can't say that much about who Tellia is and whether the pseudonym is possibly the real name of the streamer who lives in France.
All we know is that the young woman holds conversations in the local language. Those who don't speak French can watch her, but can't really communicate well with the young woman – which isn't necessarily a disadvantage.
Just the sympathetic nature of the streamer is worth watching the Twitch channel. Despite her now solid success in the scene, Tellia has remained down-to-earth. remained down to earth.
It didn't take too long for the streamer to gather quite a large fan base around her. Her down-to-earth attitude seems to be the secret of her success, because you simply have to admire the young Frenchwoman for her open and calm manner. open and calm wayt.
The Tellia avatar lets us know that this streamer also has a good sense of humor. a good portion of humor. humor. In any case, fans love to watch her and can even learn a thing or two about the latest slot machines or even the basics of popular classics.
Tellia plays at these providers


There are certainly many online casinos that Tellia inspires. However, they are mostly such providers that are located in the French region, like the streamer itself. These companies do not have too much significance for players from Australia, unless there is a corresponding license.
Tellia herself only mentions bitcasino.io in her info on Twitch, a provider with which we actually have few points of contact in this country.
If you like exciting slot games like the streamer, Blackjack & Co. like the streamer, we can recommend alternatives. All the providers listed here enjoy a first-class reputation, especially in Australia. first-class reputation and can be recommended in terms of reliability, security and variety:
Best rated casino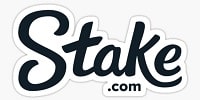 Bonus500$
Curacao Gaming 2017test nowStake Test 2.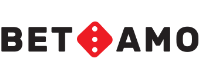 Bonus300$
+ 150 free spins
MGA Malta 2019test nowBetamo Test 3.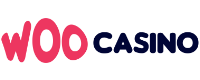 Bonus200$
+ 200 free spins
Curacao Gaming 2020test nowWoo Casino Test
Whether Tellia itself has heard of these online casinos, unfortunately, cannot be said with certainty. At the end of the day, despite different cooperation and also bonus offers, the companies are overall very similar in structure.
Due to its simple menu navigation and the overall simply well thought-out concept the alternatives are suitable for Tellia fans with little experience as well as for high rollers who already know exactly how the gambling industry works.
Tellia favorite games
The streamer from France naturally knows very well which games are worth watching. When she plans her live broadcasts, it's usually with a focus on online slotswhich are either brand new, or which are generally referred to as real classics. When it comes to variety of themes, Tellia seems to know no bounds, anyway.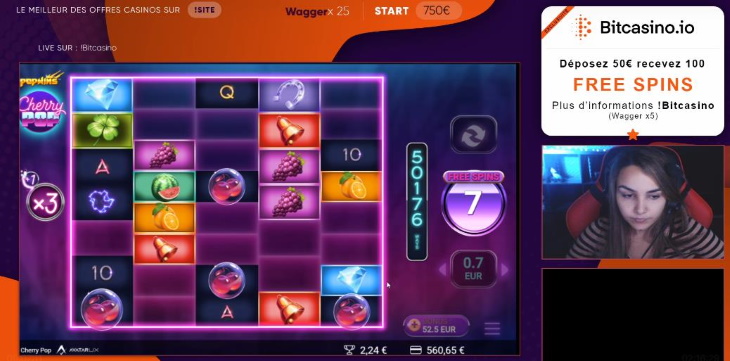 According to Tellia, their biggest passion is e-sports. However, you rarely find live streams on Twitch and the like. Instead, the Frenchwoman concentrates on slot games although short blackjack sequences are also shown now and then. Let's take a look at the favorites right away:
Crystal Ball
The Dog House
Sweet Bonanza
Money Train 2
Reactoonz
The nice thing about all these games is that you can find them in almost all online casinos today. In any case, our experts did not have to search long at the providers listed above. So if you want to know if the slots are really as good as they seem, you can test them yourself test them yourself without any problems. As a rule, this is possible free of charge, whereby in the real money mode in fact a little more excitement arises.
Tellia streaming times and platforms


If you want to know when Tellia is streaming live, you can have a look directly at the Twitch schedule schedule. To date, this platform is the only one on which there are live broadcasts of Tellia.
The young woman from France is also active on social media, but her channels there have nothing to do with streaming in the classic sense. You won't find the streamer on YouTube at all.which, frankly, surprised us a bit.
Currently, Tellia is busy making an even better name for itself on Twitch. The 41,250 followers prove that she is doing everything right here, because whenever Tellia is active, her fans are usually not far away. The times chosen according to the schedule certainly suit the subscribers, because usually the streamer starts her broadcasts in the evening hours. However, she is not live every day, but on average only every two days.
It's not too bad if you've missed a live stream as a fan. You can watch it on Twitch at any time in the "Videos" section. However, it is then no longer possible to talk to Tellia in the live chat. And it's precisely the live chat that creates a good atmosphere, since the provider is very responds to the concerns of her fans. She is in close contact with everyone who sends her praise, criticism or even game ideas.
Tellia on social media
Tellia on Twitch
Tellia on Twitter
Tellia on Instagram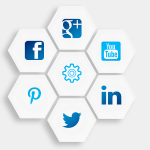 In fact, Tellia is also well connected in France, her home country. However, you won't find the young streamer not on all social media channelsas you would expect from her casino streamer fellow casino streamers.
Unfortunately, we can't answer why this is the case and why she hasn't set up a YouTube channel, for example. So far, at least, the young woman is holding back on this point. It is also noticeable that there are clearly fewer followers than expected. It remains to be seen whether that will change in the future. Tellia certainly has potential.
Despite the existing accounts, it is impossible to find out more details about the life of Tellia. You only get to know her age, but that's about it in terms of information. Where exactly the young streamer lives, whether she has a main job and what her everyday life is like, she sometimes keeps all that to herself – a fact that we personally find very unfortunate.
---
Tellia on Twitch


Currently, the Tellia Twitch channel is the most important for the young woman. She invests a lot of energy in her live streams, and that of course goes down extremely well with her more than 41,000 fans who faithfully follow her here.
In fact, as a guest, you don't get a deeper insight into the account. If you want to know more about Tellia or find out when exactly the young streamer is live in front of the camera, you have no choice but to subscribe to her subscribe to her channel. There are no obligations, but it is still necessary to register in advance. register in advance.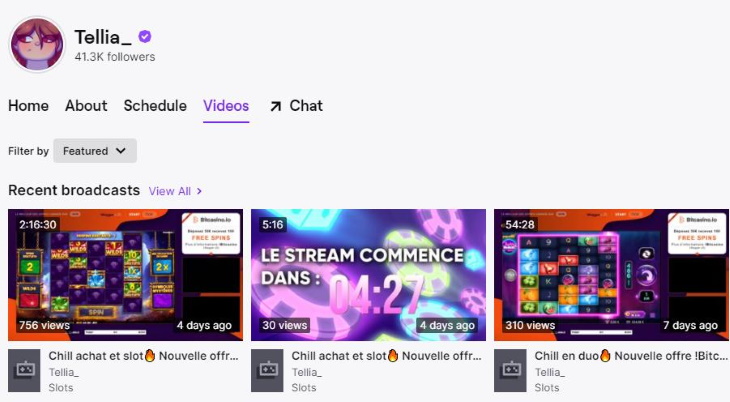 As mentioned at the beginning of this article, Tellia's channel on Twitch has been around since 2018, and in all that time, the young streamer has done everything she can to become better known. The success she has achieved so far clearly speaks for itself. The Frenchwoman is not necessarily live every day, but rather but on average only every two days.
This seems to be enough for her fans, and the times are particularly convenient. Live streams on the Tellia channel start mostly at 8 p.m. – at a time when most subscribers have enough time to watch what the streamer is up to for several hours.
Tellia on Twitter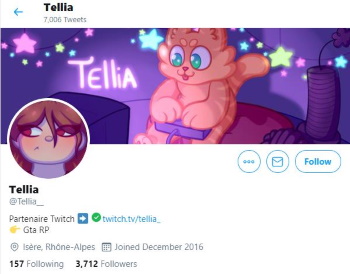 Here fans get some more information about the successful Twitch provider. Isère is displayed as the location. According to research, it is a community of 1,555 souls in the French Alps. It's certainly a good place to live.
If you take a look at the photos of the streamer, she seems to lead a quiet life in this region.
Tellia uses the Twitter channel primarily to announce her live streams on Twitch. From time to time, she also presents her 3,700 followers with moments of happiness and streaming highlights. In addition, there are always actions launched by the young Frenchwoman.
In total, she has already published several thousand tweets that have met with a positive response. However, the community on her channel could still grow a little.
The fact that Tellia has a sense of humor is evident from her funny videos. But the Frenchwoman also addresses serious topics time and again. In doing so, she wants to draw attention to the grievances that exist in the world. The streamer uses the channel for a good cause – just like the success she has had on Twitch.
Tellia on Instagram


Unfortunately, there hasn't been anything happening on Tellia's Instagram channel for quite some time now. It's quite possible that the streamer is far too busy with Twitch to have time to make a name for herself here as well.
The number is actually manageable with 1,109 subscribers. It remains to be seen whether Tellia will eventually decide to provide more content.
At least: On Instagram, the – albeit few – followers get a few very private insights. For example, they know that the Frenchwoman owns a cat and obviously has a passion for lattes. The topic Twitch and live streaming, in fact, recedes into the background here.
What makes Tellia special?
The streamer from France is still relatively young, but has nevertheless managed to make a name for herself in the highly competitive Twitch scene. Thanks to her down-to-earth nature, she definitely deserves her place in our ranking. One likes to watch the Frenchwoman while sheslots and blackjack. and blackjack. The fact that she also loves e-sports makes her even more likeable.
Basically, Tellia embodies what many gamers have surely always dreamed of. Within a few months, she's achieved a level of fame that not only helps her earn a solid income, but also enables her to support other people – those who haven't fared as well as the streamer herself.
---


In short, Tellia is simply a real likeable person, who is simply known for her easy-going and friendly manner. easy-going and friendly way and friendly manner. Visually, the young Frenchwoman also makes quite an impression. She definitely does not have to hide. You love to watch her play, because she looks natural and at the same time inspires with her rather calm character. Tellia is certainly no stranger to euphoria. Despite everything, she remains more relaxed even in extreme moments of tension than one is used to from her male competitors.
---
In a month, the streamer clocks up a little over over 40 hoursthat she sits live in front of the camera. Apparently, Twitch is extremely important to her, without being about the money. The young woman is apparently more than satisfied with what Tellia has. At least that's what she radiates in her personal pictures, which can be found primarily on Instagram.

The streamer is rarely alone
Anyone who follows Tellia on Twitch will notice that the Frenchwoman usually has a partner by her side, with whom she co-hosts the live streams. Unfortunately, we have not yet been able to find out who the young man is and whether he might even be her boyfriend.
So let's hope that Tellia will reveal more about her support at some point. In any case, the two of them are very well received as a double pack. As already mentioned, you have to subscribe to the subscribe to the channelto get a deeper insight and the chance to watch the live chat. to follow the live chat.
The fact that the channel is still officially run by Tellia himself should make the fans happy. But it has to be said that basically there is also a duo behind this channel – similar to what we already know from comrades-in-arms like duooff know.
Tellia in private – very successful not only as a gamer


We already mentioned at the beginning that Tellia has several talents. About herself, she reveals her great passion for e-sports. It's almost a shame that we can't find out more about this. The streamer either concentrates on her Slot streams on TwitchOr she enjoys her free time without sharing it with fans. In any case, the few Instagram photos do not reveal very much about the young woman from France.
After intensive research, we were able to find out that there is at least one brother. Whether Tellia has even more siblings, nothing is known about it. Probably, the streamer does everything right, in which she She continues to keep her professional and private life strictly separate, even after several years in the Twitch scene.
Author: Joshua Davidson