Stevewillsendit Facts
Streamer Name:
SteveWillSendIt
Real Name:
Steve Deleornadis
Avatar:

Origin:
USA
Residence:
Los Angeles
Year of birth:
1998
Followers:
4.58 million (Youtube)
237.000 (Youtube Gambling Channel)
739,000 (Twitch)
3.5 (Instagram as SteveWillDoIt)
805,000 (Instagram as SteveWillSendIt)
228,700 (Twitter)
1.0 (TikTok)
35,600 (Discord)
Steve's favorite casino:
Stake
Specialties:
Gets criticized regularly, has a special sense of humor
Highest win:
$670,000
Highest multiplier:
Unknown
Stevewillsendit, whose real name is Steve Deleornadis and lives in the USA, is much more than a successful Twitch streamer. He became known many years before his first live streams – as a YouTuber under the pseudonym of pseudonym SteveWillDoIt.
Today, people know him far beyond the American borders, and young Steve has long since made a name for himself here in Australia, too. Why this is so should be clear from the first glance at his social media pages. No one else has such an offbeat sense of humor.
Steve is the type of person who, even in short video sequences or on pictures spreads good humor. It certainly wasn't easy for him to stand up to fake accusations and harsh criticism. Nevertheless, the provider has not allowed himself to be deprived of his sense of humor. His great passion is to troll troll live dealers. Up to now, this has fortunately gone well. At least Stevewillsendit has not yet been banned from any of the top casinos.
It's precisely because Deleornadis stands out from the crowd and his good mood is truly infectious that he deserves to land in our international streamer ranking. Last but not least, the numbers speak for him, which we will look at in a little more detail in a moment.
General Information
Steve Deleonardias aka stevewillsendit is a US American who was apparently born in September 1998. In his mid-20s, he has achieved not only in the Twitch scene what many other streamers dream of to this day. His fans love him just as much on other channels. The YouTuber career in particular is running smoothly. Here he is now followed by over 4.5 million people on the main channel and over 200k on his still fairly new Gambling channel, and they clearly don't just come from America, but live all over the world. His humor is appreciated by anyone who has ever experienced Steve.


The streamer certainly seems to be a little crazy. While his live broadcasts well-known slots or even classics, it's a lot crazier on YouTube. Some time ago Steve joined the company Nelk Studios company. This regularly publishes videos that have little in common with normality. Actions that can almost make you sick are typical for the stars. They are somewhat reminiscent of the well-known MTV series Jackass, but have an even more special character.
Although, or perhaps because, Steve Deleornadis, who appropriately calls himself stevewilldoit on YouTube, is so crazy, he appears to his viewers to be absolutely sympathetic. You can't help but love the young American's smile – as well as his videos, which are now shared hundreds of thousands of times. The live dealers really don't have it easy with him. When he starts trolling them, one laugh after the next involuntarily ensues, with the employees of the renowned casinos feel a little sorry for the employees of the renowned casinos.
On his social media profiles, Steve lets his fans share his everyday life and many other things. But it's not always clear how much of it is real and has to do with Steve's private life. Many of his announcements later turn out to be a prank or a joke – for example, the announcement that his girlfriend is pregnant.
Stevewillsendit plays for this provider
At the beginning of his streaming career, SteveWillDoIt was mostly known for playing at Roobet Casino. He played mainly at this provider. After a few scandals and negative press, he had taken a break. In the meantime, however, this break has ended and Steve is playing at the top dog of the crypto casino scene. We are talking about Stake Casino. There the streamer will find everything he needs, great games, large selection, high limits and of course the possibility to play with different crypto currencies.



Visit Stake

Bonus:

500$

Rating:

Excellent

Establishment: 2017
Online since: 2017
Customers: n/a

License:
Software:

Pragmatic Play
Nolimit City
Gamomat
NetEnt
Yggdrasil Gaming
Gameart
Betsoft Gaming
Evolution Gaming
Red Tiger
Thunderkick
Push Gaming
Quickspin
Playson
Elk Studios
Habanero
Wazdan
Hacksaw Gaming
Relax Gaming
BigTimeGaming
iSoftBet
PlayNGo
If you feel like trying out Steve's favorite games & slots for yourself, you have the opportunity to do so at the provider listed by us – whether in the free demo version just for fun, or with real stakes for real winnings. And of course, security is also a top priority at Krypto Casino. Not only because of the license from Curacao, but also because of the provably fair games.
For Stevewillsendit, aspects such as the protection of data and funds play an important role. Above all, however, it is his concern to offer spectators the most versatile slots and tables tables – ones that are innovatively designed and ultimately also suitable for beginners. More choice in the crypto casino is hardly possible, especially since the provider focuses on fast loading times as well as a flawless performance pays attention. This is especially important in the live stream.
Steve's favorite games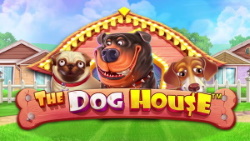 If you take a closer look at Steve Deleornadis' Twitch channel, it becomes clear that the streamer has different facets are close to his heart. He doesn't only play slots, but also has a knack for classics such as baccarat, roulette or even Blackjack.
The provider decides on games spontaneously in his streams. In addition, he always responds to the ideas of his fans. These are presented to him on a silver platter in the live chat. Steve is particularly fond of these top games:
Black Jack
Sweet Bonanza
The Dog House
Book of Dead
Plinko
The young American is well aware of the seriousness of his career. Nevertheless, a pinch of humor can never hurt when choosing a game. Titles like The Dog House and Sweet Bonanza are particularly good for a good mood. If, on the other hand, the streamer devotes himself to the live tables, then mostly only to drive the live dealers crazy. By now, they should be used to Stevewillsendit's bizarre actions. And if not, sooner or later they will.
Steve Deleonardi's streaming times and platforms
When he first became active as a Twitch streamer, SteveWillSendIt didn't sit in front of the camera every day – at most a few days a week. Which was to be expected considering his other social media activities. But after he returned from his little break, his priorities seem to have shifted a bit as well. Playing at Stake Casino certainly seems to be a lot of fun for him, as he is now on Twitch every day trying his luck at the crypto casino.
For live streaming, Steve actually uses only Twitch as a platform. The feature available on YouTube seems to interest him as little as most of his peers in the scene. It's just not lucrative enough and lacks features. Ultimately, the young streamer handles it like most others, and as the followers prove, he is on the right track. Meanwhile, platforms like Twitter and Instagram are used to reveal more about upcoming streams and events. events.
SteveWillSendIt on social media.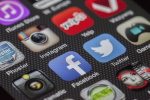 Facebook is actually the only social media channel on which we have not been able to discover Steve so far. Otherwise, the streamer and YouTuber uses all platforms to promote himself and his crazy actions with the entire world. He is well aware that he sometimes causes shock moments.
When it comes to gambling, however, Stevewillsendit remains unexpectedly down-to-earth – unless, of course, he's sitting across from a live dealer. The American has followers all over the world. That goes for Twitch as well as YouTube, Instagram and Twitter. Below we'll take a closer look at his pages and reveal what content fans will get to see.
Stevewillsendit on Twitch
Stevewilldoit on YouTube
Steve on Instagram
Steve Will Do It on TikTok
Stevewilldoit on Discord
---
Stevewillsendit on Twitch
Thousands of new fans have been added by Steve Deleornadis within a few weeks. On Twitch alone, for example, he has around 740,000 people, who sit spellbound in front of the screen and wait for his entertaining live streams. Many of the followers have been loyal to the streamer for a long time now – and have remained so even during his absence. They simply appreciate his entertaining nature.
Such a large number of subscribers is almost untypical for someone who doesn't sit in front of the camera for several hours every day. Perhaps, however, the people at Stevewillsendit rely on the motto "Anticipation is the best joy". Once the guy gets going, he really gets going. There is definitely not a dry eye in the house. His way of captivating people fascinated even us as experienced experts.
Stevewilldoit on YouTube
Around 4.5 million followersthat is definitely something to be proud of. However, the stevewilldoit channel is less about casino games and more about entertaining "self-experiments". The now world-famous YouTuber does, as his channel suggests, everything his fans want from him. Change the life of a homeless person, give a Rolex to a loyal viewer, or bet $30,000 on Donald Trump? All of this is part of Steve's everyday life. Crazy actions have made him who he is today.
Those who know Steve Deleornadis mainly as a player in the online casino, get the opportunity to get to know and love him from a completely different perspective on his YouTube main channel. There's not really much here that matches his passion for blackjack, Plinko or slot machines. But in the meantime there is of course also the possibility to watch him on Youtube at Stake Casino. With Life of Steve he has opened a second channel and there everything revolves around gambling and funny videos from his life.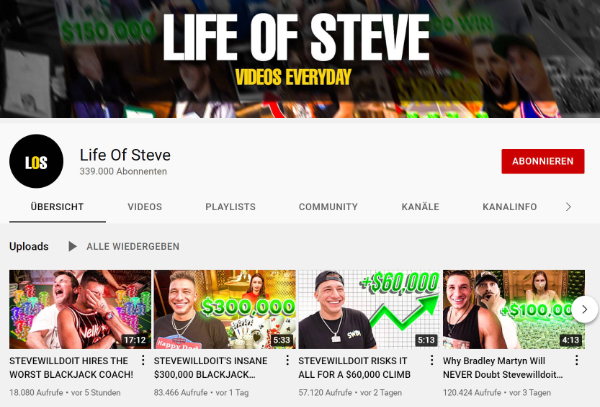 Currently, the viewers on the second channel are, of course, much less than on his main channel, which has been known for years. The casino streamer has collected just under 340,000 followers there so far.
However, since he regularly posts summaries of his special wins, losses and moments from his life, it can be assumed that the number will increase rapidly in the future.
Steve on Instagram
Over 800,000 fans follow SteveWillSendIt on Instagram. Which seems a bit small compared to the number of his Youtube followers, but it's still something to be proud of. I'm sure hardly anyone else would complain about so many followers. Especially not because, although it goes down a bit every now and then, the long-term trend is clearly upwards. Unfortunately, there is little casino content on the photo platform. But there are many other crazy things, photos, videos and more from his not so everyday life. In addition, this is only his secondary account. He has around 3.5 million followers on his SteveWillDoIt account.
Until some time ago, the casino streamer on Instagram still called himself "Healthiest man alive". Steve may feel healthy, but as mentioned at the beginning, he does things as stevewilldoit, which are certainly anything but health-promoting. Just when he starts again to chow impossible foods – or even non-foods – it turns viewers' stomachs inside out. Apparently, however, there are currently no problems, so the YouTuber can continue merrily.
It's fair to say that Deleornadis is a real real influencer who people love precisely because of his crazy nature. For those who have not yet subscribed to him, here is the YouTube link. There you have the opportunity to watch the streamer during his wildest actions. wildest actions his wildest actions. The fact is that half the world knows him. The pictures and videos that Steve publishes on Insta go viral. Accordingly, he probably doesn't have to worry about losing notoriety in the future.
Steve Will Do It on TikTok
When Steve Deleonardis appears as TikToker it usually doesn't have much to do with his passion for casino games and Twitch streaming. The focus here is on his generosity. In short video sequences, Stevewilldoit shows his current 1 million followers how he gives away money and luxury items to randomly selected people.
Not only have his giving pants earned Stevewilldoit his first subscriber million, his TikToks have also been viewed around 19.6 million times by users from all over the world so far. The young man is always up for a surprise. He not only delights the huge TikTok communitybut also his parents, to whom he donates a car and other things in between.
Particularly successful was the video in which he gave the former US President Donald Trump a 100,000 US dollar Rolex watch as a gift. What many might think at first glance is just another prank or an exaggeration is definitely reality for Steve. Not only is he a great fan of the former American president, but he also gave him the watch as a gift. And of course he accepted it.
SteveWillDoIt on Discord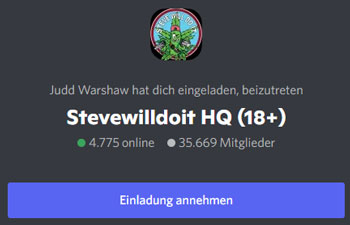 Until now Steve on Discord less active than you are used to from casino streamers. The number of followers speaks for the fact that the channel plays a minor role. Currently, there are about 40,000 Discord users who have subscribed to Steve. However, it has to be said that the channel is exclusively reserved for people who are of age.
At Discord, Stevewilldoit dedicates himself to different topics, from his surprise promotions to gambling in online casinos. The American requires that subscribers verify themselves properly. Only once this is done will there be full access to all areas including the ability to personally contact Deleonardis.
Questionable statement from SteveWillSendIt


In his May 22, 2021 casino stream, SteveWillSendIt makes the statement: "If you're gambling, you can only lose when you quit! […] There is no such thing as losers in gambling. There is winners and there is quitters. Don't be a quitter!"
Although we only test and evaluate offers on our portal and do not represent any opinions of others, we would like to point out in this specific case that we distance ourselves from such statements. dissociate ourselves from such statements. Finally, the statement of the casino streamer implies that it is not possible to lose in gambling. You just have to not give up and try long enough.
If you can't stop gambling, you risk losing your entire capital in the worst case. As entertaining as his streams are, the statement from May 22, 2021 is simply wrong. SteveWillSendIt was noticeably intoxicated during this stream and thus also during this saying and it may be doubted that he actually means the claim seriously.
You should never gamble with more money than you actually have available for leisure activities and if you stop the game in time, you are definitely not a loser!
This is what is behind Stevewilldoit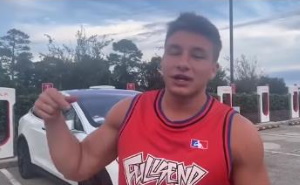 The pseudonym stevewillsendit stands for live broadcasts, which can be seen primarily on Twitch. The streamer sends his fans funny games The streamer sends his fans funny games directly to the screen and with his humorous manner makes you want to watch him all day long.
The second pseudonym actually fits even better, because for the American "stevewilldoit" is the program. Whatever fans suggest is done. As reported above, the poor guy has even bet for his followers on Trump's victory in the US elections.
Until stevewilldoit became so successful, a few years went by. The nice thing is that he never gave up and kept on with his crazy actions. In the meantime, it's paying off for him. At least we are firmly convinced that someone who helps homeless people to a new better life and who can give away a Rolex just like that doesn't have money problems.
Is Steve playing with fake stakes?


The story of Steve Deleornadis is exemplary. First came the success on YouTube, but a short time later the American became the most popular Twitch casino streamers in the world. It goes without saying that he has invested quite a lot. Unfortunately, there are people who see this completely differently. Like many other streamers, stevewillsendit has had to face nasty fake accusations countless times. The reason for this is probably the fact that the young man plays quite high stakes now and then. plays high stakes. However, he can easily afford them, because he certainly doesn't lack money.
Yes, Steve has the rogue in the neck and is gladly for a fun to have. People love him for bringing live dealers to despair and just on his YouTube channel shows how much he likes to make fun of his fellow men. However, this one career doesn't have much to do with what he does as a streamer. Things are very serious there, even for a fool like him. Especially the stakes are real and by no means a prank, as he is always accused of. In the meantime Steve Learned to deal with critics. The American will not let himself be diverted from his goal of making it even further up the ladder – at least that much is certain.
A YouTube star with a sense of humor
If the day was going modestly, the Stevewilldoit YouTube channel is definitely a good idea. No sooner do you watch a video or two than all the stress is gone. You can't help but laugh tears. We've certainly come across a few "crazy birds" over the years.
Steve, however, can be described as unsurpassable. This applies to a unique sense of humor as well as for the ability to to inspire people. The YouTuber authentically conveys good humor. This quality also serves him well in his second mainstay as a streamer.
Although stevewillsendit doesn't stream every day, hardly a moment goes by without a camera. It's always with him, especially on his wild travels, because Steve has made it his mission to share his ideas with the people out there. Only the private side moves into the backgroundwhich is quite understandable. The YouTuber can be mighty proud of his success. It's even nicer that he gives something back every now and then and helps those who haven't fared so well.
Steve Deleonardis in private – entertainer on all channels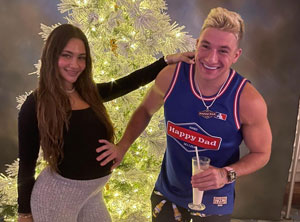 Steve reveals a lot about himself on his social media channels, but you always get the feeling that there is a lot of show and acting. It is difficult to say whether this is really the "real Steve".
What is known about his private life is his relationship with Celina Smith. relationship with Celina Smith. She is also active on social media and has over a million followers on Instagram. Maybe that's why they are so open in this area, since they are both in the public eye. After some turbulence, the relationship now seems to be solidified. However, the offspring, which was still announced in November 2021, has not materialized to date. As Steve himself revealed a few weeks later on Youtube, it was only a prank.
Author: Joshua Davidson