Taourrr1030 Facts
Streamer Name:
Taourrr1030
Real Name:
Noamane Boukhari
Avatar:

Origin:
Belgium
Place of residence:
Unknown
Year of birth:
1997
Followers:
91,274 (Twitch)
31.294 (Twitter)
12.400 (Youtube)
1,927 (Facebook)
Taourrr favorite provider:
Stake Casino
Features:
Plays with Australian IP but lives in Belgium, Moroccan native.
Highest win:
Unknown
Highest multiplier:
Unknown
If a streamer works as hard on his streamer career as Taourrr1030 does, then of course he deserves a place in our ranking. The fact that the Belgian with Moroccan roots doesn't bring up the rear in the top 10 is partly due to his followers.
They have been loyal to the streamer for many years, and there are actually more and more who appreciate his skills. On the other hand, the Twitch star's success is due to the fact that he never wastes a minute of his time. Whenever possible, he is live.
Noamane Boukhari, as the Belgian is known in real life, doesn't reveal too much about himself. The fact is, however, that he can be seen both on on Twitch and in the League of Legends pro scene. celebrates huge successes.
His great passion in the casino is especially the live games. Every now and then, however, this provider also shows us how versatile slot machines can be. His jovial and level-headed nature obviously benefits Taourrr1030, because that's exactly why his fans love him. The young man is by no means as loud as other streamers, but still knows how to captivate the audience.
General information about Taourrr


It is indeed anything but easy to get a deeper insight into the prudent life of Noamane Boukhari. However, via detours we were at least able to find out that the successful Twitch player lives in Belgium.
He is also said to have been born there, although his parents are actually from Morocco. When exactly they decided to emigrate is unclear. What we do know, however, is this: Noamane was born in 1997 and discovered online gaming quite early.
Before his path led him to the streaming platform, Taourr made a name for himself as a League of Legends player. name as a League of Legends player. In the meantime, he is one of the most successful online gamers worldwide. most successful players worldwide. Noamane has already achieved something that others can only dream of. He is known far beyond the borders of his own country – and today also as an experienced streamer with an amiable character.
Which casinos does Taour play at?


When it comes to choosing a provider, someone like him, who has gathered so much experience, naturally leaves nothing to chance. His great preference are Bitcoin casinos. There are now several of these throughout Europe, although Taourrr1030 deliberately focuses on reputable companies in the industry industry – namely those that have an official gambling license license.
In general, the range of providers is much more manageable for him than it is known from fellow members of the Twitch scene. He's not one of those streamers who promote certain casinos, but prefers to rely on his own experience without sharing it with his fans.
Let's take a look at some of the preferred addresses directly:
Best rated casino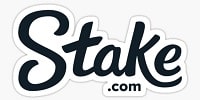 Bonus500$
Curacao Gaming 2017test nowStake Test 2.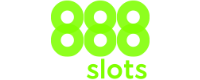 Bonus200$
Gibraltar
Schleswig-Holstein
MGA Malta 1997test now888slots Test 3.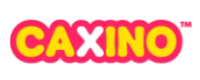 Bonus200$
+ 100 free spins
MGA Malta 2020test nowCaxino Test
The advantage to the companies Noamane chooses is that they are all reputable and offer players, regardless of the bet value realistic chances of winning players. Accordingly, there is nothing at all against emulating the streamer on the aforementioned sites. This is allowed both with and without real moneybut in the meantime registration is a prerequisite everywhere.
Noamane Boukhari's favorite games
As we know by now, Taourrr1030 has a knack for slots. knack for slots. When he's not busy with his career as a League of Legends pro, he shows games on the streaming platform that are easy to follow and for which you don't necessarily need a lot of experience.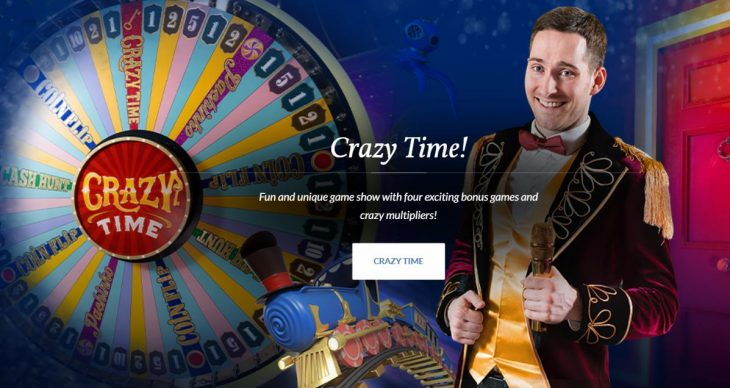 Live games are more important to the streamer than slot machines, and even with Poker the Belgian cuts a good figure. Let's take a look at his personal favorites:
Live Poker
Crazy Time
The Dog House
The secret of Taourrr1030's success seems to be that he doesn't focus on one particular category. Hardly any other streamer on Twitch presents himself as multifaceted as he does.
This naturally appeals to a broad target group. Noamane reaches poker fans, slot players and everyone who loves live gamingin equal measure. The number of subscribers proves that his concept works. Viewers are once again made aware that all forms of online gambling can be rewarding – always assuming a little willingness to gamble and a bit of luck, of course.
Taourrr1030 streaming times and platforms


It seems that Boukhari does not commit himself to specific times. Rather, he devotes himself spontaneously to gambling when his free time permits. After all, he is extremely busy in the League of Legends scene. It's a well-known fact that nothing comes from nothing, and hardly anyone else is as aware of this as the Belgian.
In any case, the schedule remains largely empty. Only the next Taourrr1030 announces the next live stream.. As is the case with most streamers, only Twitch comes into question as a platform for him.
We have followed the "appearances" of the provider over several weeks and know by now that Taourrr1030 mostly in the later evening hours takes time for its live broadcasts. These last into the night and are therefore ideal for those who have stamina and for whom sleep is not so important.
The streamer also makes use of platforms such as YouTube. However, Noamane does not stream there, but simply publishes his finished broadcasts as videos. his finished transmissions as videos.
Taourrr1030 on social media
Noamane on Twitch
Taourr1030 on YouTube
Taour on Facebook
Taourrr1030 on Twitter
The importance of being present – especially on social media – has of course spread as far as Belgium. And although Taourrr1030 doesn't really want people to make a fuss about him, he is now very well connected with his growing community. This fact provides him not least advantages for his Twitch career.
What is special about Noamane Boukhari is his modesty. He by no means has such exaggeratedly high goals as other streamers He keeps his expectations down to earth, which is exactly what appeals to many fans who have been loyal to him since the very beginning. On which networks the provider is in contact with his followers, we have listed below.
---
Noamane on Twitch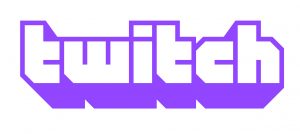 If you want to be a successful streamer for slots and table games or even live games, you can't avoid the Twitch platform, of course. As noted, it is actually the only one that Taourrr1030 uses for streaming.
The positive reactions show that the Belgian is well received. In the short info, he immediately reveals a bit about himself, his home, age and also his next goals. Taourr would like to have 100,000 followers in the near future. Around 90,000 he has already reached, so it certainly won't be long before his wish comes true.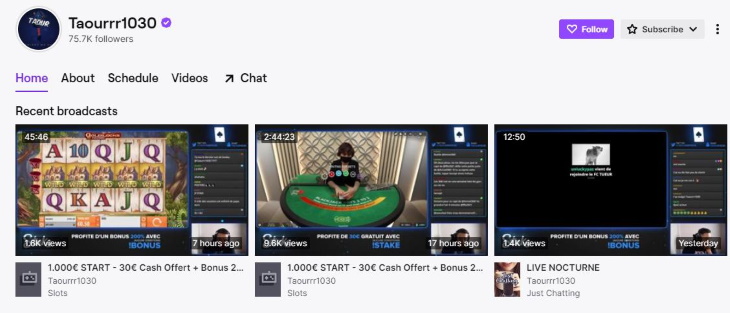 For his subscribers, Noamane takes a few hours every day on Twitch. a few hours every day time every day. But only when he's not in a League of Legends event. In the meantime, he has become something of a world star. a world star. Nevertheless, the provider manages to divide his time cleverly and ultimately do justice to all his fans. He gladly responds to the comments in the live chat. That's what makes him super likeable.
Taourr1030 on YouTube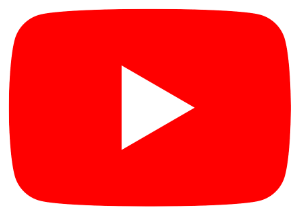 Boukhari has also set himself clear goals here. The next one should be the 15,000 subscribers, from which the provider is not too far away anymore. Still, you can see that YouTube is not as important for the streamer as Twitch.
Nevertheless, the Best of Streaming Videosthat he publishes here are very well received by fans. However, they are not the only thing the Belgian has to show us. Time and again, he posts his League of Legends sessions sessions. Watching them, it becomes clear why Taourr1030 is so incredibly successful.
Although YouTube now also offers a live streaming function, it doesn't play a role for Taourrr1030 at times. It is more important to the provider to publish finished videos.
Currently, the channel that the streamer runs as Taour is still relatively manageable. Nevertheless, almost every video is clicked around 10,000 times, so the Belgian certainly manages to earn a little extra income here as well.
---


We personally find it quite a pity that the streamer holds back with releases. YouTube doesn't seem to play too crucial a role for him overall.
---
Taour on Facebook

Naomane hasn't posted anything from his Taour channel on Facebook for over a year now. That explains the comparatively low number of subscribers, because to the roughly 2,000 people who follow him, Taour leider hardly any content at the moment..
We've been looking for an explanation and assume that the Belgium-based streamer is extremely busy with Twitch and his League of Legends career. This leaves hardly any time to "feed" the other social media channels as well.
Basically, the posts found on Facebook lead to Twitch anyway. The streamer wasn't so much about announcing new live broadcasts as he was referencing rather to finished streamswhich are stored as video on the channel. It is conceivable that new content will follow as soon as Taourrr1030 is a bit more successful. Whether that actually happens remains to be seen.
The second channel, which the provider calls Taour Burkhari is hardly worth mentioning. The player prefers to show CS Go and League of Legends scenes to just over 60 subscribers – sometimes his own, and sometimes those of his little brother.
Taourrr1030 on Twitter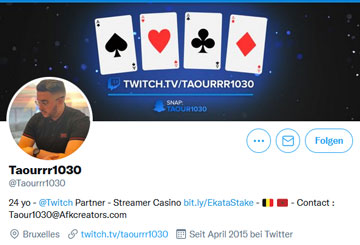 In April 2015, Taour decided to open a channel on Twitter. The tweets relate to his Twitch career, although every now and then there are glimpses of his second passion here as well.
In the meantime, the provider has over 30,000 followers – a solid performance, in the opinion of our editorial team. The fact that the number is not increasing so rapidly does not seem to bother Noamane. He likes to write a few tweets a week the Belgian likes to write, and in fact they all refer to current streams, bonus campaigns and everything that has to do with casino gaming.
Taourrr1030 gladly takes the opportunity, Retweets to deliver. Most of the time, he comments on the appearances of the also well-known streamer TeufeurS, who has a very special character, to say the least. Unfortunately, it is not clear from the tweets whether the two are friends. At least they speak the same language, which is French.
What makes Noamane Boukhari special?
As we now know, the streamer's family is originally from Morocco. Perhaps that's why he chose the name Taour. If you translate this from Arabic, it means something like "to develop". That actually sums it up very well, because the Belgian has developed extremely well in recent years.has developed extremely well over the past few years – not only on Twitch, but also in the area of his second passion, League of Legends.
Noamane is not someone you can just pigeonhole. His character seems to be unique, and although he too has has had an extremely high number of successeshe seems to have kept his feet on the ground. At least that's our impression from the live streams. On Twitter, Taour occupies a throne, but we don't assume that the Belgian actually considers himself a king. He just loves to have fun and present himself to the world in a relaxed way.
If things go well in the game, then Taourrr1030 also shows genuine authentic joy. However, the young provider is not as crazy as many of his Twitch colleagues. His calm manner is very well received by fans. You just have to love him for the calmness he exudes during his broadcasts. Of course, calm doesn't mean someone like him is going to let boredom set in. As mentioned before, the streamer likes to stay in contact with those who write in the chat. This usually results in very entertaining discussions.

Confusing facts about the location


Especially the question of where exactly Noamane really lives is now occupying many of his fans. We now know that the young man was born in Belgium. His parents, on the other hand, are originally from Morocco, but decided to emigrate more than two decades ago. Today Taourrr1030 is said to live in France. So far, so clear. However, it is surprising that in the Twitch Live Streams, the Australian flag is shown again and again. is to be seen. So what does it mean?
It seems that Taour is playing through a VPN connection. So the IP he uses is actually from Australia, without the streamer being based here. Whether he can now be accused of fraud, that remains to be seen. At the very least, he deceives his followers about the location, which is why he has already been criticized a few times.
The use of VPN is quite understandable, since both Belgium and Morocco have stricter criteria for gambling. stricter criteria for gambling apply. Naomane manages to escape these with the Australian IP so that he can play online and stream live at all.
Taour's passion for League of Legends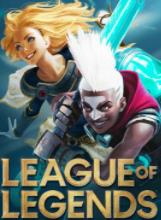 The player name Taour came into being long before the Belgian got into streaming. For years he has been a successful e-sportsman and has made a name for himself with League of Legends in particular. He succeeds amazingly in separating the two areas, and Boukhari doesn't seem to lack the time to advance these two "careers" at all.


Noamane is even something of a world star, playing successfully for RSC Anderlecht ESports.
Those who know a bit about the scene will probably know exactly what Taourrr1030's tasks are as a jungler. You don't have to be an expert in the field to realize: The streamer and ESports player has managed to do what many others can only dream about. Financially, he should be doubly secured, so that he no longer has to look for a classic job.
Noamane in private – few details about family life


Taour is a sportsman through and through, although this is not meant quite so literally, of course. Nevertheless, it can be said that it is anything but easy to become successful with e-sports. And that's exactly what Noamana Boukhari has ultimately achieved.
Unfortunately, not much more can be said about what he does besides his streaming career. According to Twitter, the Belgian has a little brother. Further details about his private life, there are ultimately not.
Now and then there are personal insights on Twitter. For example, Noamane can be seen on the beach or in other places that lend themselves to relaxed leisure activities. Otherwise, the streamer handles it like most of his comrades-in-arms and is very careful not to reveal too much of his private life. that not too much of his private life to the outside world.
The fact is that Taourrr1030's career is worth following. He has the potentialto move past better-known and larger streamers in Europe. The fact that the provider has set itself smaller goals is a clever strategy. This way, he already has a small but lucrative sense of achievement with 10,000 new followers.
Author: Joshua Davidson