JackpotRabbit Facts
Streamer Name:
JackpotRabbit
Real Name:
Ant & Billy
Avatar:

Origin:
Unknown
Residence:
Unknown
Year of birth:
Unknown
Followers:
19,272 (Twitch)
6 (YouTube)
77 (Instagram)
JackpotRabbit Favorite provider:
Videoslots
Features:
Streamer duo, newcomer on Twitch
Highest win:
Unknown
Highest multiplier:
Unknown
Are there really cute bunnies behind the pseudonym JackpotRabbit? Unfortunately not, but also the streamer duo Ant & Billy are doing a great job on the well-known channels. The streamers are real newcomers who only started on Twitch in the Twitch in the middle of 2020. have started. Already now we would like to emphasize their incredible professionalism. The two take their work in front of the camera very seriously and exude good humor in the live streams in an enchanting way.
It didn't take long for the duo to catch the attention of thousands and thousands of Twitch viewers. This in turn surprises with exciting slots streamswhile it is always also about entertaining the followers in the live chat. Billy and his girlfriend Ant don't always sit in front of the camera together. They often share the channel and thus come to longer streaming times. It's a pity that the schedule of the two is sometimes not filled.
As will become clear in a moment, JackpotRabbit is still in its infancy as a duo. While word of their good work on Twitch has spread, the other social media channels look pretty manageable. However, we are already confident that this will change in the near future. After all, the two are investing an incredible amount of energy into making themselves known, and slowly but surely even the last person has understood that what the two are doing is great.
Now, before we go into more detail, let's first take a look at the most important information about Jackpot Rabbit Streamer Duo.
JackpotRabbit's Twitch account is no longer available. She is also no longer active on her other social media accounts. We unfortunately do not say if it is an account suspension on the streaming platform or if she decided to pull back herself. As soon as there is news about the casino streamer, we will report about it here.
General information about the duo JackpotRabbit


Unfortunately, we haven't really been able to find out much about the duo despite an intensive search. It can be assumed that JackpotRabbit are also closely connected in real life. In any case, the two harmonize in their refreshing live streams actually harmonize very well with each other. Their Twitch career began in March 2020, and since then they've gained quite a few followers. It goes without saying that the two still have a lot of room to grow.
It didn't take long after the official launch to reach the first 10,000 subscribers on Twitch. In the meantime, JackpotRabbit are on the verge of doubling that number. We suspect that the pair has already set this goal for themselves. To achieve it, they are regularly working on exciting new live streams streams – ones that make an impact and are primarily about providing viewers with a a colorful mix of top-class slot games. to show.
To date, Ant and Billy are still quite reserved about what they do. This at least saves them from scandals and negative criticism. They are clearly concerned with building a large community in the long run that believes in the duo and appreciates what they are accomplishing here.
Play at these providers JackpotRabbit


Unfortunately, the location of the two streamers Ant & Billy cannot be determined. However, the fact is that these two have chosen online casinos that are not too well known in this country. Exceptions prove the rule, and yet we have to note that the companies where JackpotRabbit is active as a duo might not be the optimal choice for Australia.
The good news is that despite everything, you have the opportunity to play the two's preferred slots in casinos that our FindCasinoBonus.com editorial team has already extensively tested. The following companies are particularly recommended:
Best rated casino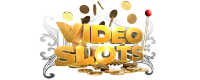 Bonus 200$
+ 11 free spins
MGA Malta
UK Gambling C. 2011test nowVideoslots Test 2.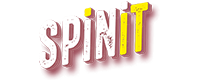 Bonus1.000$
+ 200 free spins
MGA Malta
UK Gambling C. 2016test nowSpinit Test 3.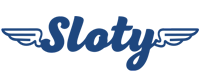 Bonus1.500$
+ 300 free spins
MGA Malta
UK Gambling C. 2017test nowSloty Test
For Australian players it is most important that the providers have have official licenses for example, issued by the MGA Malta, which is now known throughout Europe. With the companies listed, our readers can also rely on faire odds, high payout rates, secure payment methods and, last but not least and, last but not least, an easily accessible customer service. All of these aspects also play a crucial role for JackpotRabbit, because security is always at the forefront for them.
Ant & Billy Favorite Games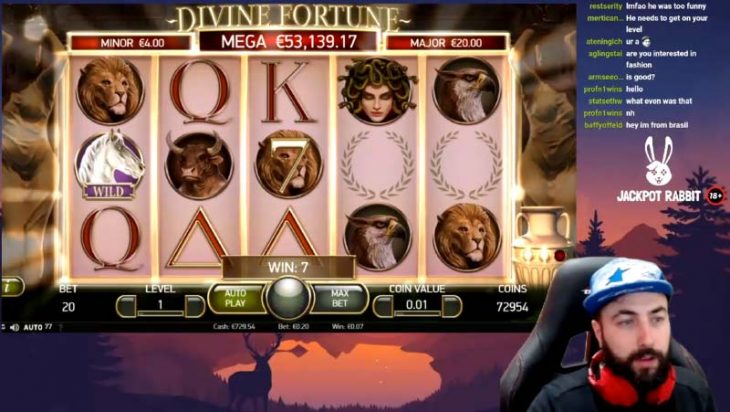 If we were to list all the slots that Billy and Ant present in their live streams, it would probably go beyond any scope. Both of them love slot games of the newer generations, which for example are characterized by bonus features, optional extra bets and not to forget interesting themes.
Boredom is definitely not an issue for the streamers. The big advantage of the top list shown in a moment is that all games have a quite high payout value have. So playing there is already worthwhile from a few cents bet. So here now directly the slots that JackpotRabbit particularly like:
Book of Aztec
Fat Rabbit
The Dog House Megaways
Divine Fortune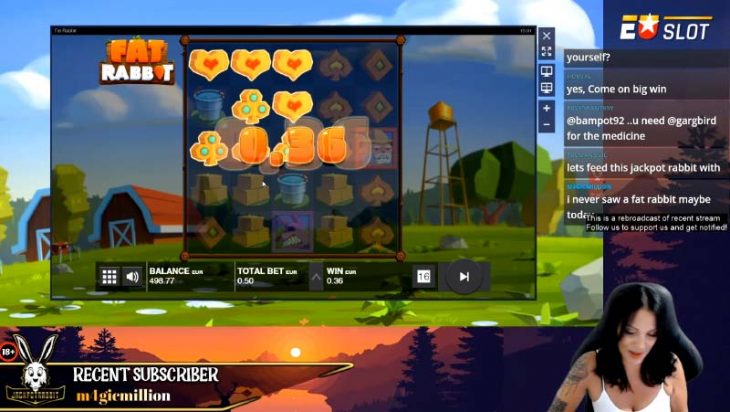 By now we know that both Billy and Ant have a knack for classic table games. classic table games especially when they are offered live.
However, the focus is still on slots, as that's what helped them succeed from day one and is ultimately the reason why there are now nearly 20,000 subscribers regularly checking out the JackpotRabbit Twitch channel.
JackpotRabbit streaming times and platforms


The fact that there aren't too many options when it comes to live streaming has of course made its way to Ant and Billy. The two providers, whose origin is unfortunately unknown, use like their competitors primarily Twitch for streaming. Although there is now an alternative in the form of YouTube, it doesn't seem to offer too many advantages, so most streamers refrain from going live on this platform as well.
The question of "where" has thus been answered. This leaves only the issue of streaming times open. What is lacking is a full schedule. There are currently no entries at all on this one, which is a pity for all those who want to follow JackpotRabbit specifically. You can't do anything else but be surprised by the two. Apparently Ant and Billy have other things to do as well. At least that would explain why the two of them go live almost exclusively on weekends. The fact is that they are not active on a daily basis.
The almost 20,000 subscriberswho have already taken Jackpot Rabbit to their hearts probably know better than anyone else when the duo can be found on Twitch. By the way, if you want to know exactly, you can always contact the pair personally and simply ask which live streams are planned for the coming days.
Jackpot Rabbit on social media
JackpotRabbit on Twitch
Billy & Ant on Facebook
JackpotRabbit on YouTube
JackpotRabbit on Instagram


JackpotRabbit can be found on the most important and well-known channels – and always as a pair and with the aim of drawing attention to their Twitch streams. The numbers are not really impressive at this point. There is a lack of fans and subscribers, but the two are by no means letting that put them off their guard.
The two "bunnies," as they call themselves by name, seem to have far too much to do with Twitch at the moment to have the time to build up other channels in a big way. That goes for Twitter as well as Instagram and the like. So it remains to be seen whether all of these accounts will develop as one would wish in the gaming scene in the near future.
Unfortunately, we can't report too much, since the content on the aforementioned accounts is relatively clear. accounts are relatively are. However, it's important to remember that they only discovered their passion for gaming a few months ago, and it's not easy to cater to all target groups in the same way.
---
JackpotRabbit on Twitch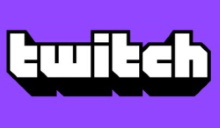 Just a few weeks after the official launch, the number of subscribers on the JackpotRabbit Twitch channel grew considerably. It took less than three months until the mark of 10,000 followers was reached. Today, the next goal has already been set: doubling the number of followers, which the duo is not far from achieving.
Of course, they could do even more, but that would require Ant and Billy to go live more often on Twitch. Currently, they have turned their channel into something like a weekend job weekend job. In that respect, they are the competition far ahead of the competition – although they do stream for a few hours.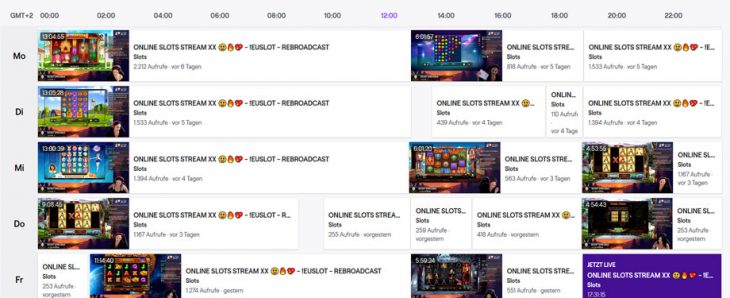 Like both most couples, it is Ant who, through her her sympathetic nature and her pretty to shine. Her boyfriend Billy can only keep up to a certain extent, although the fans absolutely love him too. Whenever the two show live streams, their followers are in on the action.
Billy & Ant on Facebook


The account that Billy and his girlfriend Ant have opened on Facebook under the pseudonym JackpotRabbit can be described as inconspicuous. Only every few weeks the duo publishes live stream videos and short information about the Twitch channel. However, the interest in this is not particularly great, because Jackpot Rabbit currently has just 19 subscribers and 13 "likes". If and when the numbers will increase? Just like the two, we have no choice but to wait and see.
Mostly the couple uses the Facebook account to share the to announce the following live streams. However, that happens less often here than followers would like. If the duo decides to show more content at some point, they could certainly make a name for themselves here as well. However, the two are still a long way from a high profile on Facebook.
JackpotRabbit on YouTube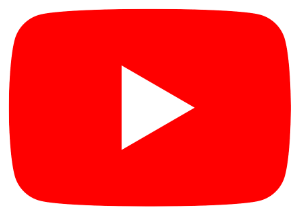 At the latest when looking at the JackpotRabbit channel opened here, it becomes clear that the big breakthrough of the streamer and her partner has not yet been achieved. With 6 followers, there is little that can be done. We're a bit surprised by this sobering number, because whenever the two stream live on Twitch, they save videos and upload them to YouTube a short time later.
Maybe it's time to do a little promotion for the two likeable newcomers. for the two likeable newcomers newcomers. Because although there are few subscribers, both take their job very seriously and the content as such is well worth watching.
Theoretically, it is possible to use the streaming feature on YouTube, but JackpotRabbit sometimes refrains from doing so. For it to be worthwhile for them at all, they would have to add significantly more subscribers. And even the competitors in the ranking, who have been active in the streamer scene for much longer, gratefully refrain from using this option. We can't give a clear answer as to why, but we assume that YouTube streaming is simply not profitable profitable enough.

As for followers, we'd like to give Ant and Billy a little more time. After all, they didn't build their channel until June 2020. The duo is not the first to have success after several months, and sometimes even years. The main thing is that both stay on the ball and deliver new exciting streaming content to their – albeit few – fans as often as possible.
JackpotRabbit on Instagram


The biggest wins are presented to the currently just under 80 subscribers on Insta. Since there are only three entries and nothing has changed in recent months, it can be assumed that the channel does not play a major role for the two streamers. does not play a major role for the two streamers. Despite intensive research, it was not possible to clearly explain why this is the case.
In the end, personal matters are completely left out of the equation. As we will show in a moment, we don't really know much about the lives of Billy and Ant – except for the fact that they both speak English. The two hardly offer anything new to their, albeit few, Instagram subscribers, which we personally find very unfortunate. Whether there is a lack of time or the channel is generally uninteresting for the duo, that also could not be clarified.
We'll wait and see how JackpotRabbit's career develops in the coming months. As soon as there is more activity on Twitch and the two have a good concept, they will probably also fill alternative social media sites like Instagram with appealing content.


And who knows: Maybe sooner or later fans will get the personal insights they've been hoping for. Until then, there's nothing left to do but exercise patience.
What makes JackpotRabbit special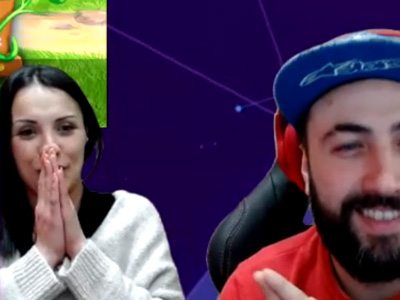 Due to their cool and likeable manner the streamer Ant has made it into our Top Ranking of women. She knows exactly how to keep viewers happy and is very authentic. It's a pleasure to watch her play and stream. However, it should be mentioned that Ant did not build the JackpotRabbit channel all by herself.
At her side is Billy, who is apparently also an integral part of Ant's private life. In any case, the two of them seem very happy together and have a common ground that will surely bring them a lot of success sooner or later.
JackpotRabbit is not the first Twitch streamer duo, as the word has spread. Anyone who knows a little about the field will surely have heard of Duooff already. The concept of both channels is relatively similar, although the "bunnies" still have a lot of work to do before they are as well-known as their competitors.
The fact that the couple keeps more than a low profile when it comes to their private lives surprised us. There is no personal picture of the two on any of the social media channels so far, and JackpotRabbit unfortunately don't reveal anything at all about their place of residence and life as a couple either.
Fresh on the scene: This is how professionally JackpotRabbit work
As a newcomer, you don't have it easy – regardless of which industry you're starting out in. In mid-2020, JackpotRabbit decided to get started on Twitch. Followers may still be a bit of a wait, but despite everything, you can already see how much potential Ant and Billy bring to the table. The professionalism that both of them display is definitely exemplary. The duo knows which games are well received and how to create realistic entertainment entertainment. At the same time, both have remained grounded and maintain very close contact with their subscribers, especially they maintain very close contact with their subscribers.
Both streamers take their job very seriously, although it almost seems as if the JackpotRabbit duo invest comparatively little time in it. Our own experience tells us that this impression is deceptive. In fact, the motto "all beginnings are difficult" is evident here, and we assume that you'll soon be able to see a lot more of the two. At least it was similar with the better-known competitors, who have gathered several hundred thousand followers around them today.
JackpotRabbit in private – a fable for rodents


So far, Ant and Billy have kept quiet about their private lives, but their pseudonyms suggest that they both have a fondness for rabbits. That's probably why they call themselves "two bunnies in search of carrots.
We are convinced that they prefer affiliate income on Twitch. If there is more input in the future, they can buy as many carrots as they want with the money they earned.
Author: Joshua Davidson