Important Notice: We are currently not conducting any ongoing quality tests at Videoslots and therefore cannot present the brand in question in more detail to our readers at the moment, nor can we recommend it.
A list of alternatives can be found in our current casino recommendations
A website should be well thought out especially if, as in Videoslots Casino, it should have lots of promotions, offers, a support and other areas easy to find in addition to 2,000+ casino games. Videoslots has chosen a quite colorful and yet simple design which forms a wonderful contrast to the individual areas.
You will find links to all relevant game categories directly on the homepage, you can register and log in without any effort, and the payment methods are also simply structured.


Overall, the website leaves a positive first impression, which manifested itself to us after a closer look. Surely, it is not easy to sort so many games cleverly, so that so that even beginners can easily find their way around. But that is exactly what Videoslots Casino has managed to do on its website. If you already know which game you want to try, the search function will help you out. And this is only one of many little helpers that the operators have built in here.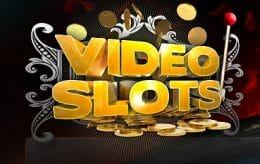 As usual, we start our exploration at the top of the website. You can't miss the logo in the style of a one-armed bandit. To the right you will find links to areas such as Customer Service, Responsible Gaming, the Live Chat and the ability to contact the Contact the staff by phone.
Directly below, Videoslots Casino has placed your customer details on its website. This way, you can always keep an eye on your account balance and, if necessary, make deposits and withdrawals with a flick of the wrist.
Another time, the "Customer Service" button can be seen on a golden background. So, the operators of Videoslots make it particularly easy for you to contact them from the website should you have any questions or concerns. Here you also have the option to find out more about the payment methods offered.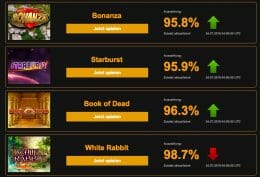 Links to the sections that Videoslots Casino has to offer are presented in golden letters in front of the thumbnails. In the list there is also the button "My Bonuses", "My Weekend Booster", "Casino race" and "Game Payout". You can read through what this is all about at your leisure – regardless of whether you are already a registered customer or merely a guest.
We were particularly impressed by the transparency of the website. In the payouts section, you can find out which slots are particularly worthwhile. You can also read up on the odds and see whether they are trending up or down.
Large portfolio clearly structured


The fact that a website despite more than 2000 slot machines and classics can appear so tidy, we would not have thought. Videoslots proves true greatness here, because the entire site is just as clear as you would want from modern online casinos.
It also shows that the operators have by no means saved on the wrong end. For the entire site, experts were brought on board, who obviously know exactly how to satisfy demanding customers. Sure, it is a bit crowded especially in the video slots section – almost a bit too much for beginners. Nevertheless, the website can be seen.
Mobile website also well thought out
As you can read on FindCasinoBonus.com, Videoslots not only offers you the casino on the PC, but there is also a mobile casino without download. Here, the makers rely on HTML5 technology, so you can confidently do without an app installation. The mobile offer and especially the Videoslots website for smartphones is just as convincing as the big role model on the home computer. With little effort, you can browse through the game categories, find out about bonus promotions and conditions, or contact support.
---


That the operators have put all their energy into the website can be seen immediately even by laymen. The good structure and the technological understanding have a positive effect on the performance and the positive effect on the performance and loading times of mobile loading times. By the way, you can find an independent test report on this topic on our portal. Surely the Videoslots Casino website could be even more colorful. However, the focus here is not on color, but on the fact that you as a new customer can start playing without any effort.
Videoslots performance & loading times – our experiences
With more than 2,500 casino games, we would have assumed that the performance would suffer a bit. Far from it, because this is just as convincing as the loading times at Videoslots Casino across the board. High-performance servers literally keep the store running. Even with large numbers of visitors, everything works smoothly. This clearly proves that the operators spare no expense and effort to give you the best possible gaming experience.
Basically technical problems can of course never be completely ruled out. There can also certainly be the one or other time server work that disrupts the game flow. All in all, however, there is really nothing that we could criticize here – no matter if it's about the loading times or performance in general.


We have test at different times to find out whether the performance and loading times are good even when the site is busy. There is nothing to complain about in this respect. Especially towards the weekend, it gets quite crowded at Videoslots Casino. Nevertheless, all games load within seconds and run smoothly overall.
The loading times are also flawless when playing on cell phones and tablets. Sure, it can sometimes take a few seconds longer until you can get started. Still, you cannot complain about the values that our test revealed. For a solid performance is also ensured at Videoslots Mobile. What more could you want?


If, contrary to expectations, technical problems occur, then it is time to familiarize yourself with the customer service. Of course, we have also tested it – with positive results on all levels. There are a few things you can do yourself to make sure everything runs as it should. Pay attention to updates of your software, browser and last but not least Java / Flash. The more up-to-date the system, the easier it is to get your first winnings in a matter of seconds.
Videoslots Casino website – our conclusion


We think the operators have done everything right in terms of structure and design. The focus is on making it as easy as possible for players to use the Videoslots Casino website. as easy as possible whether the choice falls on the PC or the smartphone.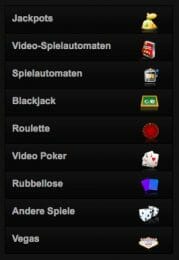 Advantageously, you are allowed to apply various filters in the "All Games" section. On the one hand, there are individual categories here such as jackpots, video slots, blackjack and co. games can be sorted according to manufacturer and functions. You really can't expect more from a casino website.
If you don't yet have an idea of which games you might like, the website offers you the option to view preview images and let your gut instinct decide. The pleasant structure also ensures that you always have offers and promotions in view. And especially those can be worthwhile at Videoslots Casino!
In comparison to other online casinos, Videoslots performs solidly in terms of performance and also loading times. The operators have taken care of all eventualities and ensure that even on weekends and in the late evening hours there are no problems. no problems occur occur.


However, if a problem should occur, direct contact with customer service will help. As a rule, faults are are solved immediatelyso that you can continue playing as usual after a few minutes. This applies to all devices on which the Videoslots Casino online available – including smartphones and tablets from almost all manufacturers.
Author: William BrownRated: Videoslots websiteAuthor Rating: ⭐⭐⭐⭐ 94%