Important Notice: We are currently not conducting any ongoing quality tests at Videoslots and therefore cannot present the brand in question in more detail to our readers at the moment, nor can we recommend it.
A list of alternatives can be found in our current casino recommendations
Videoslots is a provider that lives up to its name. So that players don't have to do without slots of all kinds while on the go, those responsible got to work very early on and developed an app that leaves nothing to be desired.
However, we have to say right away that Videoslots Mobile has not found a place in the Play Store. Instead, the operators rely on a Web App with HTML5 basis, which is accessible to everyone.


The Videslots website explains directly to players how they can enjoy all their favorites on the go. Fortunately, not much effort is required for this. Simply enter the URL in the browser, log in and the fun with Videoslots Mobile can begin! The new customer bonus is of course also available on the go – but only for new customers.
Strengths and weaknesses of the Videoslots app
The strengthsThe weaknesses
Huge game selection
Convenient operation
Popular payment methods available
No download necessary
Videoslots mobile games review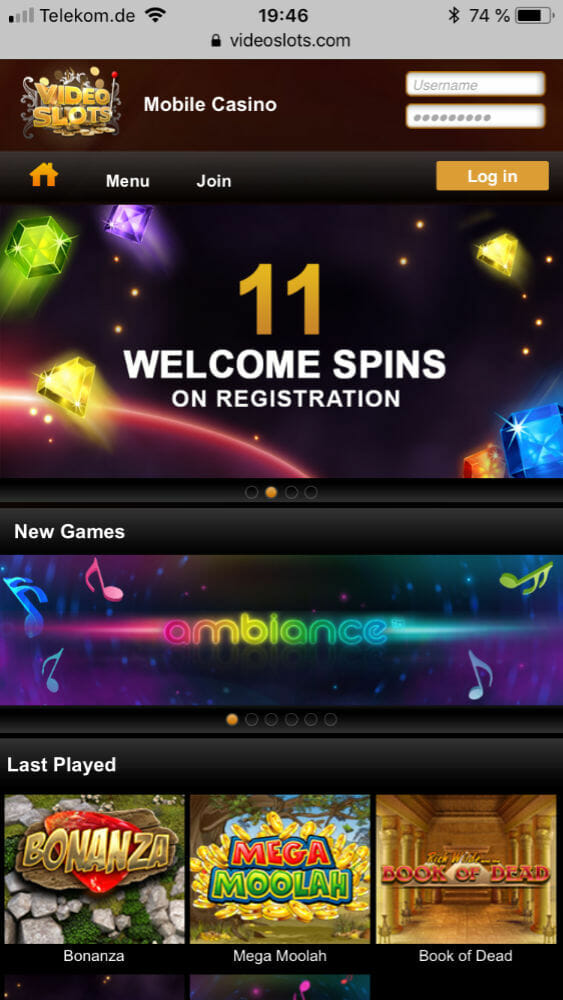 Our FindCasinoBonus.com team has of course put the mobile offering through its paces. The fact is that Videoslots Mobile is just as convincing as the desktop version – also and especially when it comes to factors like loading times or performance.
It makes sense to make sure you have a stable internet connection. This is incredibly important for the mobile website. However, this is the only disadvantage compared to native apps, which Videoslots foregoes in favor of an incredibly in favor of an incredibly large game portfolio. in favor of an incredibly large game portfolio.
Among other things, we were concerned with the question of how payment transactions are handled at Videoslots Mobile. In this regard, we can state that transactions are both quickly and securely can be carried out.
The Videoslots Casino offers its guests all common payment methods available to its guests. Some of them are particularly suitable for mobile transactions due to their simple handling. Others, on the other hand, are a bit more cumbersome.
Mobile availability of Videoslots
Customers can also play here around the clock – whenever and wherever they feel like it. While many casinos with special apps only address iPhone and Android users, the mobile Videoslots Casino is accessible to everyone.


The only prerequisite: The smartphone or tablet used must be able to display websites based on HTML5. This should actually always be the case today – even on devices that are already a bit older.
Basically, anyone can play at Videoslots mobile at will without having to fear any restrictions. These are already omitted because the company has specifically opted for the HTML5 variant. With this, it is possible for Videoslots to offer players almost the portfolio without any restrictions. without any restrictions.
Videoslots Mobile for Apple customers

Does the app work on iPhone or iPad? If you own such a device, you only have to open the browser and call up the web address of the Videoslots casino. The whole thing takes a few seconds, and nothing stands in the way of carefree gaming fun.
The Videoslots Web App for Apple devices offers more than 1,000 games in all categories. As already mentioned, no download is required. Another advantage is that the range of slots tables and live games updates itself. So it doesn't take much to challenge your luck as an iPhone or iPad owner.
It is recommended to update the browser as well as Java and Flash as regularly as possible. This is the only way to ensure that you get the best possible performance and that all the games your heart beats for load quickly.
Android App from Videoslots


For Android device users, playing at Videoslots Mobile Casino is just as easy. Players do not have to bother with Google Play. It is sufficient to start the browser that is already installed. In this case, it should be Chrome, although Videoslots Mobile is also compatible with most other browsers.
Videoslots mobile website with HTML5


The operators have made a conscious decision not to develop any apps and instead build the portfolio on an HTML5 basis to run. On that point, they agree with most providers who handle things the same way. The goal is not to address Apple and Android customers alone, but to reach as large a target group as possible.
Anyone who always owns a smartphone should have no trouble visiting the Videoslots mobile casino and playing there to their heart's content. If there are any technical problems, you can of course contact the Videoslots Support contact. The experienced staff almost always has a solution.$
Advantages of the Videoslots website
It would hardly have been possible for the company to accommodate so many games in a single app. Players therefore benefit first and foremost from a rich game selection – which for the most part consists of slots and video slots from renowned manufacturers. With more than 1000 games plus some classics, there is certainly no chance of getting bored on the go. Videoslots Mobile is also not lacking in bonus promotions and gifts for on the go.$
Does the Videoslots app come with any disadvantages?


In fact, you don't have to worry about any disadvantages at all – if only because the operators rely exclusively on the Videoslots Web App with HTML5. The app download required by some competitors is therefore completely unnecessary here. Not only does this save time, but you also benefit from a significantly significantly more attractive game selection. This, in turn, updates itself fully automatically at Videoslots Mobile.
Of course, players have to do a little bit to enjoy entertaining games. The only downside is that regular updates of the operating system are necessary. This also applies to the web version on the PC. All in all, there is a lot to be said for taking a look at Videoslots' mobile offer in person.
The game offer of Videoslots Mobile
The name says it all: Videoslots customers can predominantly play slots on the mobile website – from top brands like NetEnt, Quickspin, Play 'n Go, Microgaming and many other manufacturers that have rank and name in Europe. Although the portfolio had to be reduced a bit compared to the desktop version, players will not find more slots than here in any other mobile casino.
---


Customers decide for themselves whether they want to play for real money or for free. free of charge would like. Even live games are available in the Videoslots web app. Some of the real gaming tables can even be tried out without real wagering. As you can see, there are more than enough opportunities to be entertained. The offer is not only versatile, but also of high quality. This aspect played an important role for us in the test.
---
Info about the Videoslots Casino download app


To make it short: You do not have to perform a download. There is no download app from Videoslots at all no download app. This info should be enough to simplify the decision a bit. As already mentioned, the name of the provider is program. You can hardly find more slot games anywhere else. For those who don't want to miss them on the go, Videoslots Mobile is available directly in the browser.
A Videoslots Casino app download would certainly also have certain advantages – for example the better performance in situations where the Internet connection leaves much to be desired. However, the provider has already impressively proven in recent years that it is also possible without downloading. Both technically and qualitatively, the Videoslots web app is convincing across the board.
Install Videoslots Casino App
Since you cannot and do not have to download an app, you are logically also spared the installation completely. Videoslots relies here on Simplicity that convinces. Nothing more than a standard browser is required. This is usually already installed on smartphones.
Just go to the web address and you're ready to go. No installation means on the one hand that you can save yourself a lot of time. On the other hand, you don't need too much storage space. This is especially convenient for players who like to gamble with several providers at the same time.
The Videoslots app for tablet


Technically, it does not matter whether you use a smartphone or a tablet to play at Videoslots Casino Mobile. The concept is identical on all devices, whereby the games and website are of course adapted adapt optimally to the screen size. For many users, it is even more convenient to prefer the tablet over the smartphone. The small marvels of technology fit comfortably in most handbags and are still large enough to be allowed to play their favorite games in the highest quality.
Using the mobile app for tablets is just as easy as on the smartphone. All areas and game categories are self-explanatory. All you have to do is log in and you can play to your heart's content with or without real money.
Real money games at Videoslots Mobile
Of course, on the go, there is the opportunity to to make real winnings. However, a deposit is then also required in the Videoslots app. Of course, everyone can determine the amount for themselves. If you have already set up an account and filled it up, you can use the mobile credit. You are therefore not forced to open a new customer account to play on your smartphone or tablet.

If there is no credit available on the existing account, you can choose between several reliable payment methods choose from. According to the well-known concept, most of them allow real-time transactions. A payout can also be requested on the go without any effort. However, if you have claimed the Videoslots mobile bonus, you must first fulfill the wagering requirements before making a withdrawal.
What if the Videoslots app doesn't work?


This shouldn't actually happen – although technical glitches can of course never be completely ruled out. In the unlikely event that the Videoslots web app cannot be accessed, you should first check your internet connection here as well. Sometimes it is helpful to interrupt the connection for a moment and then re-establish it.
If this does not solve the problem updates to the operating system or browser can provide a remedy. Once updates have been performed, it is usually sufficient to restart the smartphone. Finally, once all attempts have failed, one has the option to contact the Videoslots Casino technical support. Experienced experts will solve the problem relatively quickly.

If you need assistance and have any questions, you can contact support at Videoslots Mobile with a flick of the wrist – via mail, phone and live chat. The FAQ page is also accessible on your smartphone, so many questions will be resolved quite quickly. Joshua Davidson, Mobile Gaming Expert at FindCasinoBonus.
What advantages does Videoslots Mobile offer over the desktop version?


There is a lot to be said for being able to play on the go with the the huge range of games offered by Videoslots on the go. The biggest advantage over the PC alternative is that you are not tied to a fixed location. The Videoslots web app can be played anywhere – and that without any major restrictions in the game selection. Those who love vending machines will especially get their money's worth. But also roulette Blackjack, Poker and last but not least Live Gaming are also very popular here.
Whenever you feel like playing, you can pursue your passion thanks to Videoslots Mobile. This alone is certainly the main reason why more and more customers are turning to smartphone casinos and, meanwhile, breaking away from their home computers.
Conclusion about the Videoslots app
When it comes to roulette, the saying goes "Nothing more is possible" – with Videoslots, we can clearly say: "More is not possible". We have put countless mobile casinos to the test in recent years. However, such a large number of games has not been offered anywhere so far.
Loading times and performance of Videoslots Mobile are coherent, although the company does without native apps. The fact that players do not have to download is definitely an advantage. However, you should pay even more attention to avoid the hated radio holes. Then, logically, there can be no jamming of the battery. But don't worry: The company has also taken precautions for this case and does everything in its power to ensure a smooth process.

We think Videoslots offers one of the best mobile Videoslots gaming options of all times. If you want to convince yourself of this, you should waste no time and pay the provider a visit right away on your smartphone or tablet – no matter where you are.
FAQ about the Videoslots app
How much does the Videoslots app cost?
Where can I find information about the Videoslots mobile download?
Can I bet real money at Videoslots on the go?
Is Videoslots support available on the go?
---
1.)

How much does the Videoslots app cost?


The company's offer is of course open to players free of charge. On the one hand, no installation has to be carried out, but only the mobile website of Videoslots based on HTML5 has to be opened. On the other hand, every customer decides for himself whether he prefers the real money mode or the free variant. Costs thus also arise with Videoslots Mobile only if one decides to do so.
2.)

Where can I find information about the Videoslots Mobile download?


Since there is no app download, you logically do not have to search for details for a long time. Like many competitors in the industry, Videoslots also relies on the web app with HTML5. This works on almost all devices and makes it all the easier for players to get started.
Those who are interested in the games, bonus promotions and, of course, also in fair chances of winning can simply open the browser and access the page in seconds. Once it's loaded, you can start playing your favorite games to your heart's content.
3.)

Can I also bet real money on Videoslots while on the move?


Of course you can! The personal customer account is one of the most important requirements. You can register both on your PC and on the go – whereby an account is valid on all devices. As soon as you have logged in for the first time, you can make a deposit.
Thanks to reliable payment methods this not only works super fast, but the money is also optimally protected. Now you just have to set the stake on your favorite slot or classic game. Once this is done, it's time to keep your fingers crossed. Winnings come faster than expected with Videoslots.
4.)

Is the Videoslots support available on the road?


For the operators it is a matter of course, to support players around the clock – not only within your own four walls, but also on the move. Whenever questions arise, you can easily forward them to the customer service. The simplest option is the live chat. Less urgent concerns can alternatively be sent by e-mail.
Author: Joshua DavidsonRated: Videoslots AppAuthor Rating: ⭐⭐⭐⭐89%