ClassyBeef Facts
Streamer Name:
ClassyBeef
Real Name:
Jonte, Georgi, Biggo, Freddy, Max & Rune
Avatar:

Origin:
Malta
Residence:
Malta
Year of birth:
Unknown
Followers:
11,700 (Kick.com)
267,100 (Twitch)
12.000 (Twitter)
36,700 (Youtube)
60,400 (Instagram)
2,300 (Facebook)
9,000 (Telegram)
17,400 (Discord)
23,700 (dlive)
ClassyBeef Favorite Vendors:
Stake
Features:
Love challenges, make for even more action as a result
Highest win:
$7,500,000 in Gladiator Legends
Highest Multiplier:
10,000x in Gladiator Legends
ClassyBeef is not just one streamer, but seven. The good-humored streamer team spreads a really delightful atmosphere in the live streams, of which the fans, after all almost 200,000 on Twitch alonecan't get enough of it.
The seven providers in the gaming scene certainly still have a little room for improvement. After all, the ClassyBeef account is not yet two years old, and the guys from Malta are doing everything they can to become better known. This is true for their own climes as well as for the rest of the world. What they have to offer their fans, that at least is already extremely well received.
The beauty of ClassyBeef is that it cleverly splits its time on channels like Twitch. So the young men don't sit in front of the camera at the same time, but take turns in such a way that you can spend unbelievable number of hours per day of them per day.
They also run a personal websitewhich is all about gaming – including a forum and other features that their followers obviously appreciate. It won't be long before the seven of them have reached a total of tens of thousands of streaming hours. There is definitely no stopping Classy Beef.
General information about the ClassyBeef team


ClassyBeef stands for a team of streamers who have set up a joint and now quite large gambling project. The big thing the men from Malta have in common is their preference for slot games of all kinds. Privately, they really seem to get along very well. Otherwise it would hardly have been possible to become so big within a short time.
After all, Classy Beef have made it into our international ranking. Unfortunately, we were unable to clarify whether all the streamers are actually from Malta or whether they decided to emigrate later.
However, the streamer team could not have chosen a better location, as Malta is one of the few countries in Europe that officially licenses officially licenses gambling – under very strict criteria, which are applied by both slot operators and game developers. game developers have to fulfill. As it seems at the moment, ClassyBeef have a great career ahead of them. The numbers speak for this, as several thousand followers are added every month.
Play ClassyBeef at these slot providers.
How advantageous it is that the streamers are based in Malta can be seen in the choice of providers. Many of the addresses preferred by the gamers are also known in this country and enjoy a more than good reputation. In the beginning, they were active at a large part of the well-known casinos on the island. In the meantime, however, that has changed, and like many other streamers, ClassyBeef has also moved to Stake Casino.


Accordingly, there is nothing to stop Australian fans from starting right there and putting their luck to the test with the top companies in the industry. They all are officially licensed, offer versatile slots and last but not least solid bonuses. Here are a few examples right away:
Best rated casino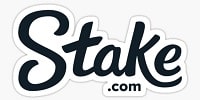 Bonus500$
Curacao Gaming 2017test nowStake Test 2.

Bonus1.000$
+ 100 free spins
Curacao Gamingtest nowLucky Dreams Test 3.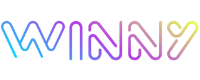 Bonus100% up to $250
MGA Maltatest nowWinny Casino Test
All of you who want to learn as much as possible about the mentioned providers are welcome to get more information directly from us. Comprehensive test reports give a first overview of advantages and disadvantages.
Like ClassyBeef, it should of course be important to the average player, to play transparently to be allowed to play. That is definitely the case here. Some of the groups that the streamers present on their Twitch channel might be less known. However, that doesn't mean that you would lack gaming options there.
The streamers' favorite games
Slots of all kinds are obviously a favorite of ClassyBeef. The guys are by no means only dedicated to well-known titles, but also give a chance to new releases from renowned developers – including brands like NetEnt, Play 'n Go or NYX, just to name a few.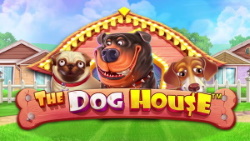 If time permits, there will even be a few live tables streamed. However, these are not so much in focus, because ultimately slot machines provide much more excitement for the viewers. Here are some titles that the streamers from Malta particularly love:
Fruit Party
Euphoria
The Dog House
300 Shields
Danger High Voltage
At several thousand hours of streaming the list is of course much longer. However, to name all the titles here would be immeasurable – if only because new games are added all the time. By the way, the mentioned slot machines can be replayed at any time at the providers known to us. This is usually possible both with and without a real bet.
ClassyBeef streaming times and platforms


We have rarely seen such a full schedule. The fact that streaming takes place almost around the clock, with a few hours of exception, should have been obvious. After all, the men behind the pseudonym ClassyBeef appear in front of the camera again and again in changing lineups.
In addition, of course, each of them individually has his own times. Thus, there is always something to see for fans of the Maltese – starting with typical Slot Streams, up to spectacular Bonus Hunts.
ClassyBeef's preferred streaming platform is Kick.com. That may sound a bit strange now, after all they have over a quarter of a million followers on Twitch. However, it is no longer possible to stream slots there, as well as in casinos without an American license. Accordingly, those responsible at ClassyBeef have decided to look for a new home.
Besides Kick.com, the streamers are also active on other platforms. In addition to DLive, another streaming provider, the biggest wins and the hottest action can also be found as a compilation on Youtube. In addition, all other platforms up to Telegram are regularly served. So that their fans are definitely always up to date.
And if the opportunity arises, you can even experience them as a duo, trio or quartet in front of the streaming cameras. And every now and then individually. Hardly a moment goes by in which at least one of the streamers from ClassyBeef is live is live.
ClassyBeef in the social media
ClassyBeef on Kick.com
Jonte, Freddy, Biggo & Co. on Twitch
ClassyBeef on YouTube
ClassyBeefOfficial on Instagram
ClassyBeef on Twitter
ClassyBeef on Facebook
In the meantime, both the streamers and the creators behind ClassyBeef have become are real social media professionals. Of course, they know very well the importance of the channels in today's society. These are cleverly used by the streamers to inform and keep followers up to date regarding their casino streams.
However, the team does not reveal many private details about themselves. Still, the streamers are doing well with their fans – not least because of their animated social media posts and the way they interact with the people out there.
---
ClassyBeef on Kick.com
The year 2022 was definitely one of the most important for ClassyBeef. Not only because they were able to dramatically increase their number of followers, but also because they had to decide on a new streaming home. This decision is then made for the new streaming platform Kick.com. The reasons for this are quite clear. On the one hand, the provider, which was only launched in November 2022, seems to establish itself primarily as a casino streaming provider. On the other hand, since October 2022 it is no longer possible to play live during the stream in casinos without an American license, or other severe restrictions simply make it almost impossible.
On Kick.com, the fan community is of course still somewhat smaller. However, the entire platform is still growing and accordingly quickly come also new followers are added. If it continues like this, then they will certainly reach the mark of one hundred thousand fans quickly. Above all, they also use their other platforms to promote the ClassyBeef account on Kick.
Jonte, Freddy, Biggo & Co. on Twitch
Meanwhile, ClassyBeef's career on Twitch seems to have come to a standstill. More than a quarter of a million fans can still read the announcements of the next streams, but not much is really happening on the channel anymore. Which is a shame, of course, but understandable at the same time. After all, it is no longer possible for no longer possible to present their content on Twitch.
In October 2022, the so-called Casino Ban on Twitch came into force. That means it was no longer possible to start casino streams on the platform, with a few exceptions. And while some streamers have continued with other content, the creators of ClassyBeef have decided to go a different route and have switched to other providers. Since they had previously only appeared with casino streams, it would of course have been unbelievable if they now suddenly started with World of Warcraft or similar games.
But who knows what the future will bring. After all, the ClassyBeef team is big enough. Maybe they will use their Twitch account again and publish other content. Or they use it to advertise their other accounts. Many other casino streamers do this as well.
ClassyBeef on YouTube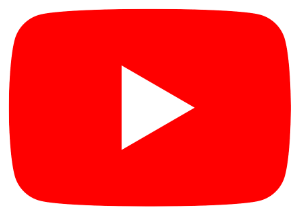 ClassyBeef has almost 40,000 fans on their YouTube channel. This offers new content almost dailyThe live streams of the young men are reworked on YouTube. There are not only funny shorts, but also the summary of the highest profits can be seen.
As far as the number of views is concerned, ClassyBeef certainly still has a lot of room for improvement. Nevertheless, the streaming team can't complain about a lack of response.
The YouTube channel is primarily about becoming better known. Every now and then, the streamers shoot videos together, or have even done so in the past, that have nothing to do with streaming. For example, Espen showed his horrendous side in time for Halloween. When you watch the streamers, you can't help but appreciate them for their humor and open-mindedness. open-mindedness.
ClassyBeefOfficial on Instagram


Also the Instagram channel is also worth seeingin our opinion. While the ClassyBeef team usually keeps a low profile when it comes to their private lives, here you at least get an idea of what the streamers do when they're not in front of the camera for a change. The profile classybeefofficial already has more than 60,000 subscribers. The only condition to be allowed to follow them: You have to be at least 18 years old.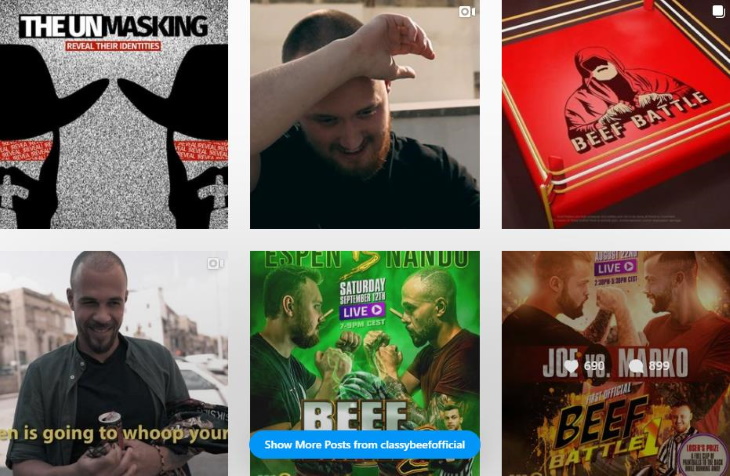 Public pictures show the gamers only in private momentsbowling, for example. So if you want to learn more about their projects on Instagram, too, you have no choice but to register yourself, subscribe to ClassyBeef and confirm your age there.
Successful are the Beef Battle. Of course, you do not have to worry about the brave fights and the like. In the end, everyone comes out of it alive and well. We're talking about show fights here, which appeal to a completely different target group than they usually do. This is having an effect, as the growing follower numbers prove.
The casino streamers are taking a very targeted approach to their success and making it clear that they are the best community ever built up. As said on Instagram, the guys would never have dreamed of the success when they started their project classybeef a few years ago.
ClassyBeef on Twitter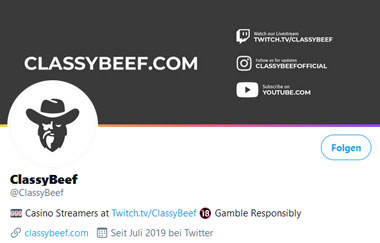 Of course, there is a ClassyBeef Twitter channel. However, it doesn't seem to be very important for the streamers from Malta. There are only just over 12,000 followers.
Despite all that, the guys don't miss the opportunity to deliver new tweets on a regular basis. As you can already guess, these are almost exclusively about almost exclusively about live streaming on Kick.com. One post a day has become a matter of course for the streamers. It doesn't seem to hurt them that comparatively few fans follow the Twitter channel.
After all, they are successful on all other sites, so in the end it hardly matters if and how fast the follower numbers increase here.
ClassyBeef on Facebook


In order to tap into additional target groups, ClassyBeef have now actually set up a Facebook page, which is currently followed by just over 2,200 people. Here, too, the players from Malta don't miss out, daily new input regarding promotions, new live streams, and all the other things that play a role for the quartet besides streaming.
All fans who don't use any social media except Facebook are definitely in good hands here and always have the option to follow the streamers. What's particularly interesting is that the highlights of the week find a place on the page. So if you didn't have time to watch the whole thing live, you at least get the opportunity to watch videos here.
---


In addition, in between also on Facebook Sweepstakes advertised. These allow ClassyBeef fans to pick up a solid prize if they participate successfully. So the guys are clearly wearing the spending pants, and it's not just Twitch subscribers who are supposed to benefit from this in the end.
---
That's what Classy Beef is all about
If anyone knows how to create a good atmosphere, it's the ClassyBeef streamers from Malta. They are not only interested in exciting people with exciting slot streams. Rather the streamer team relies on humorand that is apparently not only well received by us. With different yet similarly likable characters behind the project, success was actually predictable. Within a few months, they've inspired followers in abundance, and the numbers are still rising rapidly today.
The young men were aware of how much work and time they would have to put into the ClassyBeef project in order to succeed. The reward for their efforts is a place in our international streamer ranking because in fact the streamers are known far beyond the borders of Malta. They are now successful worldwide, and especially in the casino streaming scene they are among the most popular providers of their kind.

The history of ClassyBeef
The project was already set up at the beginning of 2019. At that time, only Joe and Espen were responsible. However, they had set themselves a big goal and wanted to create as many streaming hours as possible. What was rather difficult as a duo became easier with time and the new team members Nando and Marko. For a while, Kevin was also on board, about whom we unfortunately know little.
At first, the partner of the two disappeared from the scene. In the meantime, however, he is working for ClassyBeef again – but only behind the camera and no longer in front of it. For example, he is responsible for splitting times and scheduling streams. When Marko left the team, Lamar and Jonte followed. In 2020 came Georgi and Biggo joined the team. However, the seven streamers should not be the end of the story. In the years that followed, new streamers joined the team again and again, and some familiar faces left.
---


ClassyBeef also had to make the experience that all beginnings are difficult. The first live stream in February 2019 was not very successful. The hoped-for response initially failed to materialize. This has since changed drastically, and the number of followers on the various The number of followers on the various social media platforms has literally exploded within a year. What was not foreseeable at the time is something the team can really be proud of.
---
ClassyBeef private – introspective and anonymous


To be honest, it is now not so easy to tell who belongs to the team of ClassyBeef. On the homepage they state that there are now over 40 employees working for the company behind it. Of course, we want to focus on the streamers first and foremost. They seem to go down well in their roles and inspire people – with exciting streams and even more appealing events.. Private life remains the business of the young Maltese, who merely post personal pictures of themselves on Instagram from time to time.
We know that the streamers invest a lot of time in streaming. In order to be well positioned in terms of quality, they have now set up their own studio. The team uses the latest on the latest technology, especially for the live streams.. This is paying off at the latest now that the numbers are skyrocketing and hundreds of thousands of people are now following what ClassyBeef is doing as a project.
However, as already mentioned, not much info about the private life can be found out. We estimate that the streamers are still quite young and therefore have a good chance of being successful in the industry in the long term. It's easily another 30 years until they retire.
The streamers are real professionalswho are quite different in character. This is precisely why the ClassyBeef team reaches a wide variety of target groups in Europe and even worldwide. As far as income is concerned, the seven should have no reason to complain.
Author: Joshua Davidson