Crazy Domme Facts
Streamer Name:
CrazyDomme
Real Name:
Dominic B.
Avatar:

Origin:
Australia
Residence:
Unknown
Year of birth:
unknown
Followers:
16,000 (Twitch)
n/a (Twitter)
300 (Youtube)
1,600 (Instagram)
CrazyDomme Favorite casino:
Wildz
Specifics:
Banned on most channels, moves in legal gray areas, not just gambling
Highest win:
Unknown
Highest multiplier:
Unknown
If you read up on Crazy Domme, you will quickly notice that, according to the majority, the streamer lacks one thing: a certain amount of likeability. And apparently, he appeals to a very specific target group with his actions.
Time and again he got caught up in extreme scandals in the insider media, and yet he has managed to become successful as a streamer on Twitch. Due to the high number of followers, we present him on our site, but at the same time we point out that we do not approve or condemn many of his actions – such as the YouTube kissing pranks.
The fact is that CrazyDomme has managed, with his almost daily live streams, to attract more than 15.000 followers followers.
Privately, not too much is known about the Australian – except that he is estimated to have started streaming at the tender age of early or mid-20s and that there are numerous rumors about his past regarding drug use. According to Dominic B., as the streamer is called in real life, however, this has long been history.
For his videos, many condemn him because of an obscene and partly aggressive manner. But although he shows a very special side in the live streams, this hardly seems to bother his fans, who get offended themselves in between. Dominic also rarely has a positive word to say about the competition.
General Information
CrazyDomme is, as already mentioned, a young Australian, who in real life is Dominic B. is called. However, the streamer does not disclose his full name or any other personal details – which is also the practice of other well-known streamers.
Domme knows how to stand out and inspire an unusual target group that consists of over 15,000 fans. The streamer knows how to captivate them. In any case, he is successful in the Twitch scene, while things are clearly worse for him on other social media channels.
Provoking and falling off the gridThese are the relevant characteristics of CrazyDomme: On the one hand, he is repeatedly criticized for his YouTube pranks, on the other hand, there are various rumors about deals with various casino providers and also fake accusations are in the room. In 2019, several scandals uncovered, which Dominic B. but so far could not stop.
Dominic B. plays at these slot providers.
As unsympathetic and unserious CrazyDomme may seem to many: When it comes to slots and the corresponding providers, even this streamer leaves nothing to chance. In fact, he only recommends his subscribers those companies that are significantly more reputable than his own reputation and that are especially trusted by their official gambling licenses stand out positively.
Many of his favorite providers have already been extensively tested by our specialist editorial team and found to be good.
Crazy Domme also reveals one or two addresses that we ourselves don't know much about. Slots.io and Betamo seem to go down very well with the streamer. The special thing is that Dominic also seems to have a passion for sports betting for sports betting. However, he doesn't really live it out, at least on his Twitch channel. Here, he is primarily concerned with slot games, which he plays at the following addresses in addition to the ones mentioned:
Best rated casino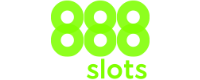 Bonus200$
Gibraltar
Schleswig-Holstein
MGA Malta 1997test now888slots Test 2.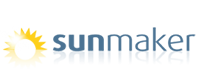 Bonus100$
+ 30 free spins
Schleswig-Holstein
MGA Malta 2004test nowSunmaker Test 3.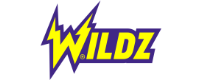 Bonus500$
+ 200 free spins
MGA Malta 2019test nowWildz Test
We can consider the sites all reliable and fair fair. It's entirely possible to play there yourself – regardless of whether you're in a similar mood to Dominic or you've chosen a more solid path in life. The nice thing about the providers is that especially for new customers there are a lot of bonuses ready. So it's definitely worth taking a look.
CrazyDomme favorite games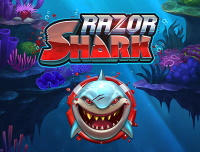 As already mentioned, Dominic B. prefers to stream slots in all imaginable variations. His favorite providers should mean something to our readers. They are all extremely popular. CrazyDomme dedicates the following titles to his live streams most often:
Razor Shark
Jammin' Jars
Deadwood
The Dog House
Royal Masquerade
If you feel like it and have the time, you are welcome to visit one of the addresses listed above and test for yourself how good the games are – not only in terms of high odds payout rates, but also when it comes to versatile themes, high quality graphics and exciting exciting features features.
Crazy Domme streaming times and platforms
CrazyDomme takes a few hours a day for its more than 15,000 Twitch followers. The platform is currently the only one on which he streams slots. You can watch finished videos there as well. All this is no longer possible since his ban on YouTube. Every attempt to create new accounts has failed miserably at times.
Even if CrazyDomme is now only interested in furthering his career as a streamer, most serious channels don't really want him anymore. Twitch is the only exception, as long as the streamer at least adheres to certain rules there. Fans can usually watch him in the evening hours.
CrazyDomme in the social media


Indeed, fans of the notorious streamer are no longer spoiled for choice, as due to sexist classified performances and attempting to make passes at girls, Dominic B., who until recently was known as Yo.Domme has been banned almost everywhere. As good as he seems to do his job as a streamer, it obviously pisses off his opponents when they "encounter" him on the channels.
About a year ago, various reputable YouTubers took notice of CrazyDomme and provided their fairly large community of followers Enlightenment videos in which the behavior of the young Australian was strictly despised. Thus, YouTube itself came to the conclusion that only a ban can help to put an end to the goings-on. So there are not many channels left.
*Note from FindCasinoBonus.com: We would like to point out that we explicitly distance ourselves from sexist behavior and inappropriate statements as well as inappropriate actions of any kind by CrazyDomme or others.
Dominic on Twitch
Yo.Domme on YouTube
Dominic B. on Instagram
CrazyDomme on Twitter
---
Dominic on Twitch
Only a few hours go by each day that Dominic B. aka CrazyDomme is not active on Twitch. So you shouldn't be put off by the unfulfilling schedule at all, because if someone invests a lot of time in his channel, it's him. With this he can of course score points with his fanswho sit spellbound in front of their screens, especially in the evenings.
The fact that Crazy Domme brings up the rear in the Australian rankings has to do with the current figures. Just under 16,000 followers (as of May 28, 2021) are not a huge number. Nevertheless, Dominic can rely on the loyalty of his subscribers – perhaps precisely because of his very "special" nature.

There seem to be enough people who love his loud and sometimes not very adult comments. You can think what you want about Dominic B. as a person. His Twitch career is running smoothly, and of course the streamer knows that he still has a lot of room for improvement.
The streamer takes at least three hours per evening to show his fans the most popular and latest latest slot machines to his fans. It is very difficult to predict the future of the provider. However, at times Domme holds back on his statements, because this is the only way to avoid a ban. How quickly you can be "out of the window", this experience Dominic has already had to make bitterly on YouTube.
Yo.Domme on YouTube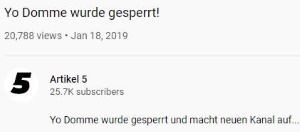 Before Dominic found his way to Twitch and discovered his passion for slots, he was a YouTuber with heart and soul for a long time. However, his career as Yo Domme came to an abrupt end in 2019. Obviously, Dominic had chosen the wrong role model in Yo.Oli.
The great commonality of the two were challenges in which they came very close to young girls. Since these must have been often still far under 18, however, the whole thing ended in a ban for Yo Domme.
Even Yo.Oli himself, who is certainly not exactly a blank slate, had criticized the doings of his "imitator" on YouTube.
After a rather long ban, he now seems to be back as CrazyDomme. The only 277 subscribers but speak for the fact that he has not yet completely got rid of the old burdens.
Dominic B. on Instagram
The fact that the crazydomme account here is private and therefore only accessible to confirmed subscribers should come as little surprise to the streamer's fans. In the short info Dominic points out that he only gives access to those subscribers who are confirmed to be 18 years or older are older. So if he posts adult content on Instagram, at least it's not on a no public profile.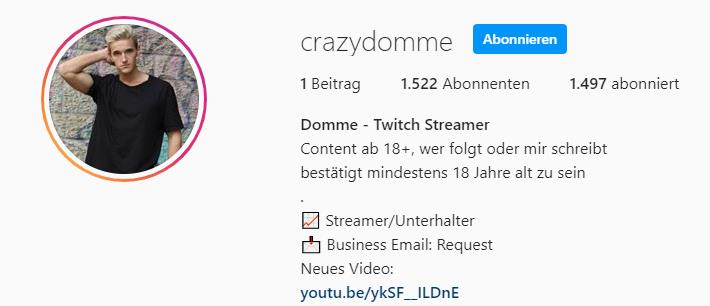 The number of followers on Instagram is also limited. Currently, there are just over 1,500. From our experience, we can say that this puts him quite far down in the rankings. His much more successful crap riders also have significantly more loyal fans on their Insta channels, in some cases even in the five to six figure range.
CrazyDomme on Twitter


It seems as if Dominic B. does not currently have a no Twitter channel channel at the moment. Whether this was deleted or whether there was never one, could not be clarified despite our intensive research. If you want to follow CrazyDomme, you can only use Twitch and Instagram, as well as the newly created YouTube channel, which sometimes only offers manageable content.
Generally, Twitter doesn't have too much weight for streamers, because the competitors – if they use the channel at all – are only interested in announcing dates for new Twitch live streams.
Dominic does well without this social media option. He spends most of his time delivering new transmissions. At least he currently adheres to the guidelines in order to avoid another ban, as he already had to experience in 2019 on YouTube.
That makes CrazyDomme
Malicious tongues claim that the streamer is really justified in using any means to generate new followers. Most recently, he caused a stir with the attempt to approach the large and loyal Knossi fans. The reaction of the "King Knossi " was of course not long in coming. The was obviously pissed off about the actionwhich afforded itself Dominic, remained however calm and objective in its official explanation.
Domme does not have a kind word for the competition either. He is always insulting, below the belt and will thus probably never get the title "sympathizer".


Scandals, fake insertsUnfair contracts with not very reputable slot providers – CrazyDomme has to be accused of all that. But perhaps he is deliberately provoking an entire scene.
His way of offering the smallest winnings or free spins or free spins, seems strange to many. Because if there's one thing Dominic is not, it's down-to-earth or calm. In addition, he insults even his loyal fans from time to time. As a result, three of his modes have already left.
CrazyDomme private – he knows how to offend
Aggressive and provocative Dominic B. comes out in his live streams. His shown euphoria at small wins is almost cinematic. And the lack of empathy is not exactly an aspect for which the streamer is loved. So we can be curious to see what happens next with CrazyDomme!
Author: Joshua Davidson