PLEASE NOTE: Spinit is withdrawing from the Australian market as of 01.07.21 and closing its doors.
"Gaming accounts of players from Australia who try to sign up and play through this site will be automatically blocked."
Unfortunately, Spinit is no longer open for players from Australia. Those looking for a good and reputable online casino will always find what they are looking for on FindCasinoBonus.com, as we test and present the best providers in the industry.
A list of alternatives can be found in our current casino recommendations
Mobile gaming is still a fairly new trend that reputable online casinos can't ignore. Spinit Casino has also adapted to this trend and provides you with some of the best games in an ingenious app. at your disposal.


You have the choice between the mobile Web App from Spinit, which works directly in the browser without any download, as well as an iOS app that was developed specifically for iPhone and iPad. Android users can of course also play at Spinit Mobile. Nothing more than an HTML5-capable browser is required for this.
Meanwhile, around 300 games are available in the Spinit Casino app – a solid base that is enough to keep you busy for hours away from your own four walls. Of course, the Spinit Bonus 2023 is also available to you on mobile. As a new customer, you have the chance to receive 100% starting credit up to 200 euros + 200 free spins.. The latter are split so that you get 10 days in a row risk-free insight.
In our Spinit test, we took a look at what gaming options Spinit mobile offers, what the quality is like, and what basic requirements have to be met for you to even get started on the go.
Test report on the mobile games of Spinit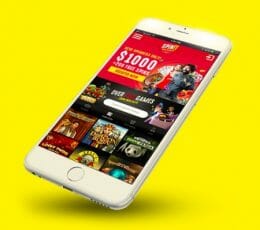 The name Spinit does not come from nowhere. As you can already guess, slot machines are also in the foreground at Spinit Mobile. Among the more than 300 titles however, there are of course also some classics and even live games to be found, with which you may occupy yourself at any time without restriction.
Those who are in possession of an iPhone or iPad should definitely access the special iOS app. It has the advantage that everything works smoothly even with poor internet reception.
All other guests are welcome to start Spinit Mobile in the browser. An even larger game selection awaits here, but it is dependent on a stable line.
Mobile availability of Spinit
The web app only requires that you have some kind of smartphone that can read HTML5. Whether this is a Samsung device, Windows Phone or Blackberry, it doesn't matter in the end. What is important is that you update your software regularly. This way you will benefit from the best possible performance and fast loading times.
Spinit Mobile for Apple customers


A special native app is actually only available for Apple customers for the time being. You can find it in the App Store, which can be opened in just a few simple steps. The installation of the iOS Spinit app is of course free of charge for you.$
Android App from Spinit


Those responsible say quite clearly, "Unfortunately, the Spinit Casino app is only available for Apple devices. However, you can still play on your Android phone or tablet!" It may well be that there will be a Spinit Android app sooner or later. Until then, just use your browser, because that way, even if you're the proud owner of an Android device, you won't have to miss out on the entertainment that Spinit has to offer.
Spinit mobile website with HTML5


The Web App is also available on other devices – including Blackberry and Windows Phone. This makes your choice of smartphone secondary. Once you enter the URL into the browser set up, you can get started right away and try out your favorite games on the go.
Advantages of the Spinit Casino website
More and more players are deliberately avoiding native apps – simply because it saves on storage space and allows you to bypass the installation process with several minutes of waiting time. The Spinit website for smartphones also offers you a larger game selection as well as many other advantages over the native iOS app.


You can log in with your credentials, or you can register directly on the go. Deposits and withdrawals are just as quick and easy as at home on the desktop. The only thing to watch out for is a stable connection.
The range of games offered by Spinit Mobile
Spinit's mobile portfolio is really well done. In addition to countless slot machines – including many new releases – you will experience roulette, live games, virtual classics, poker, as well as other sections that you can access with little effort. Spinit Mobile is almost as versatile as on the PC. More than 300 games can already be used, with more to be added in the following weeks and months.
In addition to the appealing mobile Spinit game offer it is above all the bonus promotions that are convincing. It's worth checking back regularly to make sure you don't miss any of the offers. The new customer bonus is of course just as convertible on the go as at home. This is another point that speaks for Spinit.
Conclusion on the Spinit app
It is made really easy to dive into the mobile world of Spinit. – and that is completely independent of which smartphone or tablet you have chosen. If you are equipped with an iPhone, you will get the opportunity to compare the dedicated app with the mobile website.


As far as the performance of Spinit Casino is concerned, the app is a bit better. This is especially true when the connection is poor. But as the mobile Spinit site is quite well positioned. If there are indeed any disconnections, your scores are saved. Just log back in promptly and you can continue playing without any worries – of course with the amount that was available before. Technologically, Spinit is more than well positioned. This makes it easier to opt for the mobile version.


Basically, we advise keeping an eye on the connection. If you have a smartphone with 4G function, you will benefit from a smooth gameplay. Otherwise, a WLAN connection will help. Free networks are provided by many restaurants and other public spaces nowadays. Thus, nothing stands in the way of entertainment even far away from your four walls.
Author: Joshua DavidsonRated: Spinit AppAuthor Rating: ⭐⭐⭐⭐ 91%