Bidule Facts
Streamer Name:
Bidule
Real Name:
Adrien
Avatar:

Origin:
France
Residence:
Malta
Year of birth:
1996 or 1997
Followers:
145,000 (Twitch)
165.000 (Twitter)
63.000 (Youtube)
42,000 (Instagram)
Favorite provider:
Stake
Features:
Frequently plays classic casino games and then with high stakes
Highest win:
$313,900 in Megaball
Highest multiplier:
7,321x in Money Train
As a streamer, Bidule, whose real name is Adrien, has long made a name for himself. His career started not so long ago, but already he is one of the big stars of the Twitch scene. Reason enough for us to check out the successes so far and find out who exactly this Adrien actually is, whom his fans on Twitch, Insta and Co. since the very first hour as Bidule.
Everything is running so smoothly for the streamer that he recently decided to launch his own own page his own site. However, this is not a casino, but merely a portal that shows bonus advantages and especially tells his French fan community which providers are worth playing at in the long run.
At the same time Adrien dedicates himself to the advantages and disadvantages of different online slots. Which ones pay off quickly, that you can fathom as a viewer without having to invest a cent yourself.
In fact, Adrien grew up in France and lived there until recently. In the meantime, his new adopted country is Malta. He is not alone in this, because at least on the island there are legal online casinoswhich are officially licensed and are therefore much safer than those that only use legal gray areas in France.
General information about Bidule


The Bidule Twitch channel is owned exclusively by Adrien, but he obviously doesn't think much of hosting his live streams alone. That's why he often gets one or the other of his one or the other buddy in front of the camera. This interaction creates a special dynamic in the broadcasts that many of the streamer's fans appreciate.
The streamer himself has by and large devoted himself to the automata. However, as already indicated at the beginning, he knows just as well as Blackjack and other classics work – and above all that they go down well with the viewers in the live stream.


Adrien is just in his mid-20s – according to his own statements – and has already achieved more at this young age than many of his peers in the scene can dream of. Within the last few weeks, the number of fans has once again grown significantly. On Twitter, they have almost doubled. This impressively proves that Bidule has done everything right in the social media scene.
Bidule plays with these slot providers


In the meantime, Adrien also uses a whole number of online casinos, which are different in many respects, but have one thing in common: the presence of official presence of official gambling licenses. is. Seriousness and security are among the most important points for the streamer. The fact that we are not really familiar with some of the providers he recommends is due to the fact that they primarily provide games in France.
Although Bidule has now chosen Malta as his home, he is happy to remain loyal to the French providers. However, they are not licensed on the island, but in Curacao. Theoretically, players are thus also on the safe side in Australia, although we have of course thought about alternatives that have rank and name in this country. With Dublinbet, the Tortuga Casino or also Fatboos probably the least of our readers will be able to start something.
The following recommendations and Bidule's favorites have a lot in common. We do not only mean attractive bonusesThe companies we have listed are aimed specifically at Australian players. Also, in all of the above online casinos you benefit from fair odds as well as consistently profitable payout rates. So if you want to play here with real money, you can sit back and relax. We can especially recommend these addresses to our readers:
Best rated casino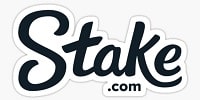 Bonus500$
Curacao Gaming 2017test nowStake Test 2.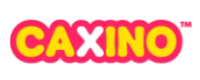 Bonus200$
+ 100 free spins
MGA Malta 2020test nowCaxino Test 3.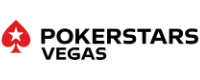 Bonus500$
+ 50 free spins
MGA Malta
Schleswig-Holstein 2015test nowPokerStars Vegas Test
There is nothing against to have a look on the pages for free and, for example, test the games that Le Bidule keeps introducing us to in the live streams. At least most of them should have found their place here as well, because in fact the streamer plays primarily plays machines of well-known European developerssuch as NetEnt, Play 'n Go or NYX, to name just a few brands.
Adrien's favorite games
As we know by now, Adrien aka Bidule apparently has a special passion for CS:GO. However, the streamer very rarely deals with the shooter live.
He much prefers to show his viewers current as well as well-known slots slots to his viewers. If time permits, he also has nothing against a game of blackjack. So his live streams are quite versatile.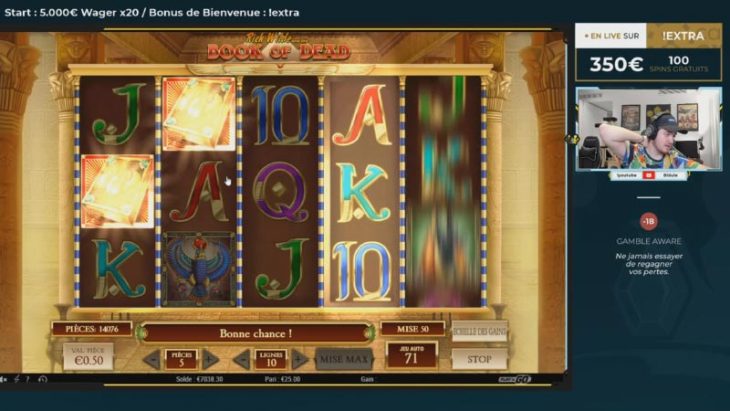 If you watch Bidule playing live, you will really get to see a lot. To list the entire variety of favorite games would probably go beyond the scope of this article. Let's just show you the slots that the Frenchman is most passionate about:
Blackjack
Crazy Time
The Dog House
---


Since Bidule is usually sitting in front of the camera for quite a long time, he delivers his fans multi-faceted live streamswhich usually contain more than just a few games. As the top 5 shows, the streamer by no means only relies on well-known games. Every now and then there is time, new slot machines or cool live games. games. His fans are joining him with growing enthusiasm.
---
Bidule streaming times and platforms
Unfortunately, Adrien has not yet filled the schedule on Twitch. Followers can only wait for the next live streams. These usually take place every few days take place. The Frenchman is therefore not as active as often as his competitors, because other things are obviously just as important to him as his career. Bidule also only uses Twitch as a streaming platform. On YouTube, he only posts his live broadcasts as videos on YouTube. videos.
At least at the moment, it is very difficult to make clear statements about the times. However, we know from experience that Bidule primarily keeps the evening hours free for his business, while he lives his everyday life during the day. So for followers, it makes the most sense to just be surprised. Announcements about the planned streams can be found on his Twitter and Instagram channels. So as a fan, you definitely have the opportunity to find out in advance about the about the upcoming Twitch highlights of the successful streamer in advance.
Bidule on social media
Adrien on Twitch
Bidule on YouTube
LeBidule on Instagram
Bidule on Twitter
Social media has made Adrien successful in recent years. The streamer knows how to make clever use of the channels that are currently particularly popular. The follower numbers also speak for this, which have once again increased significantly in the last few weeks alone. Whatever Bidule does seems to be extremely well received.
Streaming only takes place for him on Twitch, but he likes to use the other sites to inform fans. Every now and then he shows up on Instagram & Co. even privately making it clear that his life doesn't just revolve around online gaming either.
The own websiteof course has only limited to do with social media. Adrien is primarily interested in showing interested players which gaming providers are worth investing in, which bonuses they can benefit from today, and last but not least, how aspects such as the game selection, service, and licenses are doing. The latter are immensely important for one's own security, because that should always be the main focus.
---
Adrien on Twitch
Some time after Bidule had reached the age of majority, the Frenchman also began to bring the first live streams to the people. In the beginning, the fans were indeed still waiting. In the meantime, however, things have definitely changed. Right now Adrien is on Twitch in front of the magic mark of 150,000 followers. We assume that this will already be reached in a few weeks.
No wonder, because the broadcasts provided by Bidule of popular slots and classics provided by Bidule could hardly be more professional. The streamer knows how to moderate with fun and excitement. At the same time, he likes to stay in touch with those who write to him in live chat.

According to his own statements, LeBidule, as Adrien also calls himself, only found his way to Twitch in 2018. What he has achieved in just two years is something that not everyone can match. His success certainly stems from the fact that the Frenchman comes across as incredibly likeable and authentic. He radiates a special calm that many of his subscribers appreciate. Whenever possible, he streams in the evening. In between, however, there is also the odd live stream in the morning. In this way, he reaches several target groups at once.
Bidule on YouTube
On this channel, too, things have literally been going crazy for a few weeks now. Just a few weeks ago, Bidule was approaching the 60,000 mark, but now there are already over 60,000 people sitting spellbound in front of their screens, waiting for new Bidule live streams.
More precisely, the streamer uses this social media channel for the publication of the videosthat he shot live on Twitch shortly before.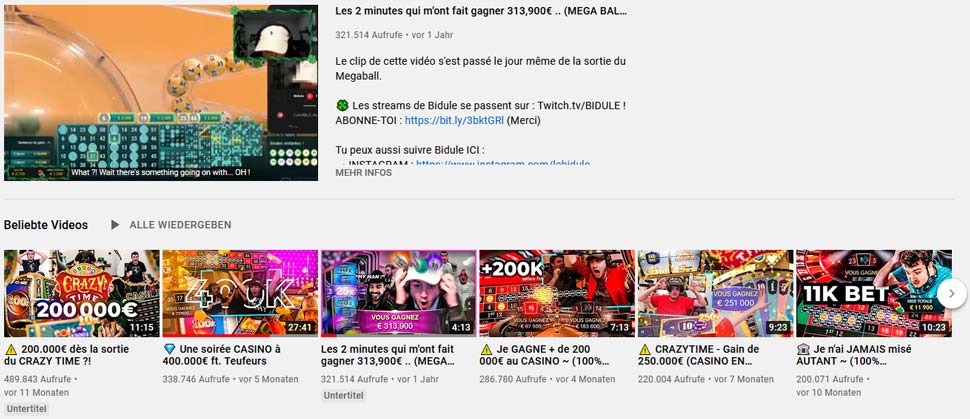 Adrien always shares his greatest moments with his fans. Just almost every day new subscribers are added, there are new videos almost every day to see almost every day. They don't necessarily all have to do with slots and live games. Every now and then Bidule is on a fun mission and manages to keep the people out there happy with his irrepressible humor.
Searching for specific videos turns out to be quite easy, as the streamer has decided to set up several playlists. The "Best Of" is extremely well received, but the community also regularly watches Feats alongside the equally well-known streamer Teufeur or Big Wins. From time to time, other stars of the scene appear on YouTube – including for example Roshtein.
LeBidule on Instagram


Adrien has gone from around 21,000 to almost 42,000 fans in a short time. People obviously appreciate everything the streamer has to show them here. For a change, this doesn't mean live streams or videos in which LeBidule plays slots in a good mood. Rather, this channel is all about on this channel everything around the private life of the successful provider.
Adrien knows how to enjoy just the free time to the fullest – whether it's quad biking on the beach, in the pool or alongside the cult character Hugo.
Whoever feels like personal insights follow Bidule on Instagram. Of course, the streamer career still plays a role. It quickly becomes clear that the Frenchman, who now lives in Malta, has many contacts with other providers. We've already talked about Roshtein, but it doesn't take long before we meet other familiar faces on the LeBidule Insta channel.
What becomes clear here above all is that live streaming doesn't necessarily have to be a fierce competition. Every streamer has his own fan base and a unique character. The top streamer stars do not get in each other's way at all, but many of them are also in close contact privately.
Bidule on Twitter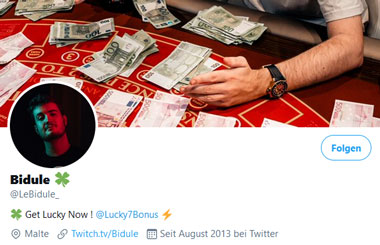 Pre-announcements, events and not to forget the streamer's greatest moments have found their place on the Twitter channel. Since Adrien provides new input almost every day almost every day, his more than 116,000 followers definitely don't miss out.
They regularly find out which games the Twitch star will be devoting himself to next, what he has had the greatest success with, and which game variants are close to his personal heart. So you get a deep insight into the business of the streamer.
In general, Bidule uses his Twitter channel not only to present himself or to address fans. He responds just as consistently to tweets and questions from his subscribers. This is precisely what makes him one of the most likeable streamers in all of Europe. Adrien makes it a point to stay in touch with fans despite, or perhaps because of, his success.
What makes Bidule


Adrien is obviously a very fun-loving person who comes across as authentic and whose passion is to approach his job with a humor in his job. approach to his job. When he wins, he is euphoric, but just as quickly comes back down to earth. Bidule likes to keep his mouth shut in the meantime. The fact that it is usually open is proof: Even after years in the industry, the streamer still can't believe all that's possible in gaming.
Like most providers in the gaming scene, Bidule unfortunately has to face sharp criticism time and again. However, neither the nor the often rumors about fake stakes and the like can and the like can change anything about his consistently good mood. His down-to-earth attitude works in his favor, because thanks to it he is closer to his fans than many of his competitors. You can really have fun with Adrien and be sure that he will be as much as possible on the live chat on Twitch responds.
What does Bidule actually mean?
Adrien already proves creativity with his pseudonym. You could now think he looked at the caps of champagne bottles to then decide: I want to be called like them.
On the other hand, Bidule means something like "whatchamacallit". That actually sums it up pretty well, because the streamer is very multifaceted and makes it clear with his streams that he can't be pigeonholed.
As we were able to find out, there is even a third possibility that could be behind the nickname. Bidule is a software developed in Canada. It belongs to the category of media applications and can now be found almost everywhere in the world.
---


At the end of the day, the origin of the name doesn't play too important a role. What's far more exciting is that Bidule still manages to inspire people today – and new fans join almost every day.
---
Adrien privately – young, fun-loving and down-to-earth


As mentioned, Bidule discovered streaming for himself in 2018. However, he has been playing for much longer. Since coming of age, Adrien loves it, trying out slots or alternatively with the nowadays so popular live tablesincluding blackjack and roulette in particular.
So he now knows very well how the scene works and what is necessary to keep people happy in front of the camera.
If you want to know what makes the Frenchman tick in private, you should definitely follow Adrien on Instagram. There he shows himself far away from the gaming scene – sometimes with funny horse masks, sometimes relaxing with a full bath of banknotes. In fact, you experience the provider as someone who spreads good humor and who seems to be well aware that there is a life away from the cameras. Bidule enjoys it to the fullest.
The streamer creates free time for himself, because playing alone doesn't make him happy. His great passion is his own cats, which he likes to present in pictures. The young man is a really down-to-earth characterwhich probably not only the fans appreciate.
Author: Joshua Davidson