ProdigyDDK Facts
Streamer Name:
ProdigyDDK
Real Name:
Joshua Hammerich
Avatar:

Origin:
Denmark
Residence:
Denmark
Year of birth:
Unknown
Followers:
88,000 (Twitch)
77.000 (Twitter)
220.000 (YouTube)
9,600 (Instagram)
5,000 (TikTok)
Favorite provider:
Stake Casino
Specialties:
Starts different games at the same time, is almost always in a good mood and expresses it by happily buzzing.
Highest win:
Not available
Highest multiplier:
Not available
Gambling is popular not only in this country, but also in Scandinavia. From there, more precisely from Denmark, comes YouTuber and Twitch streamer ProdigyDDK, whose real-life name is Joshua Hammerich and who, in addition to gambling in online and Bitcoin casinos other topics into his videos – including CS:GO, but also days when he simply wanders through his home and surprises people.


At Twitch and Twitter ProdigyDDK has around 80,000 subscribers, but the Dane has had significantly more traffic on his YouTube channel, where he now has over over 200,000 viewers of himself. When Prodigy is not spending money or doing bonus stunts, he travels the world – from Japan to Australia.
Joshua's actual career began in 2018, but he has been operating some of his social media channels for much longer. Back then still a celebrated Counter Strike playerwhich was mentioned by many trade magazines, ProdigyDDK has now dedicated himself to casino gaming and plays the CS:GO variant much less frequently than
Automata
Crazy Time or also
Live Monopoly.
General information about ProdigyDDK
With early 20s Joshua Hammerich has managed to stand out among countless other streamers – not least because of his looks. The Dane with long, black-blond hair looks anything but typically Danish, but rather makes it seem as if he comes from Asia. This is also supported by some pictures on Instagram that show him in Japan.
For his subscribers, the fact that ProdigyDDK streams and posts in English isis quite advantageous. After all, he also has some fans far away from his home country, who can follow him more easily thanks to the choice of language. Joshua talks friendly and openly with his subscribers in the live chat. As such, you are also welcome to recommend one or the other slot. As long as it is available in the preferred Stake Casino, Joshua is happy to accept tips.
The choice of casino is striking, because like various other streamers, ProdigyDDK also relies on a provider in which payment is only made with cryptocurrencies such as Bitcoin or Ethereum. Go to topic of digital assets the Dane posts now and then on Twitter, but it does not go into as much detail about cryptos as, for example, the internationally successful m0E_tv who has even published his own tutorials on Bitcoins.
At times, ProdigyDDK is completely scandal-free – something competitors like Montana Black and Co. cannot claim. At first glance, lead Joshua Hammerich in Denmark an inconspicuous life. He doesn't flaunt big watches, doesn't pose in front of expensive cars, and is also otherwise more the type of person who arrives by his own nature, without having to "push" fame through scandals.
Joshua plays at these slot providers
Streamers from the FindCasinoBonus.com Ranking Have usually not specifically committed to only one casino site. After all, the providers are just as versatile and multi-faceted as the streamers themselves. The situation is different for ProdigyDDK, because for him there are – at least if you look at the Twitch info page goes – only one choice, and that is:
For the Crypto Casino the Dane advertises with special promo codes, but he does not present other companies in his Twitch profile. Even if you follow him during his live streams, no alternative providers appear. In the end, he finds all the games he wants to show his followers on Stake – including Livemonopoly or also Crazy Time.
ProdigyDDK favorite games
Slot machines offer Joshua aka ProdigyDDK a lot of room for development. The streamer has not committed himself to one topic, so that he can show his viewers the entire spectrum of the slot industry from underwater adventures to the Wild West. Keep in mind that the man is one of only a few in the streamer scene who sometimes spends more than 12 hours continuously in the casino. There's plenty of time to get a lot of different automats to look at – including this one:
Deadwood
The Dog House
Razor Shark
Sweet Bonanza
Western Jack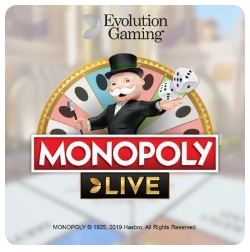 In fact, Prodigy not only plays slots, but also takes the opportunity to play live games. The Evolution Gaming game Monopoly he has even dedicated his own playlist on YouTube. He also plays Crazy Time and Möglichkeiten – everything that the market currently has to offer.
Subscribers like this multifaceted approach. It's not without reason that several thousand people are usually present at all the streams, and many a time they express their special wishes in the live chat, which – if it suits them – are gladly implemented.
Streaming times and preferred platforms of Joshua
To announce the next streams, ProdigyDDK uses most of the social media platformssuch as Twitter. The YouTube channel is used to upload finished streams as videos, so that followers who can't be there live can also see a few highlights. When it comes to streaming itself, however, Joshua is limited to Twitch alone, as are almost all of his competitors.
With the streaming times Joshua Hammerich has not committed himself to streaming times. He usually starts his broadcasts late in the evening and then stays in front of the camera until midday. Hardly any other streamer achieves what he does here. Prodigy rarely allows himself free time, considering that 50% of his entire day is spent on Twitch. is spent on Twitch.

"If you can't and don't want to watch 12 hours, you can watch the finished streams afterwards. Highlights, successful moments, and most importantly, recent uploads are all available under "Videos" on the ProdigyDDK profile." Joshua Davidson – Casino expert and author
---
ProdigyDDK on social media
ProdigyDDK on Twitch
Prodigy on YouTube
ProdigyDDK on Twitter
Prodigy on Instagram
---
ProdigyDDK on Twitch
Meanwhile ProdigyDDK aka Joshua Hammerich has grown into a very successful Twitch streamer in Denmark. He now has around 80,000 followers, which clearly speaks for him. However, he doesn't quite come close to the greats of the streamer scene yet, as the following comparison makes clear:


ProdigyDDK: 88,000 subscribers
Damil 244.000 subscribers
Shirox1980 : 30,000 subscribers
Xposed : 345.000 subscribers
(as of May 30, 2021)
It's interesting to note that Prodigy spends a lot more time on his live streams than most of the crapsters. Often he comes to over 12 hours a day. This suggests that he has little free time, but as we will show in a moment, Joshua likes to take this time to do good.
Although the Twitch streamer ProdigyDDK mostly plays slots sometimes even several at the same time, he also has other talents. Every now and then he shows his viewers the multifaceted world of online gaming by devoting himself to releases like Monopoly Live, for example. Likewise, there are videos of Crazy Time, an Evolution Gaming Live wheel of fortune with high winning potential.
In addition, the High Roller player has an affinity for bonus buy games and likes to go on a winning hunt. Especially the high stakes require strong nerves. But that's not all, because there is almost always enough free time for a game of CS:GO.
Prodigy on YouTube
Finished Twitch sessions are available on the Prodigy YouTube channel which Joshua set up back in 2011 and which is now followed by 220,000 people – many of them from Denmark, judging by the comments. He makes it clear in the short info that he likes to invest a lot of money to ensure a lot of excitement during his live streams. All those who can't be there directly, have the opportunity to watch the ProdigyDDK highlights on YouTube to watch them.
Since Joshua does not only stream slots, but also CS:GO and Minecraft the created playlists are quite advantageous. Subscribers can specifically access favorite topics, Stake Casino highlights, his biggest Monopoly achievements or spectacular Bonus Hunts here without having to search for them for a long time in the general overview.
ProdigyDDK on Twitter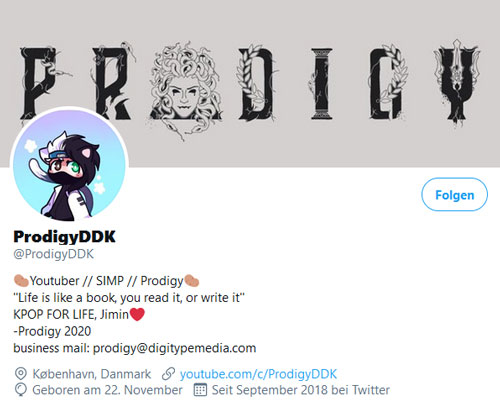 Unique bonus offers for players from Denmark are only a small part of what Joshua publishes on his Twitter channel. He set this up in September 2018, not so long ago. Similar to Twitch, his followers are approaching the 80,000 mark.
Here, the streamer shows his private side and is thus a little closer to his fans than on Twitch or YouTube. When he is not advertising his individual casino bonus promotions he tweets about his favorite games and things that are fun – but have nothing to do with gaming at all.
The ProdigyDDK Twitter Channel shows the Dane with all his facets and is thus in community member, which people seem to like to follow. Nevertheless, his professional component, i.e. the topic of live streaming and the associated Twitch successes, is by no means neglected. Announcements are made in time so that even the last fan notices when another broadcast is coming up.


The fact is that the channel as a whole more focused on gaming than other competitors in the industry. There are no private pictures here yet, but there are plenty of opportunities for subscribers to benefit from giveaways and special promotion codes. However, these are less interesting for players from Australia, as they are primarily aimed at Danes.
Prodigy on Instagram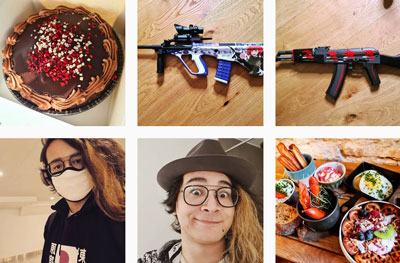 Private, funny and with a smile, Joshua Hammerich welcomes his almost 10,000 subscribers on the Insta channel. Although he shows off his softair weapons here, from the the topic of streaming and gaming and gaming – unlike on the Twitter channel just presented. ProdigyDDK most often posts pictures of delicious food. Obviously, the Dane loves culinary delights.
All too extensive are the Prodigy Instagram content so far. However, at least you get an idea of who the man behind the live camera is and what he does when he's not sitting in front of the screen for 12+ hours.
An avatar presented on Insta as well as his appearance itself brought us to the fact that Joshua probably has Asian roots. Where exactly his family comes from, however, is not revealed on any of the social media networks he uses. he uses. Every now and then, the Dane takes time to travel – to Japan, or even to Australia. By the way, he calls us Australians "potatoes.
That's what makes Joshua Hammerich


An interesting fact is that Prodigy translates as miracle. Why, to this the Dane does not provide any answers. Of course, one can still wonder how he of all people might have come up with such a name.
ProdigyDDK has a stamina like hardly any other streamer. The Dane with an Asian background shows an approachable side, especially on the Instagram channel, takes fans on trips and remains down-to-earth despite his already great success on Twitch. One special feature is that he lets the people of Denmark share in his happiness every now and then – if you consider the investment of 12 hours a day in his career can be called luck.
The research has No scandals at all uncovered, and that, too, can definitely be considered special in the industry. No one even doubts the real time of his bets, although Joshua certainly invests a lot in his game. Overall, the streamer is one of only a few who have a proverbial "clean slate" in the public eye.
It is also special that on the ProdigyDDK screen more often more than only more than one or two games in parallel. This requires a lot of concentration, since money is ultimately at stake. How he can be so focused on different slots and themes at the same time will probably remain his secret.
The private side of ProdigyDDK
Whether the young Dane is in a relationship, has siblings and the like is unknown. The streamer keeps his surroundings out of his professional life. We only know that he travels in between and that he dedicates his day primarily to streaming on Twitch. When time permits, he is out and about with friends. According to his own statements, he doesn't have a normal job. And there wouldn't be enough room for that, because Prodigy spends spends most of his time online.


Our research led to a private Facebook accountwhich is registered under the real name. However, this account has only very few, not meaningful contents. We suspect that Joshua only accepts friends he knows in order to share his private life with them.
As a pure fan without any personal connection you can get here no information. The friends list itself is also set to private. The streamer should be granted the little personal life, because for his subscribers he is more present than most of the top providers of the Twitch scene.
Author: Joshua Davidson