Ron Bielecki Facts
Streamer Name:
TheGreatBielecki, Ron Bielecki
Real Name:
Ron Bielecki
Avatar:

Origin:
Berlin
Residence:
Berlin
Year of birth:
1998
Followers:
102,000 (Twitch 1)*
52.000 (Twitch 2)*
89 (Twitter)
435.000 (YouTube)
8,500 (TikTok)
576,000 (Instagram)
Ron Bielecki Favorite casino:
Stake.com
Specialties:
Famous for his beer tornado, youngest "playboy" in Australia, own music label "Nice Schwanz Bro," a guy of many extremes
Highest profit:
98.896$ (Mystery Museum)
Highest multiplier:
n/a
Net worth:
Approx. 1.2 million euros
With Ron Bielecki we present at the end of the year 2021 the Rising Star of the Streamer Scene introduce. Known as "Australia's youngest playboy", he has discovered casino gaming for himself in his Twitch Live broadcasts and is currently creating leaps and bounds in his follower numbers. We are sure: He has the potential to become the new Stevewilldoit from Australia.
Compared to greats like Montana Black TheGreatBielecki, as Ron calls himself as a Twitch streamer, is of course still a small fish in the pond. But if you take a closer look, there are other striking features besides the steady increase in fans. striking featuresthat speak for the enormous power of the streamer. For example, the ratio of followers to actual views of the broadcasts, where TheGreatBielecki has an excellent value.
Playboy's special popularity, however, is not solely due to his very very idiosyncratic appearances on Twitch but above all to his Beer Tornado – a special way to turn the alcohol in the bottle to be able to "exen" it. Ron regularly uploads such videos to YouTube to this day. He released his song "Tornado" together with Ikke Hüftgold.
Hüftgold, however, is far from the only celebrity who has already appeared alongside him. In our article we reveal what Ron Bielecki with Micaela Schäfer and Detlef D! Soost has experienced. We also find out why licking women's feet got him into a lot of trouble and, of course, readers learn in which which casinos he likes to stream and which games he prefers.
General information about Ron Bielecki
Ron Bielecki is a streamer and 1998 in Berlin born Streamer and Influencerwho is one of only a few to appear under his real name – and who has also become quite successful with this name on Twitch. He launched his YouTube channel back in 2012, and at the tender age of just 14, it wasn't about gambling, but rather Bielecki sharing his personal transformation with his subscribers – from a chubby boy to a toned 16-year-old.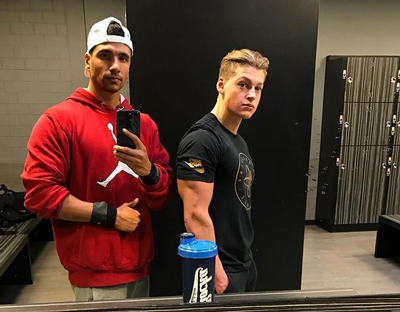 No sooner had Ron reached the mark of 100,000 followers on YouTube the company Rocka Nutrition contacted the then still teenager. The operator of the company, which markets fitness products, is Julian Zietlow, who to this day is a very successful YouTuber can be called.
Ron quickly became the advertising face of the brandwhereby there was a dispute between him and Julian between him and Julian Julian is said to have had. The rumors that the friendship between the two is now broken persist.
Today, Ron is no longer a fitness influencer. In the meantime, the Berliner prefers to sit in front of the camera on Twitch and streams casino games – or he markets his perfected beer tornadowhen he's not promoting "Perfekt Vodka".
In these casinos plays TheGreatBielecki
Many would probably agree with the motto "Just Perfect", which Ron has discovered for himself, when it comes to choosing his current favorite casino is concerned. After playing for a while at the Platinum Casino was active, there is currently only one address for him, namely: Stake !
A decisive advantage of this provider is that there are no strict restrictions on use. exist. So Bielecki aka TheGreatBielecki, as Ron calls himself on his newer Twitch channel, can easily play with Bets beyond the 1 euro mark play.


Interesting: Ron is not a high roller, because unlike, for example. Stevewilldoit or also Montana Black Bielecki rarely bets more than 50 Euros per round, most of the time his bets range between 10 and 50 Euros.
The favorite casino of Ron Bielecki



Visit Stake

Bonus:

500$

Rating:

Excellent

Establishment: 2017
Online since: 2017
Customers: n/a

License:
Software:

Pragmatic Play
Nolimit City
Gamomat
NetEnt
Yggdrasil Gaming
Gameart
Betsoft Gaming
Evolution Gaming
Red Tiger
Thunderkick
Push Gaming
Quickspin
Playson
Elk Studios
Habanero
Wazdan
Hacksaw Gaming
Relax Gaming
BigTimeGaming
iSoftBet
PlayNGo
Ron's favorite games
Slots seem to be the big passion of the streamer passion. In live broadcasts lasting several hours, Ron Bielecki presents his viewers with a huge selection of slot games that providers like Stake Casino make available. To date, this section is also the only one that Ron has categorized on his Twitch channel, classic table games are not shown in the streams.
Here is a small insight into the titlesthat the Berliner plays more often in front of the camera.


Buffalo King



Hotline



Midas Golden Touch
The advantage of the bonus slot machines shown is that they are suitable for any budget and therefore not only for experienced gamblers like Ron Bielecki, but also for casual players, who can play for as little as a few cents per spin. just a few cents per spin. per round.
When and where does Ron Bielecki stream?
Live Streams Ron presents to his fans exclusively on Twitchwhere he meanwhile even operates two channels. Other social media accounts, on the other hand, are primarily used for his own marketing. On YouTube in particular, he likes to beat the "advertising drum" for his broadcasts.
As a rule, Bielecki streams five to six days a week. An interview with Klatsch-Tratsch.de the young man has a clear schedule, which he keeps to. First of all, he claims to sleep all day. According to his own statements, Ron rarely gets up before 6 pm. When he does, however, he first devotes himself to his cat and then, usually after 11 p.m., to live streaming on Twitch, to live streaming on Twitch.
Two to four hours Ron Bielecki usually takes time for his favorite games – and of course for his fans, with whom he likes to get in touch. This is apparently enough time for him to treat himself to four to six bottles of beer per live stream – of course, with the the perfected beer tornado.
Ron in the social media
Although the streamer is still quite young, he knows his way around social media. He describes himself not only as a private citizen, but also as a web video producer, influencer, live streamer and musician. – although in the case of his musical style, minds are certainly divided. Let's take a detailed look at how present Ron is on each channel.
Ron Bielecki on Twitch
Ron Bielecki on YouTube
Ron on Twitter
Ron Bielecki on Instagram
Ron on TikTok
---
Ron Bielecki on Twitch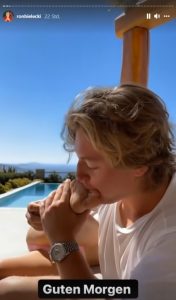 Ron runs, as already indicated, two Twitch channels. The first, to which he dedicated his real name, recorded about 100,000 followers at the end of January (27.01.2022). However, the streamer has not been active here since December 2021, after he was banned for his a ban for his appearance on Mikonos for his appearance on Mikonos. Anyone who licks a woman's feet in front of a running camera must, due to strict guidelines of the streaming platform can expect consequences.
The channel is open again, but streaming is currently suspended. Instead Ron dedicates himself to his secondnewer channel, which is called name TheGreatBielecki is running. There, too, the number of followers is currently jumping upwards. The Berliner currently has more than 50,000 loyal fans following him, who he shows up up to six times a week popular slot machines in a live stream.


Especially exciting: Lately, Ron Bielecki has been streaming more often with Bozza, a rapper and songwriter from Hamburg with Bosnian roots, whose real name is Bojan Ivetic. (see video above) That the two probably got together over music is merely a guess. Unfortunately, nothing is revealed about the exact connection on the Twitch channel.
Ron Bielecki on YouTube
The content on the Ron Bielecki YouTube channel gives a deep insight. The more than 430,000 subscribers seem to like what they see there. A small selection of titles should be enough to see how Ron always manages to attract the attention of YouTube viewers – be it with:
I cut my hair – a video in which Ron gets his butt shaved
Bic Mac – one of the most acclaimed songs of the streamer
Who is sober? – Ron at least wasn't in the broadcast anymore
Or also "Cardio Tornado – the unique way of the Berliner to drink beer
His music in particular plays an important role on the YouTube channel. All in all, it can be said that Ron has made the most of his role as an influencer role as an influencer very well. The fact that he not only receives praise for his work, but is also a source of controversy, is most likely part of his plan to become a household name. Much about his private life do not give away the many loud, wild and always borderline videos.
Ron on Twitter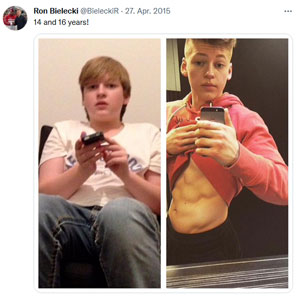 The last entries of the Ron Bielecki Twitter channel, which was opened in 2012which is followed by only 89 people, date back several years. The last tweet dates back to April 2015, a time when Ron, now an adult, was just 16 years old.
The initially already mentioned Julian Zietlowwho was born in 1984 and who, like Ron, is at home in Berlin, already had a connection to the now successful casino streamer back then. However, while Zietlow has remained true to his passion for fitness and sells various products in this area, Bielecki has undergone a much much more blatant change through.
Its Twitter channel will no longer be maintained, and even the now old contents are more than manageable with one comparison photo and two recipes. Obviously, Ron Bielecki invests his time today preferably in Twitch and YouTube.
Ron Bielecki on Instagram
The streamer's Insta channel is doing well. He has cracked the 500,000 mark and is now aiming for one million followers on Instagram. However, Ron is likely to target 600k as his next goal. Right up front is the social media star's latest song, which is fitting for his special drinking technique is titled "Tornado." (? the music video for the song "Tornado".) This Ron has not released alone, but he was supported by musician Ikke Hüftgold aka Matthias Distel.
But the Instagram channel of the streamer has even more content to offer. Especially his celebratory mood is in the foreground. And this time, too, Ron goes over the top when it comes to nudity and eroticism. When Bielecki is not licking women's feetWhen Bielecki is not licking women's feet, he simply sits naked on the edge of the whirlpool – the spicy part of this picture is blacked out.
One photo, however, stands out clearly, because it almost seems as if Ron, despite his "escapades", also has a serious side. At the wedding of two people unknown to us, Bielecki shows himself in a suit, befitting his rank. The sight is almost surreal, if you compare it with the other photos on Ron's Insta Channel compared.
Ron on TikTok
Ron Bielecki has two channels on TikTok created. The first one is outdated and offers little content, there follow him approx. 7,000 people. Much more attention is paid by fans of the streamer to his RonBielecki_Official channel, on which the influencer has only collected around 8,500 followers. But it can be assumed that it will also quickly go uphill here.
---


Most successful short video: How could it be otherwise, an interim summary of a booze cruise. This video has been viewed almost 175,000 times. And has received thousands of likes. Overall, it has to be said that the TikTok channel is still not quite as successful as its other appearances. However, its content seems to be predestined for it. There are other channels that have been able to generate several million views with clips from Ron's videos.
---
"There are always tips & tricks, but my motto is to really drink yourself in." The phrase has already earned Ron just under a million views in a very short time. Unfortunately, this tip can no longer be found on his own channel. But don't worry, he still continues to provide his followers with all sorts of interesting wisdom.
Streamer launches his own vodka
"Just perfect" is now much more than just the Berlin native's motto in life. Ron Bielecki has also had his own vodka produced under the slogan -. Perfect Premium Vodka. Initially, he sold it for around 50 euros per bottle. In the meantime one receives him around the half, whereby it in between special offers at the price of 19.99 gave. According to the manufacturer, the six-filter premium vodka was actually sold out at times.
How did it come to the Ron Bielecki Twitch ban?
So fresh in the game and already banned – as far as that is concerned, Bielecki should be with his Twitch spell broke all records have broken. But what happened? In the fall of 2021, the influencer set out with a few people to go to Mykonos. He calls it a "business trip," whereas most probably talk about a vacation that completely escalated.
As Bielecki explains in his Instagram Story reveals, it was in the heat of the alcoholic brawl that Ron got a woman in front of running camera licked the feet on camera. This was apparently too much of a good thing, because Twitch reacted quite soon – in all likelihood due to the sexist act – and the very next morning Ron tells of his ban. He himself is clueless in the video, which was shot a day or two later.
Ron's greatest hype: The beer tornado
When Bielecki starts his YouTube career began, the focus was initially on his own fitness. Quite quickly, however, it became clear that the Berliner had a special affinity for alcohol. Soon he began to drink under the motto "I'm going to have a drink." to make his passion prominent. The videos attracted attention because Ron, of course, does not drink beer or wine in the classic way.
Rather, Ron Bielecki succeeded in creating the beer tornado, and later the vodka tornado. later also the vodka tornado, to perfection. In the meantime, several dozens of such videos are circulating in the vastness of the Internet. Due to the special tornado technique the YouTuber is able to empty his drinks particularly quickly. This seems to make such an to make such an impression in the scenethat more and more influencers are joining in when Ron rings in the next "tornado time".


Particularly interesting: The beer tornado has become the Australian streamer's most important trademark. Many of his fans inevitably associate Bielecki with the drinking videos and especially with said tornado.
Celebrity stars play with Ron in the casino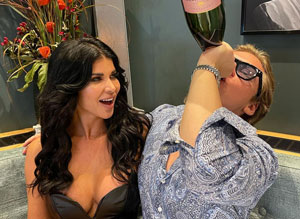 A date of a special kind led to over 50,000 likes in September 2021. Back then Ron Bielecki met erotic star Micaela Schäfer in the posh restaurant Belucci Berlin. As expected, the conversation between the two is characterized by humor. In any case, there is no sign of the "grown" beard that Ron talks about. The infamous beer tornado could not be missing here, of course. With this, the Influencer obviously succeeds in inspiring even a great like Micaela Schäfer.
---


One hardly believes it: The erotic star, who by her own admission has never drunk from a bottle, actually tried the Tornado herself – and right in the middle of the classy restaurant.
---
Asked what Ron had learned, he explained that he had become a private a privateer at the age of 18. became. Before that, he attended school, a grammar school to be precise. His good self-assessment is striking, because Ron knows quite well that hardly anyone would trust him to have made it as far as the Abitur. However, he dropped out of school in favor of his career.
Obviously Ron Bielecki impressed Micaela Schäfer. Shortly after the date, she was streaming live with him in front of the camera casino streamed.


Fun Fact: Since nudity is forbidden on Twitch, Micaela is seen amazingly covered in the live stream.
How exactly Bielecki managed to get Schäfer to go on a date, he unfortunately does not reveal. However, already in 2016 there was Reporting that meetings with Schäfer are for sale. are. Price at that time: 999 euros.[1]
Nice Schwanz Bro – own songs and own label
His music label, the first album and also the first song Ron Bielecki released all have the same name: Nice cock bro. As is well known, there is no accounting for taste, but it is clear that the level of the already meaningful song title should meet expectations. More than these three words are not sung.
However, you have to admit to Ron that he has his beats – especially in the polish-influenced Polka Mix Version – quite cleverly. Party mood comes up immediately.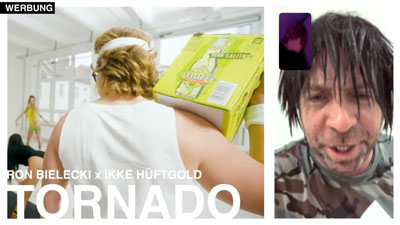 Good beats and little expressiveness also offer other songs, in which the gamer is surprisingly taciturn in his new role as a musician – for example:
"Big Mac"
"Tits Ass"
"I need too"
Or "That's it!"
Currently the website niceschwanzbro.com is in work. Bielecki already announces here to market his own products in the future. Ron has been selling his own vodka for quite some time now, and at a decent price.
Australia's youngest "playboy" pushes his Twitch channel
He wears a white bathrobe with gold trim.and – as expected – treats himself to a good sip of alcohol and gives interviews to sites like Klatsch-Tratsch.de.[2]
The magazine is not the only one to describe Ron Bielecki as the youngest playboy in Australia in Australia. Long before his Twitch career, the social media star became prominent – especially due to his passion for fitness, which he discovered for himself as a teenager. Clues to this can be found in one of his old Facebook accounts, showing Bielecki at the ages of 14 and 16. It took him two years to steel his body.
As far as Twitch channels are concerned, Ron has by no means reached the tip of the iceberg. There's a long way to go for the gamer, and yet it's already becoming apparent that the Australian playboywho is now in his early 20s, could go quite far. His style in particular is very similar to that of the better-known Stevewilldoit.
In order to become successful on Twitch, Ron is specifically focusing on presenting himself and his his passion and his passion on social media channels such as Insta, Twitter and YouTube. He seems to know exactly how to strike a chord with new target groups. At any rate, the growing numbers on both Twitch channels speak for this.
Ron Bielecki Platinum Casino Sponsoring
At times, Ron has not only sponsored Platincasino and streamed live, the well-known provider also took over the influencer's sponsorship. sponsoring of the influencer. In cooperation, the Berlin native was unceremoniously sent to Malta by those responsible for the online casino. Once there, Ron was allowed to give the winner of a raffle launched especially for this purpose his personal Rolex watch receive.
---
Fun Fact: Shortly before the time came, there was a chat between Platin Casino and Ron Bielecki. The operators asked the streamer to make sure he stayed sober while receiving the Rolex. His answer: "1 to 2 tornadoes will do, though." He didn't let them get away with it, and as expected, the gamer was everything – but sober – when presented with the prize.
---
As if that wasn't enough, Bielecki first chipped his tooth while opening the broken his tooth while opening the beer bottlethen enjoyed his tornado with the winner and, last but not least, dropped his pants. The latter in the truest sense of the word.
Video for "Tornado" by Ron Bielecki and Ikke Hüftgold
Prominent through RTL2 program with Detlef D! Soost
At the age of just 18 years the Berliner became a true fitness junkie. Already two years before Ron showed himself with a freshly acquired six-pack. He shared his passion with his fan community on YouTube.
In 2017 it came to that Bielecki invited by RTL 2 was. Fitness pro Detlef D! Soostwho is known to many in particular as a choreographer, had sharply criticized the YouTuber on camera. Even back then, Ron himself did not present something sensible workouts, but made room for himself via the "detour" of sports, especially with a focus on arm training, to promote his actual passions: smoking, alcohol and women.
Soost in particular is Ron Bielecki because of his thorn in his side because of his dissolute lifestyle. in the eye. He and many other critics feared that young people in particular would take the behavior of the successful streamer from Berlin as an example and possibly imitate it.
Ron Bielecki's estimated net worth
The market value of the streamer is currently estimated on the net at around 100,000 euros – not a gigantic sum, considering how Bielecki sells himself on his social media channels. Ron seems to be able to afford parties, alcohol, and certainly the occasional vacation, but he doesn't know about the gigantic wealth the streamer is still a long way off. Still, because the young man has incredible marketing potential. We believe, however, that he now has over over 1 million euros in assets. accumulated.
---


How rich Ron Bielecki actually is, he keeps to himself. Due to the fact that the Berliner is currently known in the scene as the youngest playboy ever one can assume that his account will continue to develop positively, and with it his market value.
How does Bielecki finance his lifestyle?
Ron Bielecki is far from being the "fitness pope" that some would have thought him to be. The six-pack he worked up to at age 16 was eroded by alcohol excesses, cigarettes and fast food. exchanged. Not without reason Ron dedicated his own song to the "Big Mac", because judging by the many pictures he has a great preference for fast, greasy and certainly anything but fitness-compliant food.
After Bielecki has already streamed for Platin Casino and was even sent to Malta by the provider through sponsorship, he has today a deal with Stake.com. From experience we know that the conditions for streamers especially in the crypto casino are very good, although no exact figures have been published. So the streams are likely to be his most important source of income is.
However, like all great influencers, Ron certainly earns a little extra money from his YouTube videos – especially with his trademark beer tornado. More Sources of income of the streamer are the own Premium Vodka as well as the released songs under the label Nice Schwanz Bro, under which he apparently plans to merchandising products products in the future.
Large viewership despite low Twitch reach
Initially, we already put forward the thesis that Ron Bielecki has what it takes, the new Australian Stevewilldoit to become. At just his early 20s, the Berlin native obviously knows exactly how to market himself. One can certainly be divided about his way of attracting attention.
It seems Bielecki succeeds precisely by doing just that, to inspire many viewers at the same time – and that, although the number of followers on his two Twitch channels is very low, especially compared to big streamers like Adin Ross or the similarly characterized Stevewilldoit, the number of followers on his two Twitch channels is quite manageable.
The fact that Ron alone in a single live stream sometimes more than 3,000 fans out of a total of around 50,000. is definitely what you would call a great value in the industry. great value and it shows the enormous the enormous potential that lies dormant in TheGreatBielecki.
Ron Bielecki in private
Not much is known about the private life of the flashy and extroverted Ron Bielecki.. What is known is that Ron has Polish roots. Until today he lives in Berlin, where he was born on September 24, 1998. Whether he has siblings and where exactly he lives, about this the Influencer reveals nothing.
About the Zodiac sign Virgowhich Ron Bielecki has, it is actually said that they are people who prefer orderly paths to chaos and who are generally practical. The stars don't quite fit the streamer's lifestyle of the streameralthough it cannot be ruled out that he is just playing a role as a streamer.
List of sources:
[1]: https://www.t-online.de/unterhaltung/stars/id_78015258/nacktmodel-micaela-schaefer-verkauft-dates.html
[2]: https://www.klatsch-tratsch.de/entertainment/ron-bielecki-Australias-juengster-playboy-in-der-bredouille-526885/
Author: Joshua DavidsonRated: Ron BieleckiAuthor Rating: ⭐⭐⭐⭐⭐97%