PLEASE NOTE: Vegas Hero withdraws from the Australian market from 01.07.21 and closes its doors.
Unfortunately, Vegas Hero is no longer open for players from Australia. If you are looking for a good and reputable online casino, you will always find it on FindCasinoBonus.com, because we test and present the best providers in the industry.
A list of alternatives can be found in our current casino recommendations
As we have already noted, Vegas Hero is one of the youngest providers of its kind, having been founded in 2017. However, that didn't stop the operators from going all out in terms of game selection.
After all, players are promised more than 1,300 "breathtaking" games. Is the company going too far out on a limb with this? At least as far as variety and thrills are concerned, we can already agree with Vegas Hero at this point.
In fact, slots, classics and live games are not developed by just anyone, but exclusively by the best providers that currently dominate the market.


You have a free choice between the live expert Evolution Gaming as well as NextGen, Play 'n Go, Microgaming, Quickspin and last but not least Net Entertainment.


The fact is: It will be impossible for you to really try all the games. Even with a lot of perseverance, there are bound to be a few slots and tables that you just won't get to. In addition, new titles from the aforementioned manufacturers are added all the time. Boredom cannot even arise here – a fact that clearly speaks for the Vegas Hero online casino.
It remains to be clarified whether it is possible to orientate oneself at all with such an such an extensive portfolio. Exactly that is made easy for you, because you will find a bar far above, thanks to which the games can be divided into the most diverse categories.
Besides the live casino, there are above all slots and video slots in all imaginable variations to discover. In addition, there are table games, a separate roulette category and also video poker.
Perfect structure – especially for mobile players


At first glance, the Vegas Hero game offer actually seems a bit confusing. Ultimately, the site is geared towards smartphones and tablets, so you'll have to get used to the PC variant. However, that shouldn't usually take more than a few minutes.
The good news is that you'll have plenty of opportunity to enjoy slot machines and tables without registering – without any obligation! There are no costs for you, nor do you enter into any other obligations. This alone speaks for the seriousness of the extremely young provider, about which not too much is known yet.
The operators have obviously prepared themselves well for the launch. Rarely has a casino gone online directly with well over 1,000 games.
In this day and age, however, this seems loosely possible. All the more reason for us to take a closer look at the performance of the games on offer. We can assure you that there are no load lockups or other problems, even with large crowds.
The servers run stably and are clearly designed to accommodate as many customers as possible at the same time. Of course, security is also part of the game offer.
The people in charge are obviously concerned about protection of the players as a top priority. top priority. The advantage here is that players can focus on the essentials, namely the rich game selection and exciting themes. Before playing for real, a registration is necessary, but this is done according to the latest SSL standards.
Let's get back to the games. They can be opened in the menu at the top left with a click – or touch on the smartphone or tablet. Now you simply choose your favorite category and select a game that interests you. A few simple steps are enough to get started. There is also the possibility to filter all games.
For example, if you only want to see Microgaming games, this is also no problem at Vegas Hero Casino. Overall, there are several options that can be used to improve the structure a bit. Provided that you already have favorites, you can of course use the search function at any time.


Even after logging in, it is of course possible to play some games without any risk. The deposit to Vegas Hero Casino makes sense if you want to play for real winnings. Overall, Vegas Hero offers you slots and classics with different variances. You can invest a lot, but you don't have to.
Even the good old classics do not require more than a few cents. This is exactly what makes a good casino. On the one hand, there is the game selection, on the other hand, it should be suitable for every budget. This was confirmed in our test, for which we praise Vegas Hero Casino. Apparently, there are by no means beginners behind the offer, but rather experienced gambling experts.
All categories at a glance
With more than 1,300 games, a neat structure is essential. Vegas Hero has placed great emphasis on this. As a player, you should already be familiar with the categories offered here. Customers do not expect any surprises here. There is a clear line, you can choose the following categories here:

Live Casino
New Games
Hot games
Video Slots
Table games
Jackpots
Roulette Games
Online Slots
Video Poker
All games
As already mentioned, other sorting options are available – especially by manufacturer. The search function can also be useful, as long as you know exactly what you want. We recommend that you take a look at the new and hot games. There really is a lot to discover. And: The operators manage to address an extremely large target group with the outstanding portfolio. If you can't find something suitable here, you're definitely out of luck.
Almost all games mobile usable
Vegas Hero has been designed as a mobile casino has been designed. This also means almost all games are available to you on mobile. Such a portfolio for smartphones was hardly imaginable just a few years ago. If anything, companies offered a handful of games on mobile at most.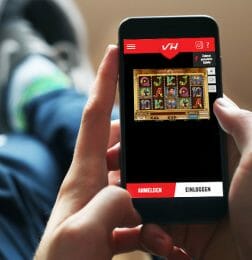 Today, everything is just a little different, and Vegas Hero is far from the only provider with a focus on the mobile gaming sector. Our editorial team will go into this topic again separately, because it is worth taking a closer look at Vegas Hero mobile in particular.
And a software download? Fortunately, you will be spared that. You can start directly in the browser and do not have to worry about installations. Just choose your favorite game and you're ready to go! We recommend that you find out about Vegas Hero Casino's winning odds right away. This explains by itself why it is worth depositing at this provider.
---


By the way, slot machines are self-explanatory. It doesn't take more than a few clicks to choose and start the bet. For almost games, there are detailed pay tables and explanations, so that evenso that even without prior knowledge a direct entry is possible without any problems.
---
Vegas Hero Live Experience Report
Right at the beginning, the company talks about players discovering their "superpowers" at the gaming tables. At least as far as the HD quality is concerned, we can agree with the operator. Qualitatively, the Vegas Hero Live offer leaves nothing to be desired.
Of course, the fact is that all doors are open to you even without a secret superpower. As in most casinos, however, a deposit is also a deposit is required in order to play Live classics like roulette blackjack and poker.
For such a young casino, Vegas Hero has a lot going for it. In addition to the mainly English-language live games are even a few Australian-language games to be found in the mixed portfolio. The main responsibility is not only borne by one provider, but two.
As in many young live casinos, Evolution Gaming and Net Entertainment share the attention of thousands of players. Both providers are absolutely experienced in their field, although only Evolution Gaming specializes in live gaming.


On the rubric page, the live offer seems a bit confusing by our standards. Therefore, it is best to click on any NetEnt or Evolution Gaming game. Then you won't be directed there right away, but will end up in the much better structured lobby of the preferred developer. Here, all categories from roulette to blackjack to baccarat are now open to you. There is also no lack of different poker versions.
If you move your mouse over the small images, you will be directly shown which betting limits are allowed. Often 10 cents are enough to start the game. The fact that it's not completely free becomes a minor matter in Vegas Hero Live Casino very quickly.
Our insider tip: Casino Hold'em from Evolution Gaming. Here you not only have the possibility, between 50 cents and 1,000 euros per round. per round. You can also hope for the progressive jackpot – a real highlight for all those who like it exciting! It is not uncommon for the main prize to exceed the million mark. Even we have not often been able to experience such a lucrative poker game.
Two complete own concepts of renowned developers
Unfortunately, there does not seem to be an own NetEnt lobby at Vegas Hero Live Casino. In this point, the provider is ahead of some of its competitors. Due to the lack of an option to sort the NetEnt Live games by type, getting started here is a bit more tedious than we are used to.
However, for someone who knows exactly what they want, the concept should not be a big problem. Otherwise, it is a matter of taking a little time and simply starting various live games displayed. If you don't like them, just click and Vegas Hero will take you back to the section page.


Overall, there really is a lot on offer at this provider. You can play alone Blackjack and Roulette in countless variations try out. But also less typical games like the Dream Catcher Wheel, a spectacular wheel of fortune with huge winning possibilities, are represented here.
Not all tables will typically be occupied around the clock. In the test, however, we by no means suffered from boredom at night, as there are always more than enough alternatives to each preferred game.
These live games await you at Vegas Hero Live Casino:
Roulette – including

Dealer Roulette V.I.P.
French Roulette Gold
Australian Roulette
Immersive Roulette
Turkish Roulette
And others

Blackjack – including

High Roller Commondraw Blackjack
Blackjack V.I.P.
Blackjack Party
Etc.

Baccarat – among others

Speed Baccarat
Baccarat Squeeze
And other

Card games – like

Caribbean Stud
Texas Holdem
Three Card Poker
And Casino Hold'em
In various versions


The advantage of Vegas Hero is that you don't have to miss out on any of your favorite mobile games. This applies to the live games as well as to virtual slots and classics. Thanks to the large selection, boredom should quickly become a foreign word – regardless of whether you want to make yourself comfortable at home or pass the lunch break on your smartphone.
All in all the range is gigantic and, above all, meets every taste. Who would have believed less than 10 years ago that we would one day be able to sit at home and compete against real dealers?
Evolution Gaming and NetEnt Games
When it comes to live providers, Vegas Hero can be signed for one thing: The people in charge have worked with Evolution Gaming and NetEnt made the best decision. Both providers provide similar basic games, but follow their very own concept.
The betting limits are also very different. The only thing missing is a free game option, but this will probably not be available in the long run. Somehow, dealers and croupiers as well as technology and other necessary things want to be paid, after all.
---


But times honestly: 10 cents minimum stake should now even an absolute beginner can spare, or. And if not, then there are virtual alternatives at Vegas Hero Casino offer. They may not be as spectacular as the live dealer players, but they are great for learning game rules and strategies.
---
And the security? At Vegas Hero, this is also written in capital letters in the live gaming sector. As a participant at the tables you have the possibility to change the perspective. Various cameras capture every angle of the game, so you will not miss any detail.
This ultimately also excludes the possibility of cheating. Whereby we do not want to accuse anyone of such anyway. After all, NetEnt and Evolution Gaming enjoy their first-class reputation not without reason, but precisely because of their absolute fairness and seriousness on all levels.
One forgets thanks to the brilliant performance Thanks to the ingenious performance, you quickly forget that you are sitting within your own four walls and not in a real casino. The croupiers make it easy to get involved in the game. And they also provide the best entertainment.
Direct communication thanks to live chat
The goal of a good live casino should be to provide a Create the most realistic game environment possible. This is exactly what Vegas Hero manages to do not only with exclusive tables, but also with various communication options. You have the option to activate the live chat directly during the game and talk to croupiers and dealers in person.
Basically, of course, there is no obligation to join the communication. But it is precisely this that creates an atmosphere very close to that of real casinos. By the way, conversations are also possible with other participants.
Already in the preview image of the respective games, you are clearly shown how many players are already participating at the table. So you always have an overview. Whether you prefer a small or large round, you simply decide for yourself here. In this context we would like to point out the high performance of the Vegas Hero Live Casino. The games run smoothly, interruptions occur at most when the internet connection is poor.


In order to be able to deal with Vegas Hero's offer, you should first register as a customer. Deposits are possible from a few eurosso that your own financial risk is kept within limits.
As soon as you are ready, you can open the live casino, choose a game and, if necessary play for as little as 10 cents start. On the other hand, the developers have of course thought of players who like to gamble. High Roller and VIP tables let the excitement increase significantly.
The top 5 live games at Vegas Hero Casino
Dream Catcher
Dealer Roulette VIP
Australian Roulette
Three Cards Poker
Casino Hold'em
If you have any technical questions about the Vegas Hero Live Casino, we recommend that you read the FAQ or if necessary to contact the support. The dealers themselves are happy to help, but are not responsible for technical or other general questions. They are primarily interested in chatting casually and sometimes helping you to place bets correctly.
In addition, of course, you always have the opportunity to first prepare for the challenge at the virtual tables. Appropriate game rules will be shown to you there, so that you can switch to the live casino quite quickly with a little practice.
Quick deposit to Vegas Hero Casino


In this context, we would like to point out once again the payment methods that our editorial team has tested in detail over the past weeks and months. All payment methods that Vegas Hero makes available to you allow for real-time transactions. This means you can start playing at the live casino within minutes and don't have to wait for long periods of time.
The Vegas Hero welcome bonus is with 1.000$ extremely attractivebut there is also a disadvantage: unfortunately you have no possibility to use the starting balance at the live tables.. If you deliberately want to play live, then you should possibly do without the offer.
The alternative: You first complete the required turnover at video slots and then return – in the best case with a full account – to Vegas Hero Live Casino.
The highlight: tables in different languages
By now, we've gotten used to the fact that most live games are offered in English. However, Vegas Hero makes sure that a little variety comes into play. Here you have Roulette and Blackjack versions in several languages available – including in Australian and even Turkish. With these specially set up variants, the provider reaches an even larger target group.


If you understand English poorly or even not at all, you can simply opt for Australian Roulette option. At these tables, the live chat will also be correspondingly easier. So, when it comes to the topic of versatility, Vegas Hero definitely sets a good example.
This is not least thanks to the two renowned providers, who do a really good job overall. The selection of Australian-language tables is still manageable, but that could change quite quickly. After all, it is precisely Australian players who prefer traditional table games such as Roulette, Baccarat and Blackjack. Vegas Hero already does them full justice, in our opinion.
The only thing missing is suitable bonus promotions for live players. We will probably wait a while for that. At least on the promotion page, the terms and conditions state that live games are excluded from the turnover. Vegas Hero does, however, like to award special bonuses from time to time, which have not been listed here. There may well be some special live casino bonuses. All the more reason to sign up.
Conclusion & Experience Report on the Vegas Hero Casino Game Offer


Already now the game selection at Vegas Hero Casino online seems unsurpassable. However, the operators and especially software providers do not intend to stop already with the introduction of new slots as well as classics. The range continues to grow, and with each new release, the number of people who get their money's worth at the casino also increases.
For the sake of simplicity, you should register and log in before you start playing. This will give you the opportunity to save the games as favorites. This will save you the long search during your next stay at Vegas Hero Casino.
The target group becomes incredibly large with the games, because both beginners and players with many years of experience get their money's worth at Vegas Hero Casino. This applies on the one hand to unusual game variationsbut also for the betting options, of course. You don't have to risk a lot of money even in the live casino.
The game selection itself is described as unique. And indeed, Vegas Hero has one or two exclusive slots that you won't find anywhere else. Boredom doesn't stand a chance with the portfolio – which, by the way, everyone is welcome to see for themselves.


The game selection in the Live Casino is really huge. And the best thing is that no one is required to place high stakes. 10 cents are a manageable minimum stakethat really everyone can afford. The lack of free play option is not uncommon in the industry. At least in live games, real stakes are basically demanded from you. Qualitatively and technically, Vegas Hero Live also cuts a good figure. The loading times are very good, and the performance convinces even critics.
We have to criticize a little bit the fact that bonus offers generally cannot be implemented at live tables. Also on special live promotions, Vegas Hero at times. Provided there is a change here, the provider has honestly earned the full score for this test area.
We especially recommend Australian Roulette, because communication at this table is once again much easier than at English-speaking variants. Those who are not yet familiar with classic casino games can of course try their luck at the Wheel of Fortune.
Live Dream Catcher Wheel is one of the absolute highlights in the online casino. And there is also a lot on offer for every taste. The registration is definitely worth it!
Author: Jake ErvingRated: Vegas Hero game offerAuthor Rating: ⭐⭐⭐⭐ 92%