Information about Bitpanda




Company name:
Bitpanda Ltd.
Year established:
2014
Headquarters:
Campus 2, Jakov-Lind-Strasse 2 1020 Vienna | Austria
Management:
Eric Demuth, Paul Klanschek, Joshua Trummer
Website:
Bitpanda
Available:
In 7 languages and more than 50 cryptocurrencies.
Players who want to deposit with cryptocurrencies at the online casino must first choose a suitable wallet. Bitpanda is one of the best platforms for buying and exchanging all imaginable coins. In addition, the company, which was founded in 2014 and is now well established, is considered to be consistently secure. The main reason for this is the fact that Bitpanda is not located anywhere, but in the neighboring country of Austria, Vienna to be precise.
Bitpanda was founded as a so-called Fintech (company offering special financial services) and is officially regulated by the Austrian Financial Market Authority is supervised. Thus, the wallet for digital assets (digital currencies and coins) is clearly one of the pioneers to be found in Europe. At the same time, the group is registered in France, where it has been approved with a P2SD license.
What is particularly convincing is the fact that the three CEOs or CTOs are people who remain in the foreground despite their outstanding success and who can even be reached personally by Bitpanda customers.
Of course, there are not only Eric Demuth, Paul Klanschek and Joshua Trummer as contact persons. In the meantime, Bitpanda employs over 250 people – including in the very well positioned support.
Table of contents
Advantages and disadvantages of Bitpanda
Interesting Bitpanda features
How Bitpanda registration works
Bitpanda limits and fees
Which cryptocurrencies can be purchased?
Bitpanda Reviews
Other important Bitpanda facts
Conclusion about Bitpanda in Australia
Advantages and disadvantages of Bitpanda
AdvantagesDisadvantages
Deposit possible in 7 international currencies
Fast and secure transaction
Instant exchange according to daily updated value
Free sending of funds to other Bitpanda accounts
Transparent fees
Suitable for beginners
Full verification required before transactions
High fees
Interesting Bitpanda features
Within the last few years, Bitpanda has not only established itself as an exchange wallet for cryptocurrencies of all kinds. The founders also rely on numerous other functions as well as customer benefits, of which users in 7 languages languages – and according to the operators themselves in more than 40 nations.
Key features:
More than 50 digital assets available
Purchase and storage of precious metals possible
Comprehensive, easy-to-use Bitpanda app
10 real money payment methods to choose from
Highest security standards
Free sending of cryptos to friends
Real-time notification on coin prices
Fast as well as experienced customer service
Own trading platform with real-time charts
Bitpanda credit card for local payments
Academy to learn the whole blockchain matter
Bitpanda to Go prepaid card
There are few alternative crypto wallets that are so well thought out and have so many benefits to offer their customers.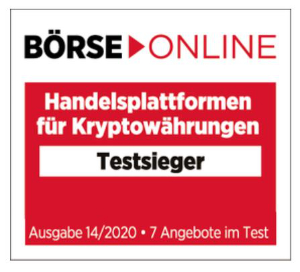 With good reason, Bitpanda was therefore named by Börse Online as the test winner test. The magazine's test rating is "very good". Among other things, Bitpanda received first place as the best crypto broker as well as in the areas of:
" Service
" user-friendliness
" simple user interface as well as
" for the variety of functions.
This is how Bitpanda registration works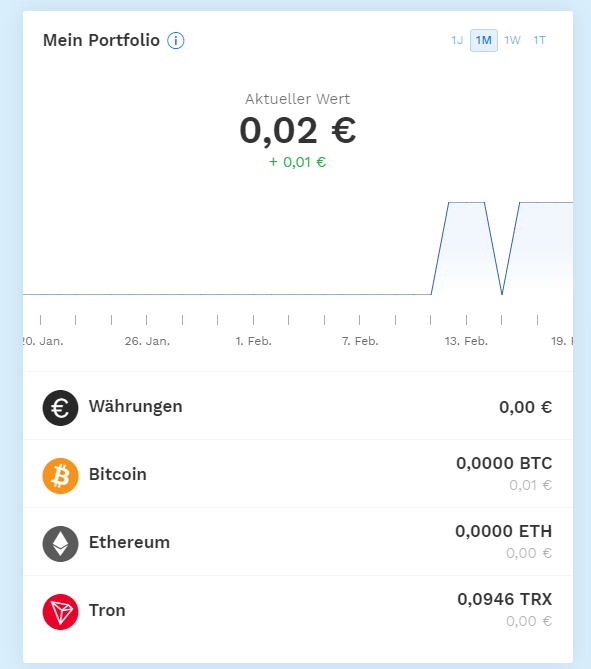 Before cryptocurrencies can be purchased with Bitpanda, registration is necessary. In the first step, new customers must enter their full name and an email address. The password can be freely chosen. In addition, the country is preset. Changes can be made here as well, if necessary.
The subsequent Authorization is done by e-mail. Simply click on the link in the message. Six legal questions on the subject of the Money Laundering Protection Act must then be answered. Verification of the data provided is also necessary.
It is sufficient to sit in front of the camera and have the ID ready. An employee will then take care of the verification. This step can be postponed to a later date, but until then there will be restrictions.


One important note: The email does not necessarily arrive immediately. According to the website, waiting times of up to 30 minutes are common. However, once this is confirmed, the account is completely released, so that nothing stands in the way of later deposits in crypto casinos.
Bitpanda limits and fees
The fact that costs are incurred will not surprise those who have dealt with the topic of crypto purchases. The advantage of Bitpanda is also and especially in this point the transparency. It is already explained in the FAQs that, for example, in the case of a Bitcoin purchase, a 1.49% surcharge is due. Additionally, one has to differentiate between transaction fees and trading fees. A comprehensive list helps to get a first overview.
The deposit itself is only possible with a few exceptions possible after the complete verification. The general deposit and withdrawal limits also vary depending on which method is used to post funds. The following options are available for Bitpanda customers from Australia:
| Payment method | Fees | Min / Max Limit (per day) |
| --- | --- | --- |
| | 1,99% | 25$ / 10.000$ |
| | free of charge | 25$ / 500.000$ |
| | 1,5% | 25$ / 2.500$ |
| | 1,5% | 25$ / 2.500$ |
| | 0,25$ fixed + 2,0% (Max 2$) | 25$ / 10.000$ |
| | 0,25$ fixed + 2,0% (Max 2$) | 25$ / 10.000$ |
| | 0,90$ fixed + 3,6% | 25$ / 10.000$ |
| | 1,00$ fixed + 3,6% | 25$ / 10.000$ |
| | 1,0% (Max 3$) | 25$ / 10.000$ |
| | 0,30$ fix | 25$ / 5.000$ |
Interesting: A payout to classic credit cards does not seem to be possible at Bitpanda at the moment. Therefore, it is recommended to apply for the Bitpanda Debit Card. This is still quite new and allows customers to access their credit locally at any time.
Which cryptocurrencies can be purchased?


Many companies give priority to four of the best-known and safest coins, which have already proven themselves over the years. These would be Bitcoin (BTC), for one, but also alternatives such as Ethereum (ETH), Litecoin (LTC) and Bitcoin Cash (BTCH) are now being accepted by more and more companies in the gambling industry.
What's special about Bitpanda is that it offers a significantly larger selection of digital assets – well over 50 to be exact, which are sold under daily updated prices. We have summarized some of the most relevant ones here:
Some of the listed coins actually do not have too much significance here in Australia. However, as already noted, Bitpanda is now a recognized crypto exchange in more than 40 countries worldwide and has accordingly responded to the corresponding trends.
For players, the coins that are generally accepted in the online casino are ultimately decisive. Here, the selection is sometimes modest, but the trend is indeed more and more in the direction of digital assets. Accordingly, it makes sense for ambitious players – also in Australia – to look into the Bitpanda-focused alternative to real money currencies.
The topic of exchange fees is one that turns out to be very complex. Already in advance, all those who want to play with cryptocurrencies in the online casino should take a closer look at what fees are incurred. Since the casino operators usually allow three to four digital assets, this can offer sometimes quite a high savings potential.
Bitpanda Reviews
We have not only conducted our own tests, but have additionally searched for reliable assessments and customer reviews on the World Wide Web. In the process, we were particularly struck by the rating on Trustpilot. This is because the portal reproduces serious customer opinions and is thus a meaningful address.
Here, several thousand customers now rate Bitpanda and 77% of all users rate the digital assets wallet as excellentand another 7% as good. This is a really excellent value. It turns out that one of the main reasons for the good reputation is not only the high security criteria that the company meets in the area of transactions and data protection, but also the handling of the wallet – both on the desktop and in the Bitpanda app – is super easy according to user opinions.
---
Many reviews also refer to the support. For example, a Raphael I. writes on Trustpilot:
"Super, when the employee contacted me, the error had already been fixed. I just had to confirm that everything was working."
---
A certain Iota Lover sums up his assessment on several aspects at once:
"Bitpanda is very easy to use. The support is very fast and correct. I came to Bitpanda through IOTA. I also find the EcosystemToken From Bitpanda – BEST very exciting. Simply top 👍"
---
With the negative reviews both on Trustpilot, as well as on other review platforms, something stands out that we know all too well from the casino sector as well. Often, the customers' anger is based on misunderstandings. Bitpanda responds to most of the negative reviews and can resolve many of the "unclear cases".
Other important Bitpanda facts
What does Bitpanda to Go mean?
Flexible with the Bitpanda App
Ideal for beginners: the comprehensive blockchain academy
Are there comparable wallets for buying cryptocurrencies?
The Bitpanda credit card
Trading – possible with Bitpanda Pro
---
1.)

What does Bitpanda to Go mean?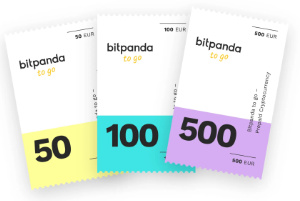 The concept of credit cards is similar to the better known Paysafecard. The operator states that the cards are currently available in more than 400 post offices and in well over 1,350 Post partner stores. With the cards worth 50, 100 or 500 euros, it is possible to save an online booking to the Bitpanda wallet.
The purchase is made locally and anonymously. To get the credit on the user account, you only have to enter the code on the card. All known cryptocurrencies are supported.
2.)

Flexible with the Bitpanda app

Bitpanda reacted very early to the fact that today a majority of all crypto owners manage their coins on the go. Both via Android and Apple iOS, the Bitpanda app is available in the respective store – this, of course, free of charge. The installation itself only takes a few seconds.

In the mobile Bitpanda version, users have access to all functions. The data reconciliation protects customers permanently, and the transactions are also secured mobile according to the latest standards. It is advantageous that Bitpanda is offered in Australian on the go.

As far as the trader dashboard is concerned, there is criticism from time to time – for example, due to missing favorites lists. Basically, however, Bitpanda is one of the most by far the most reliable and easiest mobile crypto wallets.
3.)

Ideal for beginners: the comprehensive Blockchain Academy


For some of us, cryptocurrencies are still a closed book. Thanks to Bitpanda, that could soon change, as the operators have created a very well-structured academy that teaches customers about crypto, blockchain & co. down to the last detail. Here you learn step by step what exactly is behind technical terms like assets, which currencies are lucrative and what is important in crypto trading.
A special highlight: The Bitpanda Quiz. Those who regularly prove their knowledge on the comprehensive e-learning platform can earn up to $5. The credit is automatically credited to your Bitpanda account.
Currently, there are 25 beginner and 24 advanced lessons to explore. Expert lessons are also to follow soon, although these are certainly not too necessary for simple deposits and withdrawals with Bitcoin & Co. in the online casino.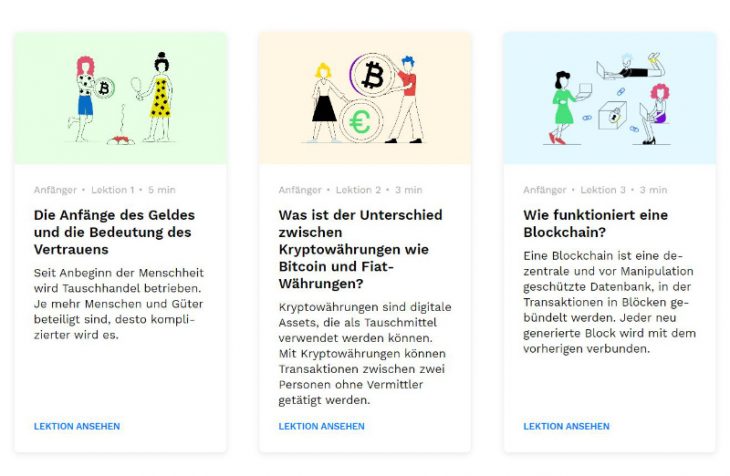 4.)

Are there comparable wallets for buying cryptocurrencies?


In fact, Bitpanda is one of the biggest exchanges worldwide for buying and selling cryptocurrencies. Likewise, precious metals can be purchased here. The storage fees incurred for gold, silver, platinum and palladium purchases are comparatively low. Other features are provided to customers free of charge. Nevertheless, there are of course alternatives. After all, the market has achieved immense growth in the past few years alone.
The best-known wallets besides Bitpanda are both Coinbase as well as Binance. We provide comprehensive information about these options on FindCasinoBonus.com. Basically, however, casino customers who want to deposit with crypto and manage the balance are very well advised with the versatile advantages of Bitpanda.
5.)

The Bitpanda credit card

In principle, on the wallet can be any cryptocurrency can be purchased – as well as the precious metals already mentioned. Those who prefer the greatest possible financial flexibility on the go now have the option to pre-order a Bitpanda Debit Visa Card. This has just been introduced by the company and is supposed to offer the possibility of making payments locally. The whole thing works as if there were cash on the wallet.

The preferred asset can be conveniently selected during the payment process. And the best thing about the card: with every local purchase, users receive a cash back credited in the form of Bitcoins.
6.)

Trading – possible with Bitpanda Pro

Basically, there is no obligation to trade with Bitcoin & Co. on the wallet. Nevertheless, the concept of Bitpanda Pro offers an opportunity to increase one's own crypto balance through targeted trades to increase. The company also offers training in this area. As exciting as trading on the stock market is, you should be aware of the be aware of the risks.

The most important thing is that Bitpanda adheres to the applicable EU directives in this area as well.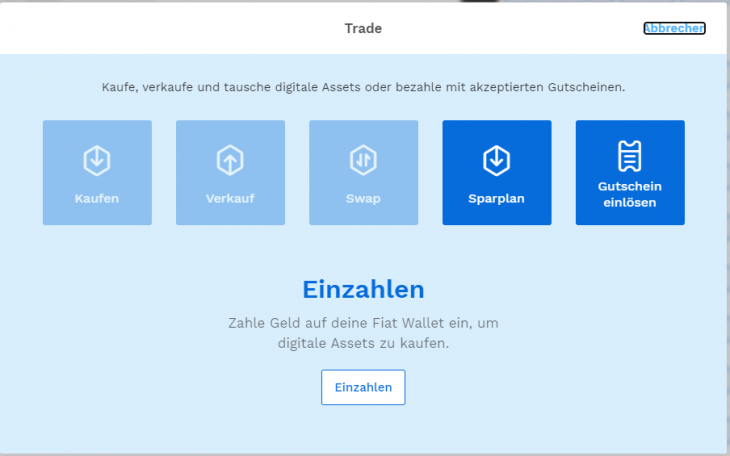 Conclusion about Bitpanda in Australia


If you want to deposit in online casinos with Bitcoin, Ethereum & Co, Bitpanda is definitely one of the best wallet solutions.
Setting up the customer account takes a few minutes, although a deposit is only possible without restrictions after complete verification.
Any number of digital assets (cryptocurrencies) can be managed via the wallet.
If there is credit in the form of digital coins on the wallet, it is sufficient to log in to Bitpanda after choosing the crypto casino, enter the address generated by the provider and book the desired amount to the player account.
As a rule, transaction fees are always incurred – referred to here as network fees.
Also to be noted are the sometimes high costs for an exchange of euros into the preferred cryptocurrency.
Author: Kevin LansonRated: BitpandaAuthor Rating: ⭐⭐⭐⭐⭐98%