Details about Eye of Horus




200$ bonus

Play now at Hot.Bet Casino
Reels:
5
Rows:
3
Paylines:
10
Min. bet:
0,10 $
Max. Bet:
20 $
Payout Ratio:
96,31%
Max. Win:
5.000 $
Free Spins:
✔
Free:
✔
Other features:
Joker
Risk
For a long time, Eye of Horus was operated as a Merkur slot machine. After the corporation announced the end in online casinos at the end of 2017, it was quiet around the so popular slot for the time being. However, the actual developer Reeltime Gaming has now managed to bring Eye of Horus back online.
In various casinos, there is already the possibility to dedicate yourself to the ancient Egypt and to win big with the legendary eye. Right from the start you get the feeling that Eye of Horus reminds you a bit of the Novoline classic Book of Ra a little bit. In fact, both machines are set in the same time.
Nevertheless, RTG has managed to realize its very own style and deliver a gaming experience to your home that is quite different from what Book of Ra is all about. If you want to play Eye of Horus online, you should read on now. We have not only tested the features and highlights of the slot, but also tell you in which casinos you can look forward to the journey into Egyptian antiquity.
Play Eye of Horus online – the best Eye of Horus casinos 2023
As already mentioned, Eye of Horus was distributed under the Merkur label for a long time. Even today, the game can still be found locally in the well-known Merkur gaming arcades. With Reeltime Gaming, the chance now arises to continue on a journey through time. The provider is now a really solid replacement for the Australian-based company. In addition to Eye of Horus, RTG has brought various other "Merkur Slots" back to the online casino.
All of the providers listed below offer you the chance to get involved with the Eye of Horus slot machine online today – with or without a real bet, as usual, that's up to you. We haven't just put the providers in a list, you'll also find detailed reviews and test reports on the companies that are well known in Europe's online gaming world.
How Eye of Horus works
Basically, Merkur Eye of Horus has the same process as most other slot machines of the provider. The goal is to get three to five identical symbols in a row. First, of course, you need to choose the bet here as well. The 10 paylines are independent of each other, so at least in theory you can even get multiple wins per round. Once the bet is set, you set the reels in motion.
An overview of all permissible combinations is provided by the Eye of Horus paytable, which can be opened as often as you like after the completion of each round. There you will also see which special features are integrated into the game. Horus himself is at your side as an all-purpose wild card. With his help, it's easy to complete combinations. Scatters in the form of pyramid entrances are not interchangeable. If three pyramids appear, free spins with bonus wins beckon.
Play Eye of Horus for free
If you want to test Eye of Horus for free, you are at the right place at FindCasinoBonus.com. Here you will have enough time to learn about the basics, features and winning odds of the slot once known as Merkur Slot. Reeltime Gaming has of course remained true to the old concept. Especially because games from the manufacturer are quite simple, a few test rounds should be enough. Once you have practiced enough, there is nothing to stop you from switching to the real money mode. You won't find this option here, but we will show you all reputable casinos where you can play Eye of Horus for free and for real money.
The winning symbols of Eye of Horus
Eye of Horus is a versatile slot machine that has quite a few symbols to offer. Despite all this, the chances of full-fledged combinations are quite good, as we experienced ourselves in the practical test. Let's now take a look at the images and their special features.
Horus
Shining gates
The Eye
Dogs, eagles and scarabs
Card values
---
1.)

Horus


The Egyptian god himself is at your side as a wild card in this Reeltime Gaming game. You can find out what other highlights he brings with him below in the Features test section.
2.)

Shining Gates


They act as scatters. If at least three gates appear, a whole 12 Eye of Horus free spins are played out. Horus gets an upgrade in the mode.
3.)

The Eye


Players should be familiar with the Eye of Horus by now. Once it is seen three to five times, winnings of up to 1,000 coins beckon. This makes the said eye one of the most valuable symbols in the Eye of Horus slot.
4.)

Dogs, Eagles and Scarabs


Even with these three themed symbols, you can easily grab a few hundred coins. At least three matches of the respective images are in the winning midfield. They can yield up to 400 coins.
5.)

Card values


Jack, Queen, King and Ace are identical in value. As usual, three equal card values are needed to get a win. Of course, chains of five are also particularly rewarding when playing Eye of Horus. The odds are not the highest, but card symbols appear more often than all other motifs that the slot machine has to offer.
The Eye of Horus Features
As a supposed Merkur slot, Eye of Horus naturally cannot do without exciting features. Today, the release is operated by its original provider Reeltime Gaming, but the functionality is of course the same as it was last under the "Merkur flag". We took a detailed look at all the special features of Eye of Horus.
Eye of Horus Joker
Eye of Horus Free Spins
Risk game
---
1.)

Eye of Horus Joker

The great Horus is active as a wild card and can be used universally in any combinations. Not interchangeable, as in most slot machines, are the scatter symbols. As soon as Horus is seen, he expands and helps you to create particularly attractive winning combinations. Sometimes he takes over entire reels – not just one, but several. This makes him the most important symbol in the game.
2.)

Eye of Horus Free Spins

As explained above, glowing gates act as scatters when playing Eye of Horus. It takes them three times to win 12 free spins. In the special mode, Horus can appear to upgrade five of the theme symbols – making them even more valuable.

This creates extremely solid payouts here in particular, from which you can sometimes benefit several times in each gaming session.
3.)

Risk game

Since Reeltime Gaming decided to let Merkur take the credit for Eye of Horus back in the day, it almost goes without saying that you also have a gamble option available here. This time, however, there is no gamble ladder, just the card game. You simply bet on black or red. If this color is drawn, the base win is doubled.

The risk game is always open to you when a win is made in the base game. However, you can still secure the money as usual instead of taking a risk.
Eye of Horus FAQ
Are there any Eye of Horus tips and tricks?
Can I play Eye of Horus offline?
Is there an Eye of Horus download for the computer?
Can I play Eye of Horus on my cell phone or tablet?
Can you play Eye of Horus for real winnings on the Internet?
Play Eye of Horus without registration – Is it possible?
---
1.)

Are there any Eye of Horus tips and tricks?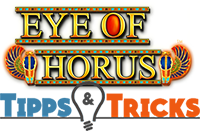 In the meantime, Eye of Horus is no longer offered as a Merkur slot. It is available to you because Reeltime Gaming has taken the helm – much to the delight of all fans who have known the slot for a long time and who know about its high potential. To be on the safe side, we recommend that you play Eye of Horus online exclusively in reputable casinos. You can recognize the best and safest providers by their EU licenses, which were issued in Malta, for example.
You should also keep the topic of money in mind. Surely, high stakes are fun and bring more excitement to the game. Nevertheless, it is helpful to know your budget and not invest more than is available. The more consciously you dedicate yourself to slot machines like Eye of Horus, the longer you will enjoy them. If a losing streak sets in, then we recommend taking a break and moving on to other things – or simply trying out more Reeltime Gaming slots.
2.)

Can Eye of Horus be played offline?


In local arcades, Eye of Horus is still offered as a Merkur machine. Thus, it is quite possible to devote yourself to the slot offline. You can find Merkur gaming arcades in every major city. A list of locations should be available to you on the company's website – or you can simply use common search engines to find a suitable arcade for yourself. Be sure to realize beforehand that the odds of winning when playing offline are not as huge as they are in an online casino.
The theoretical payback is significantly lower than what you experience in virtual gambling. Also, the odds for individual combinations are not that lavish. Nevertheless, you are of course free to devote yourself to Eye of Horus in land-based arcades and casinos. A comparison of both variants can never hurt. This way, you will get a feeling for yourself why online casinos have been becoming more and more popular for years.
3.)

Is there an Eye of Horus download for the computer?


Eye of Horus is a slot game that is available without a download. All you have to do is choose a provider and you can start playing right there – in the browser, without having to perform any installations. Merkur has done without downloads from day one, and Reeltime Gaming does the same for its great role model.
4.)

Is it possible to play Eye of Horus on mobile or tablet?


Of course, you are allowed to play Eye of Horus on mobile. Reeltime Gaming has designed the game so that it can be used on almost all popular devices – and without an app download. What is important is an HTML5-capable browser. This should be pre-installed on most cell phones and tablets. To benefit from the best possible performance and fast loading times, it is advisable to regularly update the software on your device. Automatic updates can usually be set up without any problems.
5.)

Is it possible to play Eye of Horus for real winnings on the Internet?


Of course, this is also possible. You can choose one of the RTG casinos and decide for yourself whether you want to play Eye of Horus for free or with real money. Both variants are common practice nowadays. However, the real money version requires a deposit. On our FindCasinoBonus.com page, you can find out in advance about proven payment methods and their security standards.
If you are willing to put in a little effort, you have a good chance of winning a prize or two. If you have any questions regarding deposits, you can always contact the customer service of your chosen Reeltime Gaming casino and ask for help.
6.)

Play Eye of Horus without registering – is that possible?


There is basically no obligation to register at the selected Eye of Horus casinos. As a rule, reputable providers grant you an insight into the slot game even without a required login. Registration is only a must if you are aiming for real winnings.
These ultimately require the deposit, and that in turn, of course, only works once an account has been created. However, if you just want to play for free, you can usually get around the registration without any problems. Here with us you can also play Eye of Horus for free and without registration.
Conclusion


Even though Eye of Horus is now no longer officially considered a Merkur slot machine, it was the Australian-based company that made this slot big. Locally, you will still find the release in Merkur gaming stores. Online, on the other hand, Reeltime Gaming is now taking the reins – much to the delight of everyone who was completely surprised by Merkur's withdrawal last year.
Playing Eye of Horus is not about strategies or tricks. The goal is to get involved with the imaginative setting and the historical background. The rest will follow by itself. Graphically and technically, Eye of Horus still cuts a fine figure today. You will surely be as fascinated by the gaming environment as we are. Moreover, the slot is also worthwhile in terms of winnings, because every combination is rewarded with solid odds.


After the bitter loss of the popular Merkur games in the online casino, it is especially nice that at least a few of the well-known top games remain with us – thanks to RTG! If you want to convince yourself of the charm of Egypt, you should not think twice and pay a visit to the aforementioned Eye of Horus Casino directly. Whether you sign up right away or put the game to the test for free first, that is of course up to you.
Other top slot machines
Author: Elon ZigfridRated: Eye of HorusAuthor Rating: ⭐⭐⭐⭐ 93%