Details about Fancy Fruits




200$ bonus

Play now at Hot.Bet Casino
Reels:
5
Rows:
3
Paylines:
5
Min. bet:
0,05 $
Max. Bet:
100 $
Payout Ratio:
96,03%
Max. Win:
100.000 $
Free Spins:
❌
Free:
✔
Other Features:
7 winning symbols
Gamomat games are now known everywhere – even and especially in renowned online casinos. The provider is a Bally Wulff partner. Both companies together stand for first-class entertainment based on simple features. Fancy Fruits proves this simplicity in an impressive way. Although we are dealing with a simple fruit slot here, you can expect huge winnings from time to time.
What the Fancy Fruits slot machine can do and where you can play it, we will now reveal to you in detail. If you like classic entertainment, you will quickly take Fancy Fruits slot to your heart – we are already firmly convinced of that. The good news is that you don't need any experience. The Fancy Fruits slot machine runs almost by itself. You only need to set the bet per round. The five paylines in the game are fixed, so you don't have to worry about that.
Play Fancy Fruits online
It is actually not that easy to locate reputable Gamomat casinos. The partner Bally Wulff had completely blocked itself from the online gaming industry for a long time. Slowly, however, they are also realizing how great the potential of this medium is. Gamomat brings a breath of fresh air to well-known casinos. You can always take the chance and register to play Fancy Fruits with several providers. This has the advantage that you will be offered a wide variety of bonus promotions – not to mention the starting credit.
Overall, you will see: The list of Fancy Fruits casinos is still manageable. Nevertheless, you do not have to do without the fruit classic. All companies have been checked by our independent team and can be classified as reputable at this point.
The best Fancy Fruits Casinos 2023
How Fancy Fruits works
As already mentioned, Fancy Fruits is a fruity-fresh slot from Gamomat, for which its developers have put a lot of effort into. Graphically, the release is reminiscent of the good old days. Technically, of course, the concept is more modern than it was 20 years ago. The goal of the game is to get three to five identical symbols in a row. First and foremost, colorful fruit is waiting for you.
---


But also the red lucky number 7 is in the game when it comes to enriching you with a lot of money. Each symbol has its own equivalent value.
---
The cherry wants to be highlighted at this point. It is the only image that pays out a small amount from two matches. In Fancy Fruits, the paylines are fixed. Accordingly, you only have to determine the stake per round. It starts from 5 cents. Untypical for such a classic slot machine is the maximum bet. It goes up to 200 euros per spin. Basically, combinations only pay from left to right. There is no exception with Fancy Fruits. You will look in vain for scatters and jokers here, because Gamomat has actually taken it very seriously with the old traditions. However, you will soon find out for yourself that the game is still worth playing.
Play Fancy Fruits for free
You don't have to decide right away whether Fancy Fruits is worth investing in. In most Gamomat casinos you will get plenty of opportunity to play Fancy Fruits for free. The slot is very versatile in terms of betting options. That's exactly why it makes sense to start with the demo version first. Once you have convinced yourself of the odds and chances, you can of course switch to real money play at any time.
The game conditions are identical in both modes. If you like, you can also commit Fancy Fruits permanently for free. Good casinos do not force anyone to bet real money. Especially with such classics, the fun of playing comes first anyway. However, the high main prize speaks for the real money mode. 100,000 coins are possible here – converted to the value you set.
The winning symbols of Fancy Fruits
The symbolism can be quickly summarized in the Fancy Fruits slot. Various fruits alternate here on the five reels. But that's not all, because another symbol also makes its grand appearance here. Which motifs Fancy Fruits offers in detail, we will now take a closer look.
The lucky number 7
Melons
Grapes
Plums and oranges
Lemons and cherries
---
1.)

The lucky number 7


It is guaranteed to bring you good luck. At least the 7 provides the highest single win – namely up to 100,000 coins. Visually, the sevens are really out of the ordinary. Otherwise, Fancy Fruits is all about healthy fruit.
2.)

Melons


With the help of this fruit, up to 20,000 coins are possible. The aim is to get three to five melons in a row. After the 7, the melon is the symbol with the highest value.
3.)

Grapes


They are also capable of yielding 20,000 euros. With just three grapes, you'll be a whole 1,000 euros richer in Fancy Fruits slot. So it's worth taking the vitamin boost with you.
4.)

Plums and oranges


These two fruits are on the same level in terms of odds. Depending on the number, you can take between 400 and 5,000 euros with the help of the two fruits – if you have set the maximum round bet.
5.)

Lemons and cherries


Both motifs stand for the smaller winnings in the game. After all: 4,000 euros is definitely a house number, considering that Fancy Fruits is actually a classic. There is one difference between the two fruits. The cherry gives you up to 100 euros from just two matches.
The Fancy Fruits Features
The topic of bonus features is quickly dealt with when playing Fancy Fruits online. There are no bonus features in this game – neither wilds nor free spins nor any other highlights that we could explain long and wide now. In this respect, Gamomat has really gone for the classic instead of innovation. The only special feature is at most the fact that you get a win from just two cherries. But that is also part of classic fruit slots. To put it in a nutshell: No combinations, no payout!
Fancy Fruits Joker and Free Spins
Risk game
---
1.)

Fancy Fruits Joker and Free Spins


Looking for universal wild cards? Then you will unfortunately be disappointed. Gamomat has actually not integrated jokers into the game. But even without them, there is quite a bit to win in Fancy Fruits. The probability of complete combinations is quite high here. Thus, it is possible to live well without jokers. The same applies to Fancy Fruits Free Spins. Both meanwhile typical functions are missing here.
2.)

Risk game

We have good news for you: if you win, you can optionally open the risk game and thus try to multiply the amount. After each doubling, there is an option to exit the risk round to secure the money in your player account. However, the gamble option is actually only recommended if you win smaller amounts. In general, you should weigh the risks and rewards, since if you make a wrong bet, you will lose your entire winnings.
Fancy Fruits FAQ
Are there any Fancy Fruits tips and tricks?
Can I play Fancy Fruits offline?
Is there a Fancy Fruits download for the computer?
Can I play Fancy Fruits on my cell phone or tablet?
Can you play Fancy Fruits for real winnings on the Internet?
Play Fancy Fruits without registration – Is it possible?
---
1.)

Are there any Fancy Fruits tips and tricks?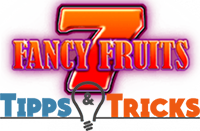 No – at least not in the sense of "winning miracles". Often, especially for such games, some promising strategies are presented. Behind this, however, is not really what you hope for as a player.
In the end, it's your own luck that counts. And even experienced casino customers have no influence on that. However, when playing Fancy Fruits online, you can certainly contribute a lot to saving your own wallet and increasing your winnings at least a little bit. Important to know: The stake determines the amount of winnings.
If you risk a lot, you can logically get more out of such slot machines. In order for you to experience fair odds, it is also essential to choose the online casino wisely. Only take advantage of bonus offers if the turnover requirements are realistic. And: only rely on reputable providers. We have compiled the best ones for you in the test above.
2.)

Can Fancy Fruits be played offline?


Fancy Fruits is a real highlight in local arcades. Merkur gaming arcades, pubs and co. offer you plenty of opportunities to play the fruit slot offline. However, there is no offline version for the computer.
If you decide to stay at home, you can only access the online version. This is provided by various casinos. A software download is usually not required. Accordingly, you can only play when you are connected to the Internet. If you would like to take a closer look at Merkur gaming arcades, you have the option of finding out about locations on the web.
Gaming arcades of the company can be found in Australia in almost every major city – so certainly also in your area. However, when playing offline, keep in mind that you cannot expect the payout rates that the online casino offers you. Due to immense staff and room costs, the RTP usually drops to well below 90%, while online you can expect over 96%.
3.)

Is there a Fancy Fruits download for the computer?


In the end, there isn't one either. The games are played either in local arcades or in the Internet browser of your choice. Fancy Fruits casinos can be found quickly. The selection is currently not that huge. However, we are still glad that the slot was invented at all. After all, it is a wonderful alternative to classic Merkur slots.
If you want to play, you can do so at any time without downloading – directly in all popular browsers. Of course, it makes sense to register at a Gamonat casino of your choice beforehand. We have checked all companies and show you where you can play Fancy Fruits online safely and, above all, with fair odds.
4.)

Can you play Fancy Fruits on your mobile or tablet?


Basically, you are free to play Fancy Fruits on the go. Since no app download is required, the Gamomat slot can be played on all mobile devices – both smartphones and tablets. The operating system is secondary. If you want to benefit from the best possible performance, then you should definitely update the browser as well as Java and Flash regularly.
5.)

Is it possible to play Fancy Fruits for real winnings on the Internet?


Of course, this is also possible – provided, of course, that you are willing to make a deposit. If you want to get hold of real winnings when playing Fancy Fruits online, you first have to show a little willingness to bet. Basically, this is not a big deal, because the bonus slot does not exactly demand a fortune from you. The deposit, in turn, suspends the registration. Above, we will tell you where it is really worth registering and which EU casinos have Fancy Fruits on offer.
6.)

Play Fancy Fruits without registration – is that possible?


If you just want to have fun and not directly bet real winnings, you always have the option to watch Fancy Fruits for free. Among other things, this is possible here with us, but also most casinos grant you a free insight into the fruity world of Fancy Fruits.
Whether registration is necessary cannot be answered in a general way. Every provider handles the issue of customer registration a little differently. However, if you compare the companies, you are sure to find a free gaming option that suits your needs.
Conclusion
Fancy Fruits is not necessarily a slot machine that is bubbling over with innovation. Nevertheless, it is worth trying it out for yourself, because slots like this are really ideal for relaxed rounds in between. You don't need to bring any prior knowledge or even learn any strategies. Every player has the same chances to win solid winnings at Fancy Fruits Slot – and that without any special features like bonus rounds, wild cards, free spins or the like.
---


All in all, it is precisely the simplicity that makes many players want to play. After all, a little rest from all the newfangled slot machines can never hurt. We were surprised above all by the win rates. To win 100.000 Euro without any frills is athat's quite a number.
---
This is probably why Fancy Fruits online is one of the most popular classic slots currently offered in casinos. Gamomat of course stands for reputable odds, so that you feel in good hands with slots of the provider overall.
It is not necessarily a disadvantage to do without bonus features. After all, at Fancy Fruits you have plenty of opportunity to focus on the standard symbols – the ones that will bring you decent winnings. Once again, we would like to point out that you should take your time when choosing a casino. It's really best to look into the licenses and compare several providers. This way, you will not only benefit from top games like Fancy Fruits, but also from the highest security and, last but not least, attractive bonus offers for new customers.
More top slot machines
Author: Elon ZigfridRated: Fancy FruitsAuthor Rating: ⭐⭐⭐⭐ 94%