Details about Triple Chance




100$ bonus

+ 500 free spins

Play now at Playzilla
Reels:
3
Rows:
3
Paylines:
5
Min. bet:
0,50 $
Max. Bet:
10 $
Payout Ratio:
96,11%
Max. Win:
150 $
Free Spins:
❌
Free:
✔
Other Features:
Rewin Features
Risk game
When talking about true slot classics, Merkur Triple Chance is clearly at the top of the list. The slot was developed many years ago and was playable in reputable online casinos for some time – first and foremost Sunmaker, of course.
Today, we unfortunately have to do without the online variant. At least the real money game has been deleted from the casinos, as the Merkur Group has completely withdrawn from the English-speaking virtual market. Despite everything, the Triple Chance Slot will of course always remain a classic.
Reason enough for our casino test editors to feel the slot a little on the tooth. And: We even have the honor to provide you with a free version of Triple Chance without any obligation. It remains to be seen whether the big Merkur games will be available online with real money again at some point.
Currently, Gauselmann is still keeping a low profile. For our part, we don't want to give up hope so quickly. You can find out why playing Triple Chance online is worthwhile in our test.
The best Triple Chance Casinos 2023
Unfortunately, we cannot name any online providers that have Triple Chance in their program. Until now were Sunmaker, Sunnyplayer and some other companies equipped with Merkur slots. However, these times are over for the time being.
Nevertheless, we do not want to miss out on exciting and, above all, classic entertainment. In the listed casinos you will experience the best Triple Chance alternatives with fruit symbols, simple structures and solid winning odds – for example: Staburst, Fancy Fruits, Fruit Mania or also Take 5.
Triple Chance Alternatives:
How Triple Chance works
In the Triple Chance machine, classic entertainment awaits you in a form that could not be simpler. You have three reels, three rows of symbols and five paylines at your disposal on the playing field. In order to be allowed to play, you must set the bet before the first spin.
---


Values between 5 cents and 10 euros are allowed. The paylines themselves have been fixed by Merkur, so you don't have to worry about that. Once the bet is set, the first rounds can be played without any worries.
---
Combinations basically consist of three identical symbols, although there are also higher and lower odds images this time. A winnings table is of course available for you. If you like, you may already take a look at it in advance and can calmly see which symbols are most worthwhile. As a player, you only have limited influence on these, but the anticipation is all the greater with such prospects.


The fact is: The more you bet, the more you can win. Sometimes you can even get up to 1,500 euros per spin on the Triple Chance slot.
Play Triple Chance for free
It can never hurt to have a look at Triple Chance for free – and if possible at your leisure. You will find out very quickly that although the concept is very simple, the winning possibilities should not be underestimated. Here at FindCasinoBonus.com, you have plenty of opportunity to get to grips with the special features of Merkur Triple Chance. As classic as the slot may seem, as profitable is the Rewin feature, which we will go into a little more detail below in our big Triple Chance test. By the way, there are no free spins, wilds or other extras. So all that remains is to trust in the power of the fruits.
The winning symbols of Triple Chance
When a slot machine is clear, then it is definitely Triple Chance. First and foremost, you'll encounter various fruits here – the first symbols that were incorporated into slot machines decades ago. However, there is actually a bit more to discover. What other motifs Merkur has used in the Triple Chance slot machine, we will now tell you in detail.
Fruits
77
Diamond
Bells
---
1.)

Fruits


Cherries, plums, melons, oranges and lemons form the core of Merkur Triple Chance. All five fruits must appear three to five times each to trigger a win.
2.)

77


The double seven is also a classic among slot symbols. In the case of Triple Chance, it provides the highest win – up to 1,500 euros, depending on the bet.
3.)

Diamond


They shine in rich green on the screen and provide solid small wins. Diamonds are in last place in the table. The payouts can add up quickly, though, because diamonds appear much more frequently in Merkur Triple Chance than any other symbols.
4.)

Bells


The bell is also a familiar slot machine symbol – at least in the old mechanical slots that could be found in arcades decades ago. The odds are lower than those of melons, and yet bells are more valuable than the other fruits the release features.
The Triple Chance Features
Let's get to the subject of bonus features. You certainly don't get your hopes up too much with classic slot machines. After all, it's all about getting by with as few features as possible. You will search in vain for jokers and scatters on the Triple Chance slot. The developers have also done without free spins. Nevertheless, there is the possibility to get a few thousand euros out of the slot. Of course, we don't want to keep it from you how exactly.
Triple Chance Rewin Feature
Triple Chance Risk Game
---
1.)

Triple Chance Rewin Feature

The name Triple Chance was not chosen by chance. As you can see, the game offers you a triple chance to win. You will experience this whenever a full screen of identical fruits appears. This triggers the infamous Triple Chance Rewin feature.

So let's assume that nine plums appear. Now a wheel of fortune appears, which consists of several fields. If the indicator lands on green, you win the amount from the full screen one more time. If it lands on red, the feature ends. Unlike in the Merkur Risk game, however, you can't lose anything here. Triple Chance owes its name to the fact that the said amount can be won up to three more times.
2.)

Triple Chance Risk Game

Merkur is known for the risk ladder. Of course, it could not be missing from the Triple Chance slot. Each successful round opens up the opportunity for you to open the risk game. Here you need a steady hand, because only with one they manage to climb the ladder to the top. The highest win stands at 140 euros.

Nevertheless, we can only advise our readers not to bring high winnings into the risk game. The danger of losing all the money from the last round always exists.
Triple Chance FAQ
Are there any Triple Chance tips and tricks?
Can I play Triple Chance offline?
Is there a Triple Chance download for the computer?
Can you play Triple Chance on your mobile or tablet?
Can you play Triple Chance for real winnings on the Internet?
Play Triple Chance without registration – Is it possible?
---
1.)

Are there any Triple Chance tips and tricks?

Strictly speaking, when playing Triple Chance online, there is nothing left for you to do but rely on chance and your luck. You will certainly find triple chance tricks very quickly on the Internet. However, the supposed miracle solutions do nothing in the end – except that your account empties in no time.


Therefore, our well-intentioned advice: Don't get involved in strategies, but trust in the seriousness and fairness of the Merkur brand. The Gauselmann Group enjoys a first-class reputation in Australia with good reason.
You can be all the more sure that winnings will happen sooner or later, even without any tricks. In general, of course, you should only play the original. You can recognize Merkur gaming arcades locally by the laughing sun. You will also recognize cheap copies online quite quickly and easily.
---


Another tip: If you use the risk function, think carefully when you want to get out. The risk of losing money is always present here. We would advise at this point, reputable online casinos to choose.
---
However, this option is no longer available as Triple Chance Slot will only be available locally for the time being. As soon as something changes, we will of course inform you immediately.
---


In general, the following applies to slot machines: Bet only what you can spare. If you want too much, you can actually lose quite a bit. This can be easily counteracted with a good division of the budget and a time limit.
---
2.)

Can Triple Chance be played offline?


Currently, you can only play Triple Chance offline. Merkur gaming arcades can be found in every major city in Australia. These are partner gaming arcades of the Gauselmann Group. But also many pubs and restaurants operate slot machines of the Merkur brand. As a classic, Triple Chance is simply part of the portfolio. Finding a suitable slot machine should therefore be the easiest exercise.
In contrast, it is becoming increasingly difficult to play Triple Chance by Merkur online. Although there are some sites with a free version, the real money game is now completely omitted. The best thing to do is to visit the website of the Merkur gaming sites and just look where the next opportunity is for you to test Triple Chance offline.
3.)

Is there a Triple Chance download for the computer?


Triple Chance could always be played without a download. Even today, you will not be offered a Triple Chance download. If you come across the free variant, then it is playable in the browser. The time required for installation is thus completely eliminated. However, as already mentioned, the only way to play with real money is to go to an arcade anyway. There, too, you can start playing directly on the appropriate devices and do not have to make any effort.
4.)

Can I play Triple Chance on my cell phone or tablet?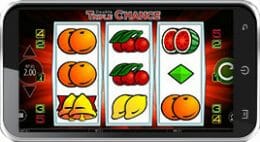 The free version can still be used on mobile and tablet. You first need to select one of the Merkur casinos. Most completely dispense with software installations and provide you with all players as a mobile browser version. However, it has become quite difficult to find Triple Chance online at all. It remains to be seen whether Merkur will take the plunge into the virtual world again at some point.
5.)

Is it possible to play Triple Chance online for real winnings?


Unfortunately, not anymore. In 2012, Gauselmann AG decided to give the online gaming sector a chance. With Sunmaker, a first reputable casino partner was quickly found. Until the end of 2017, games like the Triple Chance Slot were still available as real money versions. Then, however, Gauselmann came under criticism due to the Paradise Papers and decided to leave the online gaming market again.
Until today it is unclear whether there will be a comeback. Currently, it does not look like there will be. Playing on the Internet has many advantages, but if you want to play Merkur games, your only option is to look around locally. The good news is that you will still be offered a free alternative. Right here you can take a look at the release without obligation – albeit without the prospect of real winnings.
6.)

Play Triple Chance without registration – is that possible?


Since there is only the free demo version left, playing without registration is possible without any problems. You can challenge your luck right here, or you can choose one of the online casinos listed above. The advantage to these companies is that there are plenty of Triple Chance alternatives available to you there.
These in turn offer you the opportunity to not only have fun, but also to collect real winnings. The Triple Chance machine, meanwhile, does not require registration. Nowadays, it is generally your own decision whether to register or not. In fact, an account is only a must when it comes to real money winnings.
Conclusion
For many years now Triple Chance has been cult. This will not change even after the end of the Merkur era in Australian online casinos. The classic impresses first and foremost with its simple concept. Fruits will probably never go out of fashion.
---


On the other hand, there is a lot to win in the Rewin feature. Whether you will become rich or not, we cannot give you a general answer. However, you should always give it a try.
---
First of all the bad news: Both the winning odds and the payout rates are significantly lower in the offline version of Triple Chance than in online casinos until recently. It takes accordingly more patience until the bet pays off.
If you want more, you should specifically look for Triple Chance alternatives look around. You will find some of them in the online casinos mentioned above. By the way, just Starburst is a really successful option for all those who love classic games paired with innovative features. Today's popular online providers are certainly not inferior to the big Merkur label. All the more reason to be curious about which new slots will replace Triple Chance in the coming months. Online casinos are known to be good for one or the other surprise.
More Top Slots
Author: Elon ZigfridRated: Triple ChanceAuthor Rating: ⭐⭐⭐⭐ 92%