PLEASE NOTE: Boom Casino is withdrawing from the Australian market as of 13.06.2021 and will close its doors.
Unfortunately, Boom is no longer open to players from Australia. If you are looking for a good and reputable online casino, you will always find it on FindCasinoBonus.com, because we test and present the best providers in the industry.
A list of alternatives can be found in our current casino recommendations
Info about Boom Casino
License:
MGA Malta
Online since:
2020
New Customer Bonus:
500$
Free Spins:
250
Visit Boom Casino:
Play Now
Founded in 2020, the Boom Casino is one of the newcomers of the gambling industry. Our research has shown that the operators have succeeded in a short time to be already close on the heels of the strong competition in many areas. Qualitatively, Boom does not have to hide and convinces with some special features!
For example the new customer bonus is particularly eye-catching. Up to 500$ starting credit (as a non-sticky bonus!) can be secured as a new player at the platform. Part of the package are up to 250 free spins for fixed bonus slots.
In addition, the provider Live Casino games are still available. A big plus point is also the fact that Boom offers registered users the opportunity to try out games for free even before making a deposit, try games for free. Only the welcome bonus and the Boom Livecasino are only available after topping up the player account.
Another highlight: Boom is a casino that offers a without a 1-euro wager or 1,000-euro deposit limit. The player therefore has significantly more freedom in the online arcade than with most competitors, but can still count on reliability, security and transparency of the operating company Hero Bet Ltd. Because these have been tested and certified by the licensing authority MGA Malta.
🚨 From 18+, observe T&Cs, Max Bet Rule Maximum bet of $5 per spin when bonus is claimed
Particular strengthsNoticeable weaknesses
Well structured, secure website
Fast deposits and withdrawals
Innovative game selection
Versatile live tables
Test games without deposit
Non-sticky bonus for new customers
Email contact hard to find
Comparatively few payment methods
Approved payment methods at Boom
Deposit via:Withdrawal via: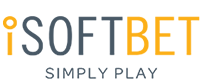 iSoftBet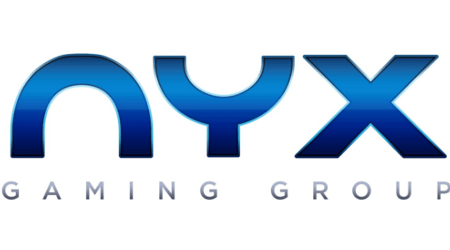 NYX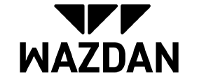 Wazdan
3) Live games at Boom Casino


Another weighty argument for Boom is the fact that live games can still be played at the operator. Evolution Gaming has taken the helm as an expert in this field and provides customers of the live casino with all its innovative table and gameshow games at their disposal.
The beauty of Boom Live is that you have direct access via the menu on the left side. All games are displayed sorted in categories – starting with roulette, up to alternativeswhich you will not find in any land-based casino would expect. There is virtually no classic that Evolution Gaming leaves out here. It is precisely this fact that makes participation so interesting.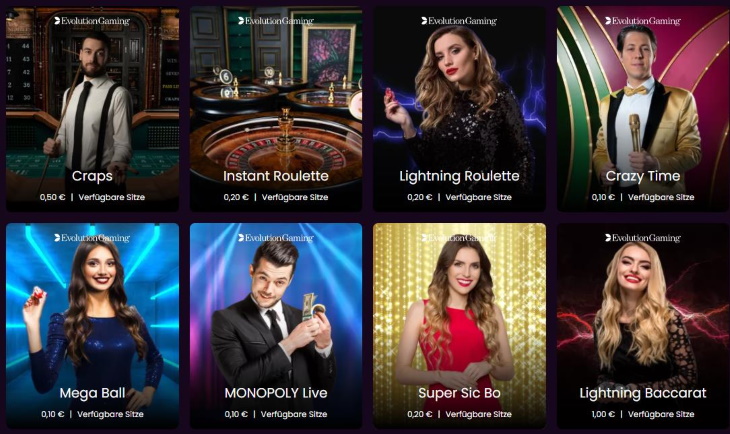 It is interesting that Evolution Gaming is aimed at beginners and experienced players. Those who have had little practice so far and are possibly not familiar with classics like roulette at all, have the chance to learn the basics here under simple conditions. Like all live casinos, this one is also tied to a deposit. From 10 cents stake per round you can play.
Especially worth mentioning plus point is that Boom Casino provides its guests with a lot of useful information and assistance, which makes it even easier to get started.
---
The 5 most popular live games at Boom are:
Craps
Immersive Roulette
Mega Ball
Lightning Baccarat
Free Bet Blackjack
Basically, it is up to each player to decide on a budget and the betting stakes. There are limits for users at Boom Casino Live, but they should meet even the highest demands. Up to 1,000 euros anyway – although it is still good that this option exists in principle. Thus, Boom does justice to beginners and high rollers alike in this point.


For all those who have never tried table games before, we would first like to introduce the digital alternatives to the heart – to be found in the main casino. Unlike live games, these can be started free of charge for free. The beauty of classics is actually that they are easier to learn than you might think. So you often only need a little practice to be able to switch to the Live Portfolio afterwards.
4) Deposits and withdrawals to the customer account
The deposit:
If you want to play live or claim the welcome bonus at Boom Casino, you have to deal with the topic as soon as possible. Payment methods at Boom Casino deal. Information on the options offered is provided in detail as soon as the registration is completed. After logging in, you have the opportunity to take a look at the cashier to take a look. Here, not only an amount is entered, but you can also decide for or against the first part of the solid Boom bonus package.


The fact that there are not too many options does not necessarily have to be a disadvantage. This makes it relatively easy to make a decision. Either players prefer credit cards, e-wallets or the classic bank account, whereby payment with the latter is possible in three ways. three ways three ways.
Regardless of the choice, the security of the money always comes first for Boom Casino. So customers definitely do not have to worry about that – especially since Deposits are usually made in real time. take place.
Besides the predominantly known options the cashier also shows which limits must be adhered to. Depending on the method deposits up to 10,000 euros are allowed. The only exception at Boom is instant bank transfer. The limit here is 5,000 euros, although this is also a sum that only a fraction of all customers will invest.
Identical is the minimum depositwhich is 20$ in the Boom Casino. This is at the same time sufficient to claim said welcome gift. There is no obligation to use bonus funds. We will go into this topic in a little more detail in a moment.


Deposits and withdrawals must, as far as it is technically possible with the same method be carried out. In addition, only own cards and accounts are allowed. In this way, the casino ensures that money laundering cannot take place at any time. Ultimately, the procedure also protects the players themselves are protected, It is virtually impossible for unauthorized persons to help themselves to their own money.
Overview of all available deposit options:
1.deposits via bank account
Sofortüberweisung
Trustly
Bank transfer
2.wallets (electronic purses)
EcoPayz
Skrill
MuchBetter
3. credit cards
The clarity suits players at Boom Casino. You have all options and limits directly in view, so it should be easy to make your decision quickly. Once you have done this and confirmed the transaction, the credit is already available on the customer account. There are no fees when depositing – another plus point in favor of the provider.
The payout:
As befits a reputable provider, Boom Casino also pays out the deposited funds of customers at any time, as soon as the turnover requirements for deposits are met – regardless of how far they are with the conversion of the bonus balance. This is therefore referred to as a non-sticky bonus, which is generally much more attractive.


However, if you want to get hold of winnings, it is as usual a must to completely fulfill the bonus conditions of the online casino. Once that is done, the Transaction from 20 euros nothing more stands in the way.
There are hardly any upper limits for players, as long as the aforementioned requirements have been met. It is therefore possible to withdraw a jackpot without any problems. Of course, this is also free of charge. As already mentioned, you only have to use the same method as for depositing. It should be clear to everyone by now that a standard bank transfer takes more time than withdrawals via e-wallets.


The required verification of the own data we do not want to forget in any case. At the latest when a first payout of winnings is imminent, it is necessary to provide the support team with all documents from an ID to a current electricity or gas bill to a receipt of the means of payment. It is best to fulfill this obligation as early as possible in order to avoid delays in the payout.
To some customers, this procedure may seem cumbersome. Ultimately, however, the verification of the information provided is for the customer's own security. Verification is the only way to rule out data misuse. In addition, documents usually only need to be uploaded once.
Let's take a brief look at the options offered
Bank transfer
Trustly
Visa
MuchBetter
Skrill
EcoPayz


Important to knowEven though Boom Casino is very generous, it is not possible to withdraw the credited bonus money. It is therefore important to stay on the ball, especially in the first few days – until the full turnover has been reached. What you do with your winnings afterwards, whether you pay them out or use them to continue playing, is up to you.
5) Customer service at Boom Casino


He who seeks, finds? Well, at least that applies to the e-mail address. In fact, you can not get to this quite without effort – unlike the the available live chat.
Behind the scenes, trained employees work almost around the clock. trained employees, who are always ready to listen to the concerns of customers and interested parties. So if help is needed, you can count on the support team at Boom Casino can always be relied upon.
In most cases, it should be sufficient to read through the FAQs to read throughwhich already cover all known topics briefly, concisely and yet very informative. Users can find the link to this at the very bottom of the Boom Casino website. One click is enough to find answers to the most common questions.
For documents that the provider requires, there is the e-mail address [email protected]. This runs separately from the classic customer service, so that verifications can be processed faster. It usually takes less than 48 hours for the data to be completely verified, which, as already mentioned, must be done at the latest before the first payout of winnings. Of course, we don't want to keep anyone from knowing what other options are available to players.
These contact options are currently available:

E-mail: It is possible around the clock to leave a message for the customer service via e-mail. So if you have a question that doesn't need to be answered right away, simply direct it to [email protected]. The experienced staff know how to assign inquiries as quickly as possible. And although the team itself only speaks Australian to a limited extent, players do not necessarily have to write in English. A solution is always provided in the local language, so that nothing stands in the way of carefree hours.


Live Chat: In the left menu on the page you will find the link to the chat support. As usual, urgent issues can be solved much quicker via can be clarified much fasterespecially since freelancers remain in the chat until any questions have been dealt with. Only when the customer is completely satisfied and believes they can manage on their own does the customer service representative move on to the next users.
6th) The Boom Casino website
The designers of the site have focused on simplicitybut there is still something for the eye. The simple logo of the online casino has quite a high high recognition value. In addition, the color purple dominates the Boom Casino website. With it, you automatically associate the company.
The operators have placed particular emphasis on making the menu as simple as possible. as simple as possible as possible. On the left side you will find access to games of all kinds, the expert area, personal account information and the like. All links are self-explanatory.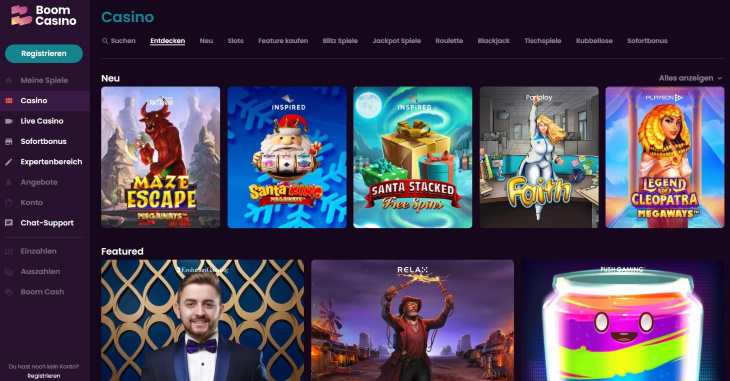 As a disadvantage, we have to mention the stored cookies here. Once registration has been carried out, it is no longer possible to view the page in full from the perspective of an unregistered guest. Guests are greeted with the words "Welcome back", which is of course unfavorable if you want to take a second look at topics such as the welcome offer. This can only be accessed via detours, which could be a bit tedious for beginners.
Generally, it can be said that the handling of the Boom Casino website is nevertheless made easy. You definitely don't have to be an expert to orient yourself and understand what is meant by areas such as the live casino, account, offers and the like. The Browse the site of course also works as a guest. So if you like, you can have a look around in person without having to set up a customer account right away.


After taking a detailed look at the website, one thing is clear: this online casino is transparent throughout. For example, if you want to find out more about the operator, licenses, licensors or even topics such as data protection, it is enough to take a look at the bottom section of the page, as usual. All links that are of relevance have their fixed place here.
The form for registering as a customer is also super easy to find. At the very top, one click is enough to open the form. The important thing is to provide correct information. As already mentioned, these will be checked at the latest when it comes to requesting a payout of winnings.
7) The Boom Casino App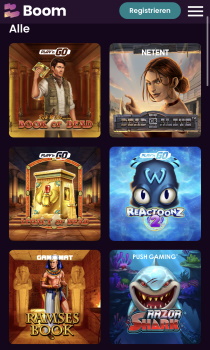 The provider is brand-new on the market and has of course immediately adapted to the realities of the industry – especially with regard to mobile solutions. If you don't just fancy exciting slot games, instant wins and real classics at home, the Boom Casino Web App with HTML5 is a good choice.
The offer for on the go could hardly be more versatile. Although there are some limitations to the portfolio here as well, they are not so great thanks to several hundred available mobile games, but they but they hardly carry any weight.
A conscious decision was made in favor of a web app instead of native downloads. This is the only way to satisfy customers who do not use an iPhone or iPad or Android devices for gaming. Windows Phone, HTC and other users come thanks to the mobile Boom Casino site just as much at their expense.
In the practical test, the Boom Casino app performs very well – and not only because the elimination of installations also eliminates tedious manual updates. Particularly in areas such as loading times and performance, the company delivers first-class values with its mobile solution. first-class values. It goes without saying that you need a stable Internet connection. It also makes sense to update the smartphone or tablet regularly. This refers to both the installed operating system and the browser used.
The offer is available for mobile use on the following devices:
iPhone and iPad
Samsung Galaxy
HTC, Sony, LG and Huawei
Windows Phone and others


Boom Casino Mobile is as easy to use as it is on the desktop. Preferred categories and games can be opened effortlessly by touch. Also the deposit nothing stands in the way. The easiest way is to use e-wallets, which do not require any cards. So all you really need is your smartphone or tablet, although it is of course just as possible to carry out transactions in advance at home. By the way, an established user account is sufficient. If you want to play on the go, you don't have to register again.
Whether smartphones or tablets are better suited for mobile gaming at Boom Casino is a question of personal taste. Basically, the graphics are better on the larger screen. On the other hand, a cell phone is much easier to carry around. If you like, you are welcome to test both solutions – of course without deposit and other obligations.
8) The new customer bonus at Boom Casino


From a deposit of at least 20 euros, the Boom Casino gives every newly registered customer 100% starting credit up to 500$. But that's not all, because in addition to the real money bonus beckon 250 Free Spinswhich are activated in packages of 50 for five consecutive days.
In one point, the young casino differs from similar competitors. Here the bonus credit is not splitbut is paid out in one sum – provided, of course, that you invest 500 euros right from the start. If you want to invest less, you are welcome to do so. Also at Boom generally no one is obliged to claim bonuses.
Basically Real money bonus and free spins can only be claimed together. There are the full 250 free spins with the qualifying deposit. Which slot can thereby be played for free as well as with with the prospect of real winnings we will show below in short form. Most of the titles will be familiar to experienced players. In any case, it is important to deal with the issue of turnover conditions. These determine for whom the welcome package is worthwhile.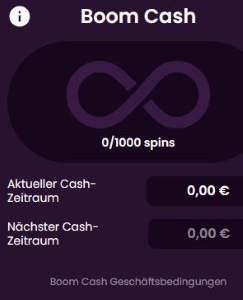 According to the ABGS set by Boom Casino, both the real money bonus and winnings resulting from free spins are subject to identical requirements. Both amounts must be played through at least be played through 40 times. Only when this has been achieved, can you request a payout of the winnings that have been achieved beyond this – which, as already mentioned, can already be done from from 20 Euro is possible without any problems.
It should already be clear to anyone who is familiar with online casinos that the debut is worth it. The good news is that it is not just the Boom welcome bonus remains. Loyalty also pays off very quickly at Boom Casino. The bonus program of the provider is appropriately named Boom Cash.
The operators promise already on the homepage that this is both fair and transparently structured. As usual, anyone who plays with real money automatically collects bonus points. If enough are reached, rewards beckon again and again, which in turn can be higher with each level achieved.


With the Instant Bonus Slots this has nothing to do with the Instant Bonus Slots. These are just another opportunity to fill up your own cash box. All details about promotions and campaigns, conditions and possibilities will be discussed in more detail in the detailed bonus test. However, we can already state that Boom Casino really accommodates its new customers – even if the turnover requirements may not be the easiest.
Use the welcome bonus at Boom – this is what matters:
100% up to $500 on the first deposit

50 free spins for Book of Dead on day 1
50 free spins for Ramses Book on day 2
50 free spins for Legacy of Dead on day 3
50 free spins for Books and Bulls on day 4
50 free spins for Roman Legion on day 5
20 Euro minimum deposit required
Direct credit without bonus codes
Bonus funds must be wagered 40 times
??$Max Bet Rule: Maximum bet of $5 per spin when bonus is claimed
9) Security: how serious is Boom?


Nobody really has to worry about the seriousness here, because already the existing MGA Malta license makes it clear that the operator is strictly monitored. Aspects for a license award are both fair odds and payout rates as well as a very well thought-out concept for player protection. As far as this is concerned, Boom Casino makes it clear that they are absolutely aware of their social responsibility towards customers.
Of course, the customers themselves are in demand when it comes to taking responsibility – for themselves, their own finances and thus logically also for their personal environment. Players are always offered the option at Boom Casino, Set payment limits. We also find that it can be useful to set a fixed monthly amount for gambling, so as not to run the risk of falling into a gambling addiction. Also useful are limited gaming hours, which can also be set up.
Whenever it is necessary, Boom Casino is there for its guests with valuable tips and solutions to the side. We are not only talking about the trained customer service, which usually provides a quick answer to questions. In particular, the advice on the corresponding subpages helps immensely to question oneself as a player and to think about whether one's own gaming behavior is normal or whether one might already have a problem that one was not even aware of until now. In this case, there is the option to lock yourself for a certain period of time. lock yourself for a certain time.

Should the assistance alone not show any effect, the Boom Casino team also has the possibility to intervene. This is even intended by the licensor, because as already pointed out several times on the website, playing should be fun and not cause any pressure. Even if winning does not work out right away, this is no reason to be frustrated.
Boom Casino describes itself as an online casino that has the player at heart. We can agree with that in many areas, because indeed the operators take their job seriously. They are not only concerned about making money, but primarily about the well-being of the guestswho get the best quality and varied entertainment here around the clock.
The fact that various renowned software developers have been involved since the very beginning also speaks for the seriousness. They have a reputation to uphold themselves and would never cooperate with black sheep in the industry for that reason alone.


Security is one thing, but the objectivity promised by the operator is at least as important. Customers can obtain comprehensive comprehensive advice – on the topic of the right game selection, but also when it comes to insider tips for experienced high rollers. Overall, the casino appears very reliable and transparent and transparent. Accordingly, we can assume that we will continue to enjoy the provider for a long time.
Of course, transactions have been audited. Once again, we can see that Boom Casino is a reliable provider. reliable provider is concerned. As soon as the verification is done, you can count on receiving your credit within a few days – regardless of which of the proven payment methods suits you best.
10) Our experience with Boom Casino


Of course, we cannot have great experience, because after all, Boom Casino was only recently launched. The first impression, however, is already consistently positive. As is often the case, the lack of a hotline can be overlooked. If you need support or have questions, the support team provides answers via live chat or e-mail. It is advantageous that there is a separate address for submitting documents.
The selection of payment methods may not be overwhelmingly large, but should be sufficient as a rule – regardless of whether you prefer credit cards, e-wallets or the classic bank transfer. The crediting of the deposited funds usually takes place in real timewhich is of course very convenient for fast players.
While there is still quite little that can be said about Boom Casino itself, the developers who publish their games here are all well-known. Brands like NetEnt, Play 'n Go or even Gamomat have already made a name for themselves in the industry years ago. They are not only considered to be of high quality, but on top of that they are extremely innovative.


What will surely interest our readers the most is whether the casino pays out winnings reliably. We can answer this question with a resounding yes after several self-experiments over the past few weeks. In fact, a few documents have to be submitted in advance, because the data protection is also a top priority at Boom Casino. Once this is done, you should receive your money within a few days. Only the standard bank transfer takes a little more time, as usual.
We frankly estimated the turnover conditions to be more difficult than they were in the practical test. Of course, it is no child's play, to play through bonus funds 40 times. The good news: wagers on slot machines are fully credited. In addition, no one is forced to take the full 500 euro bonus for the first day.
If you can spare 20 euros, you should be able to get through quite easily and certainly won't need the full six weeks to reach your goal. The situation is similar with the free spins winnings, if any are achieved.
This speaks for Boom Casino:
Officially licensed in Malta
Different providers available
Attractive offers for new and regular customers
Usable at any time on the go


At times, there is not much to say about other campaigns. Only this much: Boom Casino promises already on its homepage an extensive and very special VIP program. If you want to benefit from this, you only have to play for real money. Once the next level has been reached, bonuses await, which can vary greatly depending on the level. Due to the young age, we haven't made it too far yet, but we are confident.
Our concerns about the feasibility were quickly shattered. After all, as already mentioned 60 days timeto fulfill the conditions. That this is easier with a 20 euro bonus than with 500 seems logical. But even high rollers who like to risk a little more have a good chance of a timely payout of winnings.
With the games as such, we have both local and mobile only good experiences. In terms of loading times and performance, the provider definitely does not have to hide behind better-known competitors in the industry. Of course, this is primarily thanks to said providers, who, unlike the casino, have many years of experience and know exactly how to do justice to the players.
On the About Us page, it is clear that the operators themselves are convinced of what they have to offer their customers. For our part, we nevertheless do not gain the impression here that Hero Bet Ltd. would lean too far out of the proverbial window with their promises.


Overall, the Boom Casino leaves a consistently positive and lasting impression. We are all the more curious to see what the operators will make of the successful debut and what opportunities in the area of games, bonuses or VIP offers will present themselves in the coming weeks. It is already worthwhile to be part of it – whether with or without real money, as expected, that is up to everyone.
Author: Kevin LansonRated: Boom CasinoAuthor Rating: ⭐⭐⭐⭐ 93%Try Boom Casino now
2 user reviews for Boom Casino