How Jammin' Jars works
The slot machine does not have any reels or paylines. Instead, the developers rely on an 8×8 grid with a selection of six standard symbols as well as motifs that can trigger various functions. Additionally, the Cluster Pays System has been established. This means that only from five matching and adjacent symbols a payout occurs.
The betting amount can be variably adjusted to the personal budget – starting at 20 cents per round. Maximum bets up to 100 euros are allowed in most online casinos. The exception here is the Crypto Casino Stake.com, which offers a range between 40 cents and 400 USD has set.
As soon as the bet stands, the symbols will disappear downwards and new fruits and, in the best case, bonus images will move up from the top of the grid. If clusters are present, the corresponding amount is automatically credited to the account. All the motifs that are part of the combination will then dissolve again and make room for new motifs. Thanks to this collapse function you can save a lot of money when playing Jammin Jars online. A new bet is only due when no more clusters can be formed.
Play Jammin' Jars for free – these steps are required
Deposits can be made immediately in reputable casinos, but there is no obligation to do so. If you want to take the opportunity to try out Jammin' Jars, to familiarize yourself with its special features or to compare the slot with its successor Jammin Jars 2, you will get the opportunity today to at all listed providers.
Before a demo version is available, it is usually necessary to open a customer account at the preferred online or crypto casino to set up a customer account in the preferred online or crypto casino, with which no further obligations are associated. The registration serves primarily the Protection of minors.
---


Because: although Jammin' Jars is a colorful, almost childlike machine, it is exclusively reserved for adults.
---
These streamers play Jammin' Jars on Twitch
The Twitch streamers who have discovered Jammin Jars are also of age. The slot machine in the live stream is a welcome change to all the slots that are about myths, the ancient world or wild battles.
The colorful entertainment apparently goes down well with the viewers, so that the release is quite often a part of many streamers' of their live broadcasts hours of live broadcasts – including these including these Twitch stars:
Aspects, such as the prospects of winning (after all, with a full stake, we are talking about up to 2 million Euro), are certainly one of the reasons why today both simple casino customers and numerous streamers deal with Jammin Jars. It is also quite easy to emulate the latter, because despite the special structure and various various unusual features, Jammin' Jars Jammin' Jars is a slot machine that is wonderfully easy to play. wonderfully simple easy to handle.
Streamer Al Gear plays Jammin' Jars
Jammin' Jars bonus features and specialties
An unusual construct, like the one behind Jammin Jars, requires unusual functions. Our experts have summarized here in brief, which extras Push Gaming relies on and how they on the chances of winning:
Sticky Wilds
Free spins
Rainbow Bonus
Bonus purchase
---
Sticky Wilds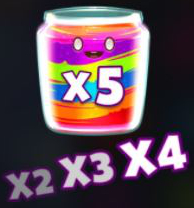 Jammin' Jars not only owes its name to the colorful jar, but the symbol also acts as a universal wild in the game. universal wild card. Partly on the so called Giga Jar multipliers are displayed on the so-called Giga Jar, which are applied to the entire completed clusters. With each additional win, the factor continues to grow for subsequent rounds.
If a combination is completed, the jam jar does not simply disappear, but it is moved to a different to another position on the board. moved. This happens randomly, and only afterwards the remaining symbols on the reels collapse to make room for new ones that move up. As long as more clusters are created with the help of the glass, it will remain.
Free spins
Also for the triggering of each six Jammin Jars Free Spins the colorful jam jar is responsible. This time, however, it has to appear at least three times to provide players with free spins. As in the base game, jokers continue to remain in random free spots as long as clusters can be formed.
Accordingly, there are twice as many chances to generate wins during the ongoing free spins alone – once through the free collapse featurebecause moving symbols are added to the slot for free. And furthermore, in the best case, cluster wins alternate with free spins. Or in other words, a collapse is not considered a completed free round.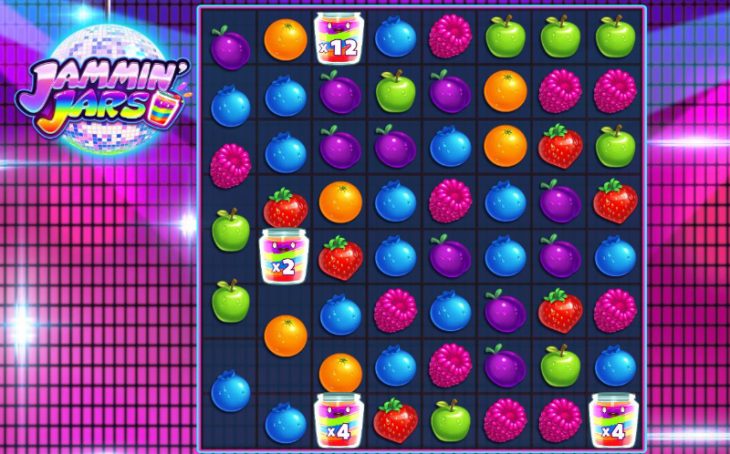 Rainbow Bonus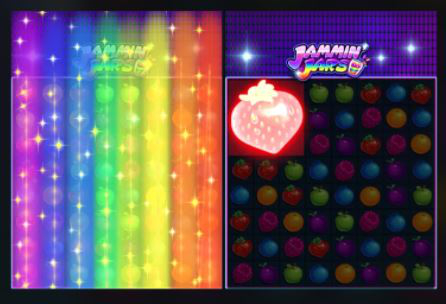 If a game round ends without a win and the associated reel collapse, then the Rainbow Feature randomly triggered. In keeping with the name, a rainbow in the most beautiful colors now stretches across the playing field. In this context sometimes several giant fruits will appear, transforming all used positions into a standard fruit symbol.
So you can consider the rainbow feature as a second chance because as soon as the fruits appear, in the best case scenario, there will be a winning cluster after all, in the occurrence of which the player does not have to invest another bet.
Bonus buy
For 84 times the base bet, players have the opportunity to get additional chances to win with the help of the Bonus Buy feature. additional chances to win with the help of the Bonus Buy feature. The Bonus Buy feature is required, immediately start free spinswhich, without the feature, could be generated solely by collecting scatter symbols.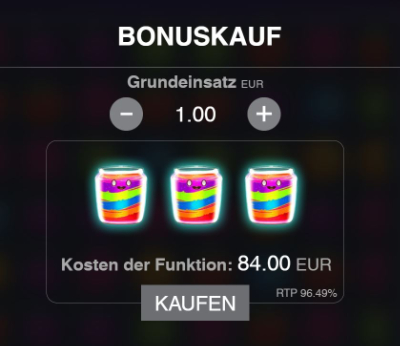 The bonus purchase can be activated by pressing the? star button in the bottom right corner. In fact, sometimes this one does not immediately catch your eye.
Interesting fact: The RTP value decreases by a few points due to the bonus purchase in Jammin' Jars slot – from 96.83% in base game to 96.49% in feature mode. Fortunately, this does not make too much of a difference in the medium term. Nevertheless, it is of course beneficial to know the difference.
What is special about Jammin' Jars 2?
Basically, Push Gaming has changed the original game concept for Jammin Jars 2 completely reinvented. What remains is the 8×8 grid and the clusters, thanks to which classic paylines can be dispensed with. In addition, the online Jammin' Jars 2 game also features the infamous colored jarwhich is wild card and scatter in one is.
All other components including most of the fruit symbols have been made by the creators even more innovative designed. One of the new features is called Giga Jar. As you might have guessed, it gives players the chance to grab an extra-large jar of compote, which can reward players with with unimagined instant winnings instant winnings.
Before this happens, Jammin Jars' 2, golden records to collect. These fill the Giga Jar and bring it to activation once it is full. Up to four wild cards as well as extra rounds are added to the game, creating a special excitement in this mode in particular.
Another highlight is the Fruit Blast modewhich can be randomly activated at any time – but only after cascading wins and the subsequent reel collapse. As it turns out, the new part of the Jammin Jars slot series differs from its predecessor in several points. This makes a direct comparison at selected Push Gaming partner casinos all the more worthwhile.
Test Jammin' Jars 2
Jammin' Jars FAQs
How do I find a reputable Jammin' Jars casino?
Is there a Jammin' Jars demo version?
Is Jammin' Jars as good as Jammin' Jars 2?
How much does it cost to play Jammin' Jars?
Is there a Jammin' Jars download?
---
1.)

How do I find a reputable Jammin' Jars casino?

Push Gaming works exclusively with reputable companies in the industry. These can be recognized quite easily by the presence of an official gambling license, which in turn imposes strict conditions. Through them, players are in particular protected from fraud and can be sure to receive their winnings reliably.


Of course, it's also good if other aspects are right when playing Jammin Jars in an online casino – including easily accessible support, secure payment methods and possibly a welcome bonuswith which the gaming budget can be increased. If all these factors are important to you, you will find what you are looking for here (? to the list of the top Jammin' Jars casinos ).
2.)

Is there a Jammin' Jars demo version?

Like all slot machines from the developer, Jammin Jars is available for free. The possibility to view the release without real money bet is available both here (to the free demo ) as well as in all listed online casinos. There you can switch at will between both game modes can be switched.
---


One advantage of the free variant is that it is played under realistic conditions conditions. You can quickly get a feeling for the probability of winning and which betting options are particularly worthwhile.
---
3.)

Is Jammin' Jars as good as Jammin' Jars 2?

Since Push Gaming has completely replaced most of the features in the second variant of the "cute" slot, a direct comparison is difficult. The fact is that each bonus slot is unique in its own right, and both have quite an attractive winning potential potential with them.


Those who want to know exactly how Jammin Jars differs from its successor have the opportunity to put both versions to the test in online casinos – as already mentioned, this is free of charge.
4.)

How much does it cost to play Jammin' Jars?

If the choice falls on the real money mode, Jammin Jars can be played from 20 cents per round. per spin. A high betting risk is therefore not required with this slot machine. Of course, as with all bonus slots of the brand, there are several betting options. Up to 100 euros are possible in most online casinos, which automatically results in automatically higher combination winnings can be generated. Some providers, such as Crypto Casino. Stake, have set the limits somewhat higher.
5.)

Is there a Jammin' Jars download?

There is no installation required to play. Jammin Jars is played directly online using HTML5 technology directly online so that nothing stands in the way of a direct start to the game with this release.


Thanks to modern technology, online casinos today can generally do without a software download. At the same time, this results in the possibility to watch Jammin' Jars on the go – on all common smartphones and tablets.
Our conclusion about Jammin' Jars
Who would have thought that a colorful jam jar, which plays the leading role in Jammin Jars, would one day become so prominent? The bonus slot from Push Gaming bonus slot game enjoys the attention of many casino customers and live streamers, which is surely due to its entertaining graphics. entertaining graphicsbut also attractive odds but also attractive odds.
The cluster concept concept quite quickly. Advantageously, no tedious settings are required to start the fruity slot adventure. With a simple round bet the first chances can be used directly – which also allows beginners without experience will find easy.
Last but not least the main prize in the amount of up to two million eurosThe first progressive jackpot, which is played without a progressive jackpot, is a good reason to check out Jammin' Jars in person.
Author: Joshua DavidsonLatest Update: Rated: Jammin JarsAuthor Rating: ⭐⭐⭐⭐ 93%