Information about Exodus




Company Name:
Exodus
Year Established:
2015
Registered office:
15418 Weir Street, Suite 333 Omaha, NE 68137, United States.
Management:
JP Richardson, Daniel Castagnoli
Website:
exodus.com
Available:
In 100+ countries and more than 100 cryptocurrencies.
Exodus is a desktop or cold wallet founded in 2015. Desktop or cold wallet, which is considered to be particularly user-friendly which makes it perfect for beginners in the field of crypto investment. Thanks to full Shapeshift compatibility, Exodus can offer its customers more than 100 different digital assets for sale. Shapeshift, on the other hand, is a company that is active worldwide and enables the trading of numerous coins both on the desktop and mobile.
Around 15 currencies can be managed in parallel in the account, which is not least an advantage for customers of modern crypto casinos. A strength of Exodus is the simple handling – starting with the download, which only takes a few minutes. This is mandatory before use, but the installation as such can fortunately be described as little effort.
About a year after the official launch, Exodus announced the development of the mobile app announced. This offers users even more flexibility – in digital gambling as well as in purely holding and trading cryptocurrencies. Offered are the crypto exchange, the portfolio as well as the multi-asset wallet on mobile devices. All three components are available for both iOS and Android devices.


Important information: With Exodus it is not possible to deposit real money and and exchange it for cryptos. So, the deposit can only be made with cryptos themselves – for example, those that are stored on Coinbase, Binance or Bitpanda have been purchased.
Table of Contents
Advantages and disadvantages of Exodus
Exodus features and specialties
Register with Exodus – here's how it works
Exodus limits and fees
What cryptocurrencies does Exodus offer?
As safe as a vault?
Creating backups – important for Exodus users
Exodus questions and answers
Conclusion about Exodus for payment in online casino
Advantages and disadvantages of Exodus
Advantages:Disadvantages:
Ideal for beginners
Comprehensive support
Intuitive menu navigation
Secure backup
Attacks on Cold Wallet hardly possible
More than 100 cryptos
Not available in Australian
No open source technology
No purchase of cryptos with real money currency
Exodus features and specialties
If there is one thing Exodus Wallet does not lack, it is features. Thanks to them, the Personalization of the personal account super easy. On the basis of various diagrams for example, it is possible to see at a glance what the current market situation is, what percentage of each coin the customer holds and also what the equivalent value in US currency of the respective token is.
The most important functions:
Personalized sections
Useful charts
Multi-wallet with up to 15 currencies
Assets always in view
Countervalue display in US dollars
Regular quality updates
Documentation of all new features
Comprehensive guide and information pages
Synchronization of all devices
Safe protection – no hacker attack possible
Display in Euro currency with appropriate settings
The handling of the Exodus Wallet is intuitive and therefore even for crypto beginners super easy to follow. It doesn't take years of experience to deposit cryptos from digital exchanges to Exodus and manage them clearly on the wallet. This explains all the more why Exodus is especially popular in the context of playing in crypto casinos is gaining more and more importance.
Those who only want to use digital currencies to invest in gambling do not have to laboriously deal with the topic of crypto exchanges thanks to the menu navigation. After all, this one is almost completely self-explanatory.


Probably the most important feature that Exodus can score with is the Shapeshift integration. The company, which hails from Switzerland, connects almost aall popular cryptocurrencies. Thus, Exodus customers benefit from a significantly larger selection than is otherwise usual on exchanges or wallets of this kind.
Registering with Exodus – this is how it works
Although the Exodus wallet is available in English and there is no Australian translation, the handling can be described as simple. This is especially true for the setup, because without it, neither coins can be posted to the wallet nor an exchange of different cryptocurrencies can be performed. Let's take a look at what steps are required before the first transaction: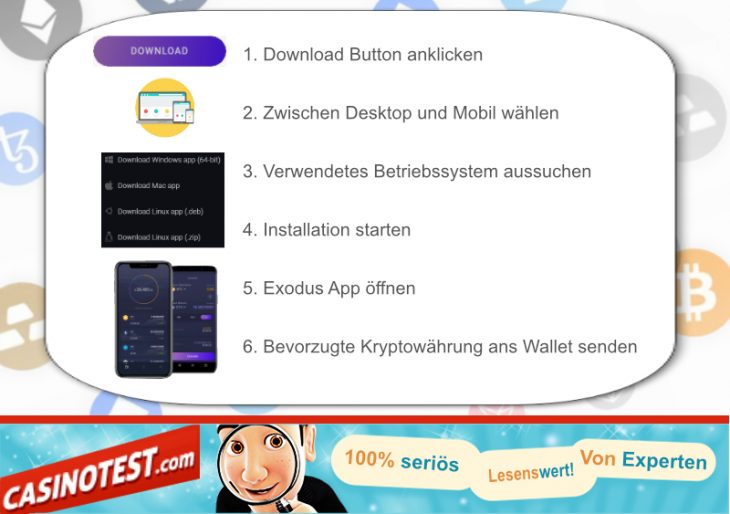 As a rule, Exodus automatically detects the email address used. No further steps are necessary to be allowed to fully use the wallet. So here no additional personal data entered.
Once the installation has been completed successfully, you will have the opportunity to directly enter the QR code of the preferred digital currencies with the crypto exchange used to scan and load the Exodus Wallet.
---


Once again, the clear note: Exodus is not an exchange in the classic sense, as it is not possible to exchange funds for coins here. Only an exchange between different digital currencies is allowed for a corresponding transaction fee. However, this requires prior loading with Bitcoin, Ethereum or any other cryptocurrency.
---
Video: Exodus Wallet – desktop tutorial (English).
Exodus limits and fees
With the sending and receiving of cryptos fall variable network transaction fees.n accrue. However, Cold Wallet Exodus itself is not responsible for these, but the money is paid to the crypto exchange used in each case. The advantage is that all fees are listed transparently under the exchange are.


Example: Anyone who wants to send a BTC amount to the exchange used will pay Exodus a fee of $3.33 US. The fee for receiving crypto assets is not listed separately here.
Customers receive information as soon as they call up the exchange and enter the key generated by Exodus there – or scan the alternative QR code. The costs are primarily dependent on the selected digital currency, as there are sometimesas there can sometimes be significant differences in this area.
By the way: In the settings it is possible to change the change the display to Euro. In addition, Exodus lists numerous other real-money currencies for conversion, so it is much easier to keep track of current balances.
What cryptocurrencies does Exodus offer?
More than 100 coins are accepted, although, as mentioned, these are not purchased with real money, but only from well-known crypto exchanges can be transferred to the Exodus Wallet.
As expected, Bitcoin is at the top of the list, but of course, lesser-known coins can also be exchanged for other digital assets.
The complete listing shows which coins use the "Trezor" function function, i.e. they can be additionally secured in case of Exodus.
Some currencies may be disabled from time to time. However, in the personal settings there is always the possibility, To activate cryptos manually.
According to Wallet, it is allowed to exchange currencies that are not originally supported by Exodus itself. The reason for this is the cooperation with Shapeshift, as the company specializes in the Providing hundreds of coins specialized and thus provides Exodus with the best possible support.
As secure as a vault?


Every Exodus user receives a private key that is not passed on to third parties. Through this, crypto assets on the wallet are fully secured. In the settings, there is also the option to activate the "Trezor Bridge" can be installed as an option. Its availability results in an even even more consistent protection. So you can say, Exodus acts as a cold wallet – also desktop or mobile wallet – like a safe.
Additional functions facilitate the management of digital coins, including the possible synchronization of all devices. Those who have set up a wallet can use it simultaneously on the desktop and on mobile devices such as smartphones and tablets. The preferred or existing operating system is of secondary importance here.

"Important to know: Strictly speaking, Exodus does not store the coins or their blockchain, but only the private key belonging to the coin. This makes it much safer to use than so-called hot wallets."$Kevin Lanson – Casino Expert and Author
Create backups – important for Exodus users
From experience, holding and trading cryptocurrencies carries some dangers. Unfortunately, as soon as the created private key of Exodus is lost, the funds on the wallet – respectively the crypto keys, since no real coins and blockchains are stored – are lost as well. There is no recovery option, because such an option would make it easy for hackers to grab coins unnoticed.
For those who want to protect their credit on Exodus, it is essential to important to create regular backups. backups. These are secured with a freely selectable and as complicated as possible password. At least that is what wallet owners should protect very conscientiously.
Of course, there are situations when you simply can't remember your password. In order to create more security in this case, customers at Exodus customers can set up a total of 12 so-called phrases in addition to the password. These are used in the case of loss in the event of loss. If the answers are correct, you can create a new password. Ideally, one secures all phrases in such a way that there is access for oneself at all times, while third parties do not have access to the data.
Exodus questions and answers
What type of wallet is Exodus?
Can I change the Exodus app to Australian?
How do I buy cryptos with Exodus?
Where can I find the Exodus mobile app?
How much does it cost to use the Exodus wallet?
What is the best way to protect coins?
---
1.)

What type of wallet is behind Exodus?

Exodus is provided as a desktop and mobile wallet. Access is thus guaranteed at all times. Another name for this variant is Cold Wallet, since stored crypto keys – and thus not the coins or the blockchain itself – can be managed offline. can be managed offline. Credit is therefore not directly connected to the Internet, which makes management all the more secure.


A hacker attack on cold and desktop wallets is almost impossible.. In this respect, Exodus differs from wallet exchanges such as Binance or Coinbase, which have already had to deal with massive attacks on several occasions. There is no better protection than the cold wallet in the crypto sector to date. An advantage is that the keys do not necessarily have to be stored on a stick, although this option would be quite possible.
2.)

Can I switch the Exodus app to Australian?


To date, the desktop and mobile app is provided in English only so it is not possible to change the language. However, there are at least a few options that make handling easier. This refers in particular to the change of the real money currency, which is displayed under the respective crypto amount. The default setting is the US dollar, in Euro but it is even easier to see what the current exchange rate is and which credit is in which digital currency on the wallet.
Despite the fact that there is no Australian Exodus app, the handling is, as expected, simple. handling is simple, as expected. If further questions arise, they can be solved within a very short time with the easily accessible support. The menu items in the app are also almost self-explanatory in English.
3.)

How do I buy cryptos with Exodus?

A clear distinction must be made between crypto exchanges and wallets. Exodus is the latter and therefore there is no possibility to deposit real money to exchange it for one of the more than 100 available digital currencies. But how can the virtual wallet be filled then, if not through a classic deposit?

Exodus is compatible as a wallet with all major exchangesincluding Coinbase, Binance and Bitpanda. On these, coins can be purchased with real money and mostly held on a hot wallet 🔥. To better secure the cryptos, it is recommended to transfer them using the QR code generated on Exodus or manually via the key.

? As a cold wallet, it offers much better protection of the digital assets.
4.)

Where can I find the Exodus mobile app?

For those who prefer to manage their coins via smartphone or tablet, the respective stores – Google Play or Play Store – offer the following options Google Play or the Play Store from Apple – to download a separate mobile app at any time. Similar to the desktop variant, the installation takes only a few minutes and can therefore be carried out without much effort.

An advantage is the Synchronization of all devices used. Setting this up requires a few settings in the personal Exodus customer account, which also takes very little time. Thanks to this function, all statuses are always up-to-date and identical.
5.)

What does it cost to use the Exodus Wallet?


Both the setup and the management of crypto assets are here free of charge. Fees, on the other hand, are incurred when receiving and sending a digital currency. As these are variable costs, which are not estimated by Exodus but by the exchange used, it is not possible to make any general statements.
However, it is advantageous that the company shows very transparently how high the fees turn out to be. These must always be taken into account when exchanging. This applies at least when sending available Coins, as the Bitcoin example mentioned in the article shows.
6.)

What is the best way to protect coins?

Backups are essential with Exodus. The reason: If you don't back up your Coin keys, you have no way to restore them in case of doubt. With an easy-to-perform backup, however, you as a customer of the wallet are prepared for all eventualities. It is important to remember the passwords of the backup or to write them down so that no third party has access to them. The same applies to the 12 phrases that are part of the backup system.

In general Exodus is considered to be a kind of vault for wallet keyswhere a special feature is responsible for protecting credit balances in the best possible way. As a cold wallet, the system has clear advantages over well-known exchanges, which often only provide a hot wallet with a direct Internet connection – and therefore a greater risk of hacking.
Conclusion about Exodus for payment in online casinos
As an interface to crypto exchanges, Exodus does a very good job, especially with regard to the security of stored crypto keys. However, the wallet only works only stationary and is therefore not suitable for the purchase of coins. suitable. The keys can be managed keys can be managed all the more reliably. Exodus can also be used for the transaction of cryptos on casino accounts.


In recent years, Exodus has constantly evolved. While initially only about 20 coins were available, thanks to the connection to Shapeshift there are now over 100 currenciesthat can be stored and managed. The exchange from one coin to any other is done in real time, which is also an advantage.
The data transfer is secured according to the latest standards. Although there is no 100% security guarantee here either, Exodus is still considered to be very reliable and is therefore a good alternative to Coinbase, Binance or Bitpanda for crypto casino customers.
Author: Kevin LansonRated: ExodusAuthor Rating: ⭐⭐⭐⭐ 92%